Credit where it's due, the humble cranberry might be small, but it packs a punch in the health stakes.

It's only a few decades since the cranberry arrived in the UK and now we wade through almost 2.5 million tons of them each year. What once was just another condiment on the Christmas dinner table has now become firmly rooted in our daily eating and drinking habits, and considering what a powerhouse of health cranberries are, this should be no surprise.
Cranberries are rich in vitamin C, Quercetin (a flavonoid with antioxidant and anti inflammatory properties), fibre and proanthocyanadins (PAC's) which can help to 'disable' certain harmful bacteria in the body. Many studies have shown a positive link between urinary tract infections and cranberry juice consumption in both men and women, and a recent British study has shown a positive link with prostate health.
The latest American study shows that consuming two 400ml glasses of low-calorie cranberry juice drink over two non-consecutive days have better cardiometabolic profiles than non-consumers. This was shown by a reduced blood pressure rate and lowered levels of 'C-reactive protein' ( a blood protein, the presence of which is an indicator of inflammation). Those on the cranberry juice rich diet also tended to be of healthy weight with smaller waistlines.
Get munching…
The turkey roast wouldn't be complete without a bowlful of cranberry sauce. Show off your skills by making your own.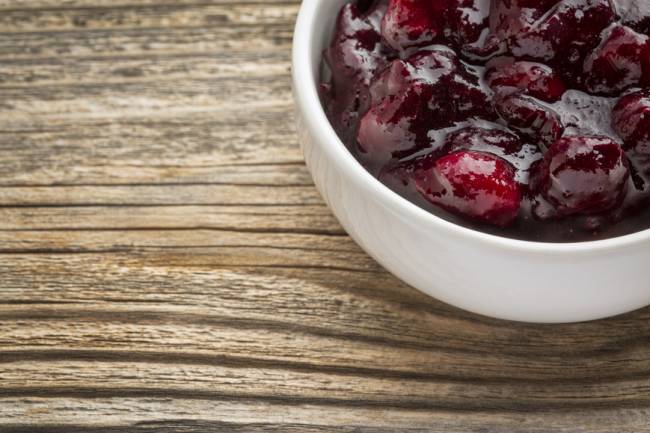 Throw a 400g pack of cranberries in a large pan with the zest and juice of an orange, a bay leaf, grating of fresh nutmeg, 100g caster sugar and a glass of red wine. Cook over a gentle heat for 10-15 mins until the berries have burst and the mixture has thickened. Remove from the heat and leave to cool. Make up to 3 days in advance. Most of the alcohol cooks off, but if you prefer, use a glass of apple or cranberry juice instead.
Stock the freezer up with these superberries while you can, they keep for about a year. Add a handful of fresh cranberries to your favourite stuffing recipe or nut roast, or mix with cooked apples for crumbles and pies.