This is everything a carbonara should be: creamy, rich and comforting. The smoky, flavourful mushrooms complement the thick, satisfying pasta sauce perfectly. A truly fantastic option for a delicious midweek dinner

Video via BOSH!
SERVES 4
6 portobello mushrooms (about 250g)
5 tbsp soy sauce
20ml maple syrup
20ml apple cider vinegar
20ml olive oil
130g cashew nuts
5 garlic cloves
190ml plant-based milk
10g nutritional yeast
150g silken tofu
300g spaghetti
125g garden peas
handful flat-leaf parsley or rocket leaves, to serve
HOW TO MAKE
Preparation:
Preheat oven to 200°C
Line a baking tray
Liquidiser at the ready
Small saucepan of boiling water on a high heat
Large saucepan of salted water on a high heat
Instructions
Slice the mushrooms thinly
Pour the soy sauce, maple syrup, cider vinegar and olive oil into a bowl and whisk to combine | Add the mushrooms, making sure the slices are well covered in the marinade and set aside
Meanwhile, put the cashews in the small saucepan filled with boiling water and boil for 15 minutes
Take the mushroom slices out of the bowl and lay them out evenly on the lined baking tray
Add the whole garlic cloves and pour over the marinade
Bake in the hot oven for 25–30 minutes, until they have shrunk in size and begun to crisp very slightly
Drain the cashews and put them into the liquidiser along with the plant-based milk, nutritional yeast and tofu
Whizz to a very smooth cream and then set aside
Add the pasta to the large pan of boiling salted water and cook until al dente, following the instructions on the packet
Add the peas for the last minute of cooking
Fill a mug with pasta water and set aside
Drain the pasta and peas through a colander and tip the pasta back into the cooking pot
Pour the carbonara cream and 3 tablespoons of the pasta water over the pasta and stir everything around until the pasta is well covered in the cream
Take the mushrooms out of the oven and fold them into the creamy pasta
Add another splash of pasta water, if needed, to give a nice, loose, creamy consistency
Garnish with the fresh parsley or rocket (or any other green, leafy salad) and serve immediately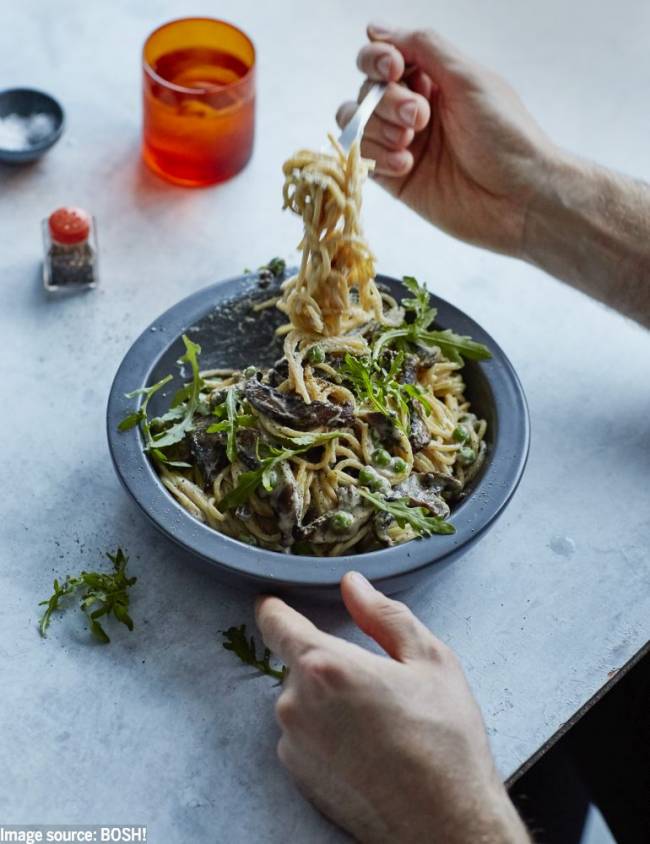 ABOUT BOSH!
BOSH! is showing the world just how easy it can be to eat plants. Their inventive food creations reached more than half a billion people in just their first year. For more information, visit https://www.bosh.tv/recipes.
BOSH!
THE COOKBOOK

BOSH! by Ian Theasby and Henry Firth is out now published by HQ, HarperCollins in hardback and ebook. Check it out here.