Runny noses, unrelenting sniffles and the hellish man-flu are all 'doing the rounds' at the moment. Give your body a boost with a bit of spice-therapy…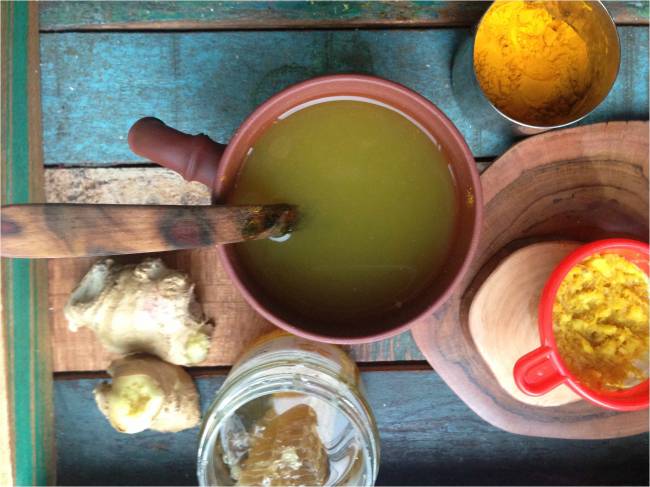 Spices have been used for eons for their medicinal properties. Rich in antioxidants and trace minerals, they not only add flavour and colour, but can help alleviate many ailments. Mira Manek, author of healthy eating Indian cook book 'Green Dahl Stories' is a firm believer in the powers of spice for staying on top form during winter. Try one of these tasty spice-laden brews….
Golden Tea
Turmeric is a powerful antioxidant and has extraordinary benefits. Recent research has found that curcumin, the major component in turmeric, is strongly anti-inflammatory and appeared to block an enzyme that promotes the growth of cancer. This hot drink consists of all things that help ward off colds and flu's but that also help to fight and soothe a cold. As well as the potent and healing turmeric, the fiery warmth of freshly grated ginger opens up the nasal passages, the lime fuels the body with Vitamin C, immune-boosting cinnamon adds more antioxidants and deliciousness, and manuka honey, known for its antibacterial powers, sweetens this medicinal concoction. You can use any honey if you don't have manuka.
Gently simmer together 500ml water, 1tbsp grated root ginger, 1/4tsp turmeric, 1/4tsp ground cinnamon, juice 1 lime and 1-2 tsp manuka honey. Strain into 2 mugs and serve.
Mira's ultimate booze free cup.
This makes for the perfect no-alcoholic after-dinner drink for guests and it's sweetness might keep you from reaching for that indulgent pudding. A few pieces of dark chocolate make a great pairing.
Place a handful of chopped dried cranberries in a pan over a medium heat with 1/2 tsp cinnamon and 1tsp agave syrup for a few minutes. Add 1tbsp grated root ginger, 1/4tsp ground turmeric, 2-3 cinnamon sticks, broken, juice of 1 1/2 limes and 1tsp zest, 2-3tbsp honey and 1-2 sliced clementines. Add 500ml water and simmer for at least 10 mins. Pour into 4 cups (straining if you like) and serve.