"When faced with busy mornings, taking the time to prepare a nutritious breakfast for your children can be tough– particularly when considering budget factors too." says Charlotte Stirling-Reed, a top child nutritionist who collaborated with Joe Wicks on his best-selling Wean in 15 book (she also guided Joe and Rosie through weaning Indie). Breakfast for Dad.info and kids is always a rush and normally the same, toast followed by porridge with either raisins or bananas so we were pleased to find out what Charlotte recommends to shake up our routine.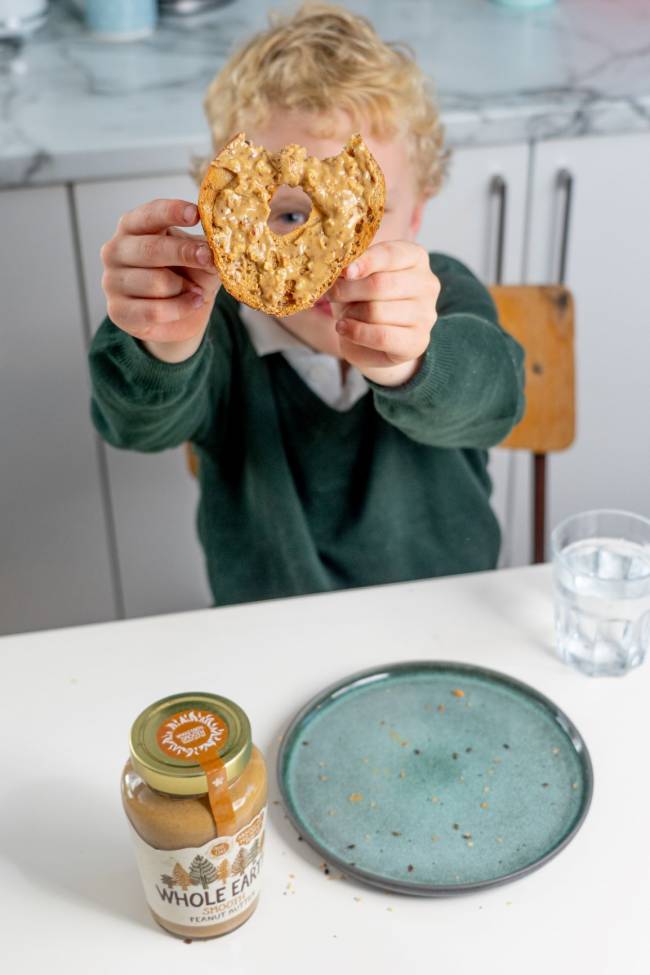 Charlotte has been analysing the typical home breakfasts of 4,000 parents and school children. She said, "ensuring young children get a good breakfast in the morning can help set them up for a balanced diet, by ticking off some of those all-important food groups. It can also help ensure they leave the house with energy to allow them to concentrate and play at school".
A recent study by Whole Earth found that a school child's typical weekday breakfast at home contains  97% of their daily free sugar allowance – this is twice as much as an average adult breakfast. Just as Marcus Rashford is campaigning for children to receive a quality, healthy and affordable lunch, Charlotte believes a healthy breakfast can be pivotal for many kids too.
Here are Charlotte's four top tips for an affordable and healthy balanced breakfast with your children:
Boost nutrients at breakfast
Breakfast is a really good opportunity to get fibre into your children's diet, as well as one of their 5-a-day and plenty of vitamins and minerals. The study on sugar at breakfast also found that most school aged children are not eating one of their 5-a-day before they start school. Try adding some ground seeds, chopped nuts or nut butters to cereals or porridge in the morning and add a portion of whole, sliced or grated fruit too.
Avoid high-sugar breakfasts
It's easy to go over recommended sugar allowances in one meal, especially if you choose sugary spreads or sweet drinks and cereal first thing. Swapping a higher sugar breakfast cereal for a lower sugar option, chocolate spread for a no-added sugar peanut butter, or orange juice for water can more than half sugar intake at breakfast. Simple swaps make a big difference.
Keep costs low
To keep breakfast reasonably priced, check out some own brand cereals and porridge at the supermarket as these are often very similar to branded versions – yet cheaper. Where you can, choose low sugar and fortified options and try to regularly change up your breakfast choices. Keeping youngsters involved with breakfast can be a challenge, so switching things up can be helpful too.
Spend breakfast together where you can
Try to make the most of having breakfast together – it can be a really nice treat to kick start your day. For busy dads, a good tip would be to prepare breakfast the night before so it's ready in the morning. Overnight oats can be prepped and placed in the fridge and pancakes made, then frozen for ease.
Try Charlotte's top low-cost healthy breakfast recipe for overnight oats:
WHOLE EARTH APPLE AND RASPBERRY OVERNIGHT OATS
SERVES 1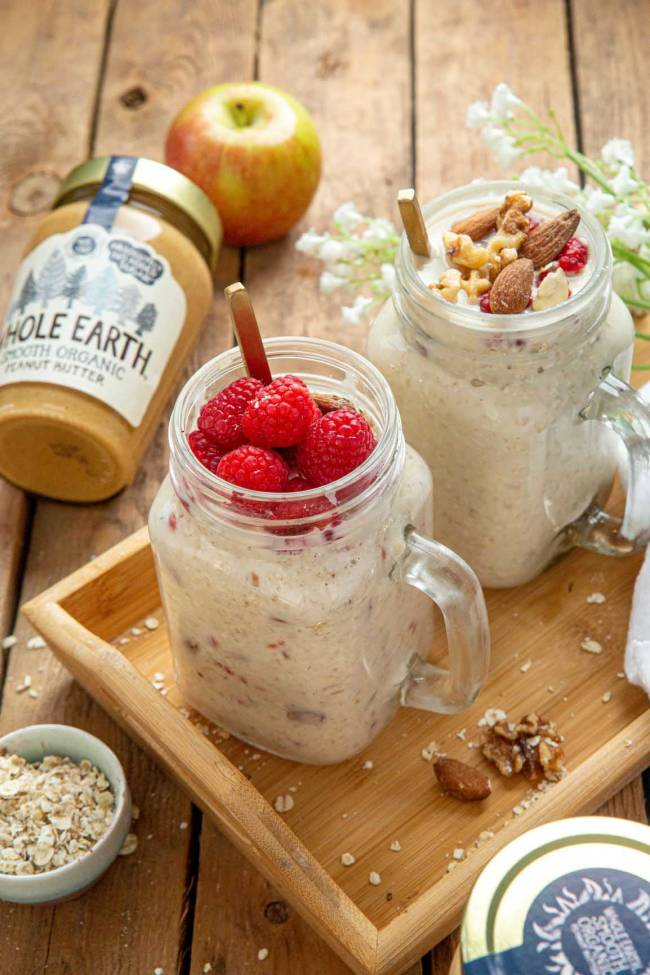 INGREDIENTS
60g jumbo porridge oats
150ml full fat milk (or fortified plant milks such as oat, nut or soya milk)
1 tbsp Whole Earth Smooth Original Peanut Butter
20g grated apple
20g raspberries
10g chopped/ground nuts
Sprinkle of desiccated coconut
HOW TO MAKE IT
Add ingredients to a bowl or jam jar and stir it together well. Leave in the fridge overnight so that the oats are ready to eat in the morning.
*All research conducted by Whole Earth, full findings can be found here.