The perfect homemade delight for dads treating mums on Mother's Day, and a delicious no-junk treat for Easter, this passion fruit cake is bursting with flavour…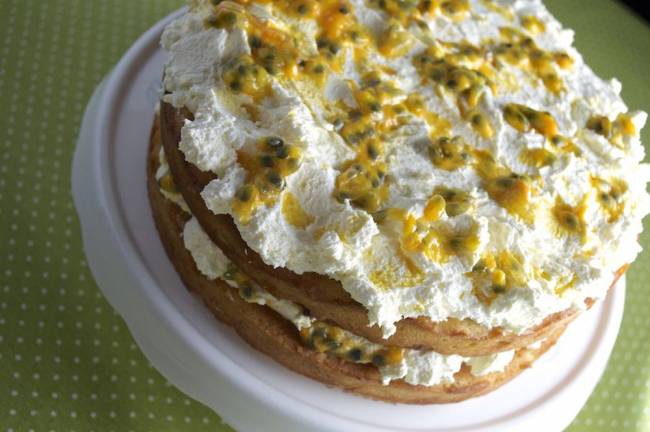 This cake won't last long as it contains no refined sugar to preserve it, and has a fresh cream topping and filling, so make sure you invite the family around to help you devour it fresh!
Prep Time: 10-30 mins
Cooking Time: 20 mins
Age suitability: for all the family, toddlers from 12mths+
Suitable for vegetarians
Ingredients
Sponge
-250g unsalted butter (room temperature)
-60mls maple syrup
-200mls mango puree (made from approx. 1 mango)
-2 tsps vanilla extract
-4 eggs
-300g self raising flour (or a gluten free option)
Filling and topping
-6 ripe passion fruits
-400mls double cream
-4 tbsps maple syrup
Method
1. Preheat your oven to 180°C, 160°C fan, Gas Mark 4. Grease and line two 20cm sandwich tins with non-stick baking parchment using a little extra butter. Top tip: you can use the left over butter on the butter wrapper for this and it's a great job for little ones.
2. Make the mango puree by slicing the mango from top to bottom as close to the stone as possible on either side. Score a criss cross pattern in each half of the mango, then push the fruit cubes outward creating a hedgehog shape. Slice the fruit off the skin and blend in a blender until perfectly smooth.
3. In a large bowl beat the butter with the maple syrup and 1 tbsp of flour until soft. Add the mango puree and vanilla extract with 2 tbsps of flour and beat in. (Or you can use an electric cake mixer with the paddle attachment.)
4. Add the eggs one at a time with 1 tbsp of flour with each egg added. Beat in thoroughly. (The flour stops the mixture from splitting, which happens if it's too wet.)
5. Sieve in the rest of the flour gradually and fold lightly into the mixture using a metal spoon. (You want to keep as much air as possible in the mixture – so be careful not to over mix it.) Why not let little ones have a stir or press on and off on the mixer.
6. Divide the mixture evenly between the two sandwich tins. Smooth over lightly, then bake for 20 minutes or until golden and springy to the touch. Insert a knife to check they are cooked – it should come out clean. Leave in the tin for 10 minutes to cool a little, then move onto wire rack to cool completely.
7. Once the sponge is completely cool, whip the cream until thick, then very lightly stir through 2 tbsps of maple syrup. Cut open the passion fruit and scoop the flesh into a bowl and stir in 2 tbsps of maple syrup. Sandwich the sponges together using half the whipped cream and half the passion fruit flesh. Then top with the rest of the cream and drizzle the remaining passion fruit over the top. Simple and delicious."
A top tip from Organix
Why not experiment with different fruit purees? The riper and sweeter the fruit, the sweeter the cake will be. You could also use coconut oil rather than butter if you prefer in this sponge, and gluten free self-raising flour for those with gluten intolerance.
The key difference with this recipe is there are more wet ingredients than in typical cake mixes. The fruit puree and maple syrup make the mixture much wetter than a traditional sugar based cake. To prevent the mixture 'splitting' ensure you add 1 tbsp of flour with each addition of wet. You can see if the mixture is starting to split as it looks a bit slimy – if you see this, add some flour straight away and mix in.