We call these 'nom nom balls', and they are unacceptably good for a dippy dinner party. Crispy, crunchy and moreish, you may need to make double helpings (served with hummus, obviously). They are the best dipping food we have ever tasted, good as a snack, great in pitta, and an audacious way to enjoy a Middle Eastern staple!

Video via BOSH!
SERVES 6–8
1 small red onion
3 garlic cloves
2 x 400g tins chickpeas
220g flour, plus a little extra
15g fresh coriander
15g fresh parsley
2 tsp harissa paste
1 tsp ground cumin
2 tsp salt
1 tsp pepper
1 lemon
180g panko breadcrumbs
240ml plant-based milk
250ml vegetable oil, for frying
2 x portions Classic Hummus (see page 199), to serve
HOW TO MAKE
Preparation:
Line a large bowl with a clean tea towel
Food processor
Large deep saucepan
Line a plate with kitchen paper
Instructions:
Peel the onion and the garlic
Drain and rinse the chickpeas and tip them into the tea-towel-lined bowl
Pat the chickpeas dry to remove as much moisture as possible
Put the onion, garlic and chickpeas into the food processor
Add 100g of the flour, the coriander, parsley, harissa, cumin, 1 teaspoon of the salt and ½ teaspoon of the pepper
Cut the lemon in half and squeeze in the juice, catching any pips with your other hand
Whizz to a thick paste that's not too sticky (if it seems too wet, add another tablespoon or two of flour)
With lightly floured hands, take teaspoons of the mixture at a time and roll them into 2cm balls about the size of large marbles
Put the panko breadcrumbs into a bowl
Put the remaining flour, the plant-based milk and the remaining salt and pepper into a bowl and stir them together until you have a thick, creamy batter
Dip 2 or 3 balls at a time into the batter, shake off any excess and transfer them to the bowl of breadcrumbs, rolling them around until they are completely coated
Repeat until all of the balls are coated
Pour the vegetable oil into the large deep saucepan so that it comes no more than two-thirds up the side of the pan
Place the pan on a medium heat
When a small piece of bread dropped into the pan turns golden brown after 60 seconds, you are ready to go
Fry the falafels in batches of 10 for 3–4 minutes, then turn them over and fry for a further 3 minutes, until deep golden brown and crisp
Remove from the pan with a slotted spoon and drain on the kitchen paper to remove the excess oil
Serve with hummus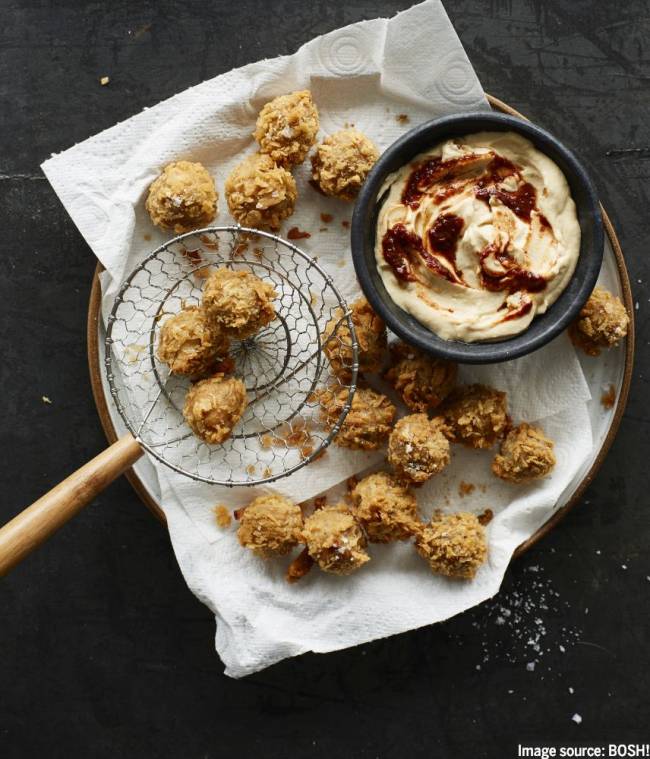 ABOUT BOSH!
BOSH! is showing the world just how easy it can be to eat plants. Their inventive food creations reached more than half a billion people in just their first year. For more information, visit https://www.bosh.tv/recipes.
BOSH!
THE COOKBOOK

BOSH! by Ian Theasby and Henry Firth is out now published by HQ, HarperCollins in hardback and ebook. Check it out here.