A hefty glass of red and cheesy mash transform the dull old Shepherd's Pie into an indulgent dinner.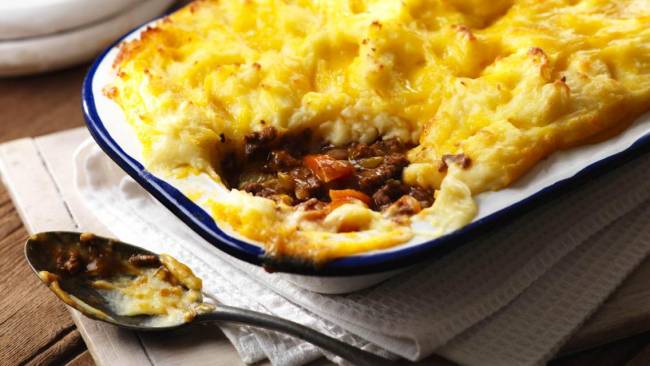 Serves 4-6
Ingredients
2tbsp vegetable oil
700g minced lamb
25g butter
2 onions, finely chopped
3 celery sticks, diced
2 carrots, diced
2tsp chopped fresh rosemary
2tsp chopped fresh thyme
2tbsp tomato puree
½ tsp ground cinnamon
2tbsp tomato ketchup
250ml red wine
25g plain flour
200ml chicken stock
2tsp Worcestershire sauce
salt and pepper
for the topping…
900g peeled potatoes
25g butter
100ml whole milk
200g Pilgrims Choice Extra Mature grated
Cooking time
15 mins prep, 2 hours cooking
How to make it
Fry the lamb with the oil in a frying pan for 5 mins until coloured.
In a separate large saucepan melt the butter and gently cook the vegetables for 10 mins. Add the chopped herbs, cinnamon, tomato puree and ketchup, cook for 2-3 mins.
Add the cooked lamb to the vegetables with the wine and Worcestershire sauce for 5 mins until reduced.
Sprinkle the flour over the meat, stir constantly and cook for 2-3 minutes.
Add the stock and bring to a gentle simmer, stirring occasionally. Cook for 1-1½ hours adding a little water if required until everything is very tender.
Meanwhile make the mashed potato topping. Boil the potatoes until tender. Drain and mash with the butter, milk and black pepper. Add half of the cheese and return to the heat mixing well until melted.
Once the filling is ready, spoon into an ovenproof serving dish. Spoon the potato over the meat and finish with the remaining cheese.
Place in a hot oven at Mark6/200c for about 15 mins until the mash is golden.