Don't be handing over your cash to the Colonel, whip up this classic pairing at home instead…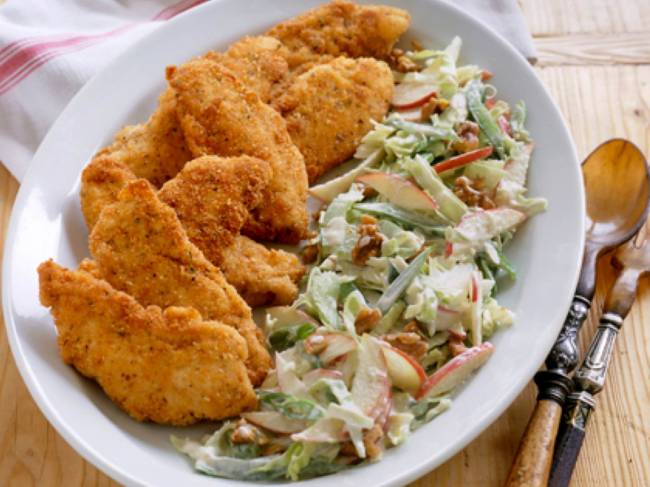 Ingredients
150g fine dry breadcrumbs
1½ tsp dried sage
100g plain flour
2 eggs, lightly beaten
600g chicken mini breast fillets
Oil, for shallow frying
For the Ranch Coleslaw…
2 cups (475 ml) finely shredded green cabbage
bunch spring onions, finely sliced
1 small green pepper, seeded, deveined and finely sliced
1 stick celery, trimmed & finely sliced
1 red apple, finely sliced & tossed in 2 tablespoons lemon juice
75g walnuts, lightly toasted
6 tbsp Newman's Own Ranch Dressing
Cooking Time
15 mins preparation, 15 mins cooking
How to make it
Make coleslaw. Combine all ingredients in a large bowl and mix to combine. Set aside.
Preheat oven to Mark 3/160ºC. Combine breadcrumbs and sage in a medium size bowl. Coat chicken in flour, then egg and then coat in breadcrumb mixture.
Pour oil into a large frying pan to a depth of about 1/2 cm. Heat over a medium-high heat. Cook chicken in 2 batches for 3 minutes each side or until cooked. Drain on paper towel (keep first batch warm in oven).
Serve chicken with coleslaw.