Love desserts but don't eat eggs or dairy? Vegan treats could be the answer. Karin Ridgers, founder and Director of Veggie Vision TV and a presenter at Vegfest UK, explains why more families are turning to a plant-based diet, and shares two delicious, easy to bake, dairy-free recipes too…
A plant-based, vegan diet is perfect for all the family. Something satisfying for dad, containing no cholesterol; something quick for busy, working mums; and food that's delicious, healthy and fun to make for the kids.
And I should know: my husband's vegan, we're bringing up my son as vegan, and my sister, dad and the rest of my family don't eat meat!
A vegan way of eating is compassionate, fun and healthy. I always aim for a good balance of great vitamin-packed smoothies, juices and salads, with a mix of 'naughty' thrown in, like chicken-free chicken nuggets, dairy-free, cheese-topped fully-loaded pizzas, and big, meat-free burgers and relish!
However, sometimes we may like a delicious curry with tofu and veggies, a colourful array of crudities and dips, different breads, olive oil and dips, or try foods from around the world that can easily be adapted to be vegan friendly.
A plant-based diet contains all of the vitamins and good stuff that our bodies need, and millions of people (and animals!) worldwide are thriving on a plant-based diet.
The soil that our veggies are grown in isn't as good as it was years ago due to over-farming and pesticides, so I aim for as much organic as I can and we take a few supplements to give our bodies that extra boost.
I love cooking with my son and I've encouraged him from the age of two to stand next to me in the kitchen and get involved. He's now 10 and loves being vegan, especially as there's now a vegan version of everything.
These two delicious recipes are great fun to make with the kids – enjoy!
Vegan Chocolate Brownies
Ingredients
1 cup white flour
1 cup whole-wheat flour
1 cup water
1 cup brown sugar
1 teaspoon salt
1 teaspoon vanilla extract
¾ cup cocoa powder for baking
½ cup coconut oil melted
½ teaspoon baking powder
Optional: ½ – 1 cup chopped nuts, ½ – 1 cup vegan chocolate chips
How to make it
Spray a 9 x 13 baking sheet with nonstick cooking spray.
Combine flour, water, brown sugar, and salt (a wire whisk works best for this).
Stir in the vanilla extract, cocoa powder, coconut oil, and baking powder using a wooden spoon.
Spread evenly into the baking sheet and bake at 400° for about 30 minutes, until a toothpick inserted on the sides comes out clean – delicious!
Lemon Choc Mousse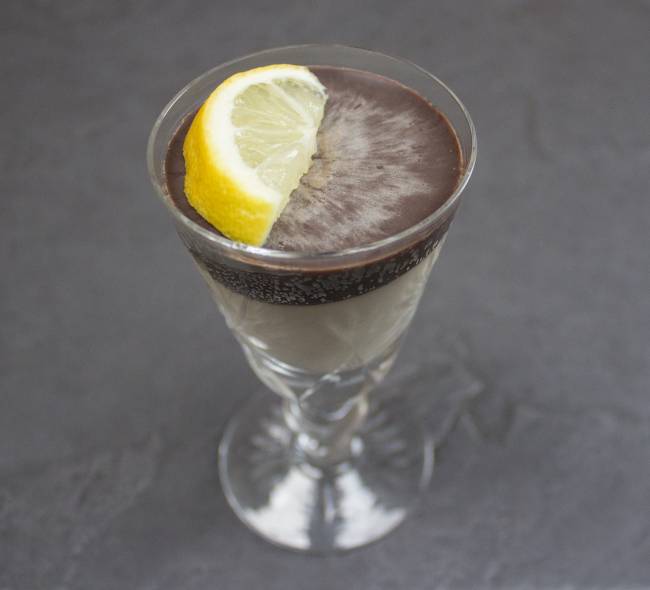 Ingredients (Makes 12 Portions)
For the lemon part
1 tin of coconut cream
2 tbs lemon juice
Zest of one lemon
2 tbs coconut sugar
For the chocolate part
125g raw cacao butter
40g coconut nectar
20g ground cashew nuts
15g coconut oil (butter)
45g raw cacao powder
4g vanilla powder
How to make it
Empty the coconut cream into a bowl and whisk by hand until it's smooth
Add in the coconut sugar, lemon zest and lemon juice and whisk until it's all mixed in.
Put into a small glass and place in the fridge to set for 10 minutes.
On a double boiler – a glass bowl suspended above a saucepan of water (but not touching the water), gently melt the cacao butter, making sure not to let the water come to the boil.
Once the butter is melted, add in the coconut butter and stir until it melts.
Take the bowl off of the stove and mix in the rest of the chocolate ingredients.
Pour the mixture on top of the mousse. Place back in the fridge for another 20 minutes, then serve chilled.
Lemon Choc Mousse recipe taken from Divine Desserts – How To Have Your Cake & Eat It, by Juliette Bryant (www.julietteskitchen.tv) and Vegan Chocolate Brownies recipe provided by Susanne Kirlew.
Karin Ridgers is the founder and Director of Veggie Vision TV and a presenter at VegfestUK, the biggest vegan-friendly festivals in Europe.
Vegfest London is taking place on on October 22nd and 23rd 2016 at Olympia London (West & Central Halls Levels 1 & 3). Advanced tickets cost £12 for adults and £8 for concessions, plus a small booking fee. Tickets on the door are £15 for adults and £10 for concessions. Children under the age of 16 go free. With over 250 stalls, the festival will have story- and poetry-reading sessions, magic shows and cookery classes for younger children, with workshops, games and competitions for teens. Parents can enjoy yoga, comedy and music, plus a broad range of talks, including Athlete and Health Summits.