A simple way for you and the kids to make a delicious meal out of ready-made meatballs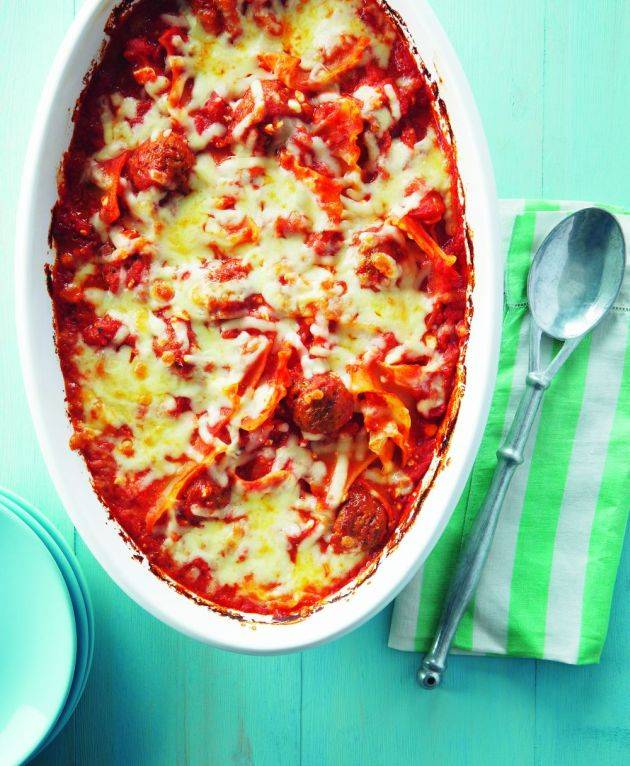 Serves four
Ingredients
2 tbsp butter
2 tbsp plain flour
125 ml water
2 x 400g cans chopped tomatoes
1 tsp white sugar
½ tsp dried oregano
½ tsp finely chopped garlic (from jar)
pinch of pepper
6 or fresh lasagne pasta sheets
250 ml cottage cheese
12 to 16 frozen meatballs (2.5 cm each)
8 tbsp grated mozzarella or white cheddar cheese
Cooking time
20 minutes preparation and 45 minutes in the oven
How to make it
Preheat the oven to 190°C/170°C fan/gas 5.
Place the butter in a microwave-safe bowl, then heat in the microwave at 50% power until melted (about 30 seconds).
Remove the butter from the microwave and whisk in the flour until smooth. Use a baking spatula to scrape the mixture into a 2.5-3.5litre baking dish.
Use a whisk to gradually mix the water into the butter and flour mixture until smooth.
Switching back to the baking spatula, stir in the canned tomatoes, sugar, oregano, garlic and pepper.
Break the lasagne sheets into roughly 5 cm sections (it's okay if they are jagged and uneven) and add them to the baking dish. Stir well to moisten the pasta. Add the cottage cheese in dollops overtop. Stir until about half the cottage cheese is mixed into the tomato sauce mixture and half the cheese stays in white streaks. Push down any large lasagne pieces that poke out of the liquid, but don't worry if some stick up.
Use your fingers to press the meatballs into the lasagne mixture, spacing them as evenly as possible; they do not need to be covered by the sauce and noodles. Wash your hands.
Cover the baking dish with a lid or foil. Get help putting it in the oven. Bake for 30 minutes.
Remove the dish from the oven and uncover it.
Stir the lasagna to coat everything with sauce and spread the mixture evenly in the dish.
Sprinkle the top with the pre-grated cheese.
Put back in the oven, uncovered, and bake for another 15 minutes until the cheese is melted.
Taken from Everyday Kitchen For Kids by Jennifer Low. Published by Grub Street £14.99. A great selection of simple, fool-proof recipes that all the family can enjoy cooking and eating.