Earn some serious gold-stars this Valentine's Day by knocking up this American classic…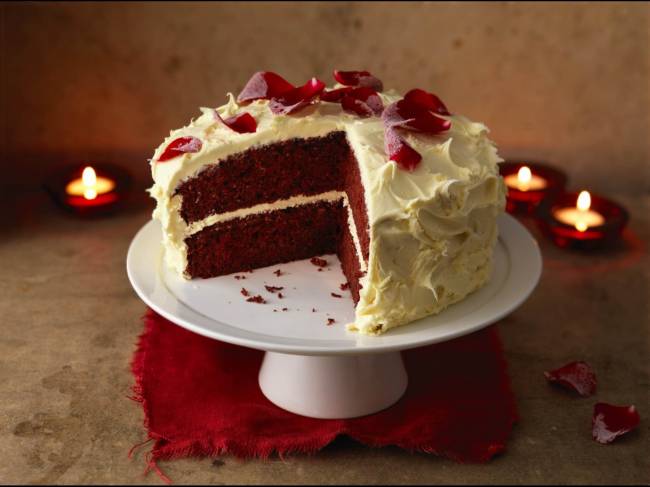 Ingredients
1 pack bright red gel food colour
250ml (8floz) buttermilk
150g (6oz) Kerrygold spreadable butter
250g (10oz) caster sugar
3 eggs
1tsp vanilla extract
225g (9oz) plain flour
2tbsp cornflour
2tbsp cocoa powder
1tsp white wine vinegar
1tsp bicarbonate of soda
for the cream cheese frosting…
75g (3oz) Kerrygold butter
500g (1lb 4oz) icing sugar
few drops vanilla extract
250g (10oz) full-fat cream cheese
edible decorations, optional
Cooking time
20 mins prep, 40 mins in the oven
How to make it
Heat the pan to 180C, gas mark four. Fully line and grease 2x20cm spring-clip cake tins. Mix the food colouring into the buttermilk
Beat the butter and sugar until light & fluffy. Slowly add the eggs and vanilla then fold in the flour, cornflour and cocoa followed by the buttermilk.
Combine the white wine vinegar and bicarbonate of soda in a small bowl and allow to fizz, then fold into the cake mixture immediately before baking. Divide the mixture evenly between two cake tins.
Bake in the centre of the oven (ideally the same shelf) for 35-40 mins. Leave to cool in the tins for five mins then turn out onto a wire rack to cool completely.
To make the frosting, beat together the butter, half the icing sugar (don't add it all at once or your mixture may go runny) and vanilla, then mix in the remaining icing sugar and cream cheese. Layer up the cake on a cake stand with some of the cream cheese frosting in between, then completely cover the outside of the cake. Scatter with frosted rose petals or edible decorations for extra brownie points.