A simple lunch or dinner dish that you can make with the kids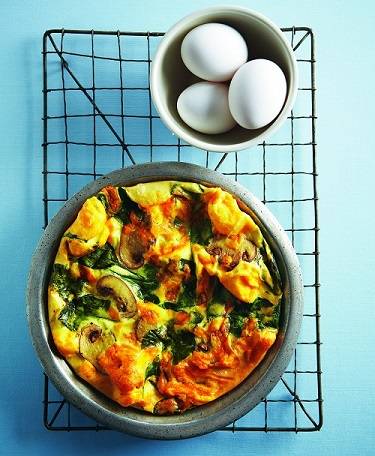 Makes four kid-sized or two adult-sized servings
Ingredients
250 ml (1 cup) loosely packed baby spinach leaves
125 ml (1/2 cup) pre-sliced button mushrooms
1 tbsp olive oil, plus extra 2tsp for oiling pan
4 tbsp milk
2 tbsp plain flour (regular or gluten-free)
5 eggs
1 tbsp dried onion flakes
½ tsp finely chopped garlic (from jar)
pinch of pepper
4 tbsp grated cheddar cheese
Cooking time
20 minutes preparation and 25 minutes baking time
How to make it
Preheat the oven to 190°C/170°C fan/gas 5.
Line a baking sheet with non stick baking paper.
Use a pastry brush or a scrunched-up piece of cling film to rub 2 tsp olive oil onto the bottom and sides of a 23cm ovenproof frying pan or cake tin. Set aside.
Put the spinach, mushrooms, and 1 tbsp olive oil in a large bowl and mix with your hands until well coated.
Spread the mixture out on the lined baking sheet, then wash and dry your hands.
Put the baking sheet into the oven and bake for 10 minutes, or until the mushrooms are shrunken in size and the spinach is wilted (don't worry if some leaves turn crispy; they're delicious mixed into the frittata).
Remove from the oven and cool (keep the oven on).
In the bowl you used for the spinach and mushrooms, whisk the milk and flour until smooth. Then whisk in the eggs, onion flakes, garlic and pepper.
Stir in the cheddar cheese and cooled spinach and mushrooms.
Pour the mixture into the pie tin. Use a teaspoon to gently spread out the cheese, spinach, and mushrooms.
Place the cake tin onto the middle rack of the oven.
Bake for 25 minutes, or until the frittata puffs up (it will flatten after it comes out of the oven).
Cool for a few minutes before slicing into wedges to serve.
Recipe taken from Everyday Kitchen For Kids, Jennifer Low. Published by Grub Street £14.99.
Take a look at this handy guide from Nucific to find out which eggs are the best for you and your family.