Looking for a quick and easy winter warmer? This veggie classic tastes miles better than any ready-made version…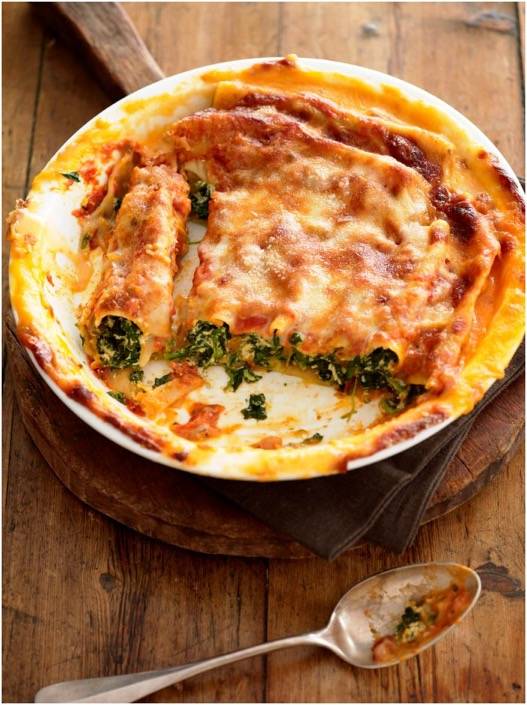 Ingredients
for the tomato sauce…
4 tbsp olive oil
1 large onion, finely chopped
2 garlic cloves, finely chopped
400g can Cirio chopped tomatoes
handful basil leaves, torn
for the filling…
500g spinach
250g vegetarian ricotta cheese
grating nutmeg
1 egg, beaten
18 cannelloni tubes
350ml béchamel sauce (homemade or from a jar)
30g grated mature vegetarian cheese
Cooking time
15 mins preparation, 1 hour cooking time
How to make it
Pre-heat the oven to 190C/Gas mark 5.
Heat the olive oil, then add the onion and fry gently for 10 minutes until soft.
Add the garlic and continue to cook for a further 2 minutes.
Add tomatoes and simmer for 15 minutes, remove from heat, stir in the fresh basil and season.
Meanwhile, put spinach in a large bowl, pour over a kettle of boiling water, leave for 2 mins, drain and cool. Squeeze out as much liquid as possible, then chop roughly. Place in a bowl and mix together with remaining filling ingredients. Season and spoon or pipe the mixture into the cannelloni tubes.
Lightly butter a 1.5 – 2 litre baking dish and transfer the cannelloni tubes onto it.
Spoon over the tomato sauce followed by the béchamel sauce. Sprinkle cheese on top and bake in the oven for 30-40 minutes until golden.