A tasty lunch that's portable and easy to make. Choose wholemeal pitta bread so you get a source of fibre, and pile on as much of the fresh rocket as your bread will hold!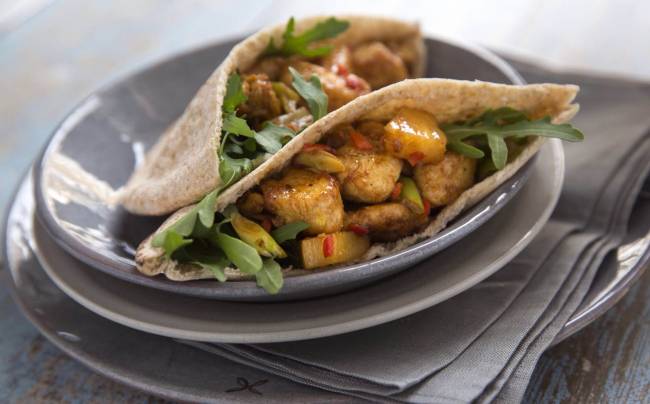 Sweet 'n' sour chicken pitta
Serves 4
Ingredients
2 tsp corn flour
1-2 fresh red chillies, chopped (as desired)
zest 1 lemon
1 clove garlic, crushed
2 chicken breasts (weighing 350g in total), cut into small chunks
1 tsp olive oil
2 canned pineapple rings, cut into small pieces
2 spring onions, sliced
For the sauce
2 tsp dark soy sauce
2 tsp lemon juice
2 tsp Splenda® Granular
To serve
Rocket salad leaves
4 wholemeal pitta breads, cut in half
Cooking time
5 minutes prep, 10 minutes on the hob.
How to make it
Mix the corn flour with the chillies, lemon and garlic. Coat the chicken
in the flavoured flour.
Heat the oil, and stir-fry the chicken over a medium heat for about 5 minutes or
till browned.
Mix the sauce ingredients together, and add this with the spring onions and
pineapple to the pan. Cook through for a few minutes till the chicken is fully
cooked (add a couple of teaspoons of water if it begins to stick).
Warm the pitta bread halves and fill with rocket leaves and the sweet and sour
chicken.
Splenda sugar alternative and leading dietitian and diabetes expert Azmina Govindji have created some simple, delicious recipes for those
looking to reduce their sugar intake without sacrificing on taste.