It's the time of the year when you can really indulge yourself and never more so than for the annual Christmas Dinner. If you're vegetarian, vegan, or just fancy a break from the turkey this year, try this delicious nut roast. It's packed with all of those classic Christmassy favourites; chestnuts, celery, mushrooms and cranberries, with tofu to lend a creamy texture and bring it all together…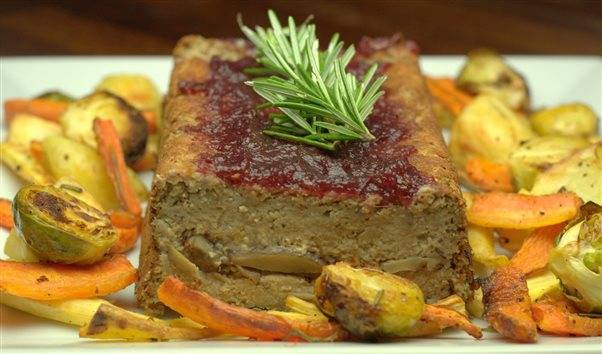 Ingredients
For the loaf:
1 tbsp olive oil
1 or 2 small large onions, finely chopped
4 cloves garlic, minced
2 sticks celery, finely diced
I packet of chestnut purée
1 block tofu, well pressed and crumbled
1 cup cashew nuts, soaked for 2 hours and ground
4 tbsps nutritional yeast
100g brown bread crumbs
Salt and pepper
For the filling:
1 tbsp olive oil
250g mushrooms, sliced
1 tbsp tamari
Freshly ground black pepper
For the topping:
3 cups (300 g) fresh cranberries
2/3 cup (158 ml) agave nectar
3/4 cup (175 ml) water
How to make it
Prepare a 25cm x 11cm loaf tin by finely oiling or lining with parchment. Heat your oven to 180 deg.C.
Fry the onion in the olive oil on a medium-low heat until it's translucent. Add the garlic and celery and continue to fry for a couple more minutes. Meanwhile, finely grind your soaked cashews in your food mixer. Then add the onion/garlic/celery mix, chestnut purée, crumbled tofu, nutritional yeast and bread crumbs. Add seasonings to taste. Mix together, you want to have a smooth consistency so carry on mixing until the mixture looks like a heavy cake mix.
Next prepare the filling. Heat the oil in the same frying pan as you were using before, add the sliced mushrooms and cook on a low heat till they're soft and let off their mushroomy liquid. Add the tamari and freshly ground black pepper. Remove from the heat.
Layer half of the loaf mix into the tin, top with all the mushrooms, including any liquid from the pan and pour the remaining loaf mix on top. Flatten down so the top is smooth and cover with tin foil.
Bake in your pre-heated oven for 50 minutes, checking the centre of the loaf is cooked by inserting a skewer in the middle and seeing if it comes out clean.
While the loaf is cooking, prepare the fruity topping. Wash and trim the cranberries. Put in a pan and cover with the water. Add the agave nectar and bring to a slow boil. When the cranberries are simmering, lower the heat and cook for five minutes until the fruit has broken up. The sauce will still be a bit watery at this point but it thickens as it cools. Remove from the heat and set aside
When the loaf has cooled for 10 minutes, remove it from the tin and place it upside down on a cooling rack. Pour the cranberry sauce over the top so the fruit can infuse into the loaf as it cools. Put the rest of the sauce in a separate bowl and serve with roasted vegetables, gravy and all the Christmas trimmings.
For more delicious tofu recipes, head to tofuture.com/recipes/ and check out the new Tofuture Tofu Press (£23.99), which makes draining and preparing your tofu easier than ever.