If you're a fan of sticky, sweet, pan-Asian cuisine you will love this dish (seriously, it's bangin'!). It's quick and easy to put together and guaranteed to impress. Serve with freshly cooked rice and chopsticks

Video via BOSH!
SERVES 2
240g shiitake mushrooms
3 tbsp cornflour
2 tbsp groundnut oil
2 garlic cloves
3cm piece fresh ginger
½ tsp water
1 tbsp sesame oil
2 tbsp light brown sugar
4 tbsp dark soy sauce
2 tbsp rice wine vinegar
1 tsp sriracha sauce, or to taste
1 spring onion, to serve
250g pre-cooked basmati rice (shop-bought or Perfectly Boiled Rice, see page 207), to serve
1 tsp sesame seeds, to serve
HOW TO MAKE
Wok or large frying pan on a high heat
Thickly slice the mushrooms and put them in a bowl
Sprinkle 2 tablespoons of the cornflour over the top and toss everything together with your hands, making sure the mushrooms are well covered
Pour the groundnut oil into the wok or pan and get it nice and hot
Tip in the mushrooms and fry for 4–6 minutes, until cooked through and slightly crisp on the outside
Transfer the mushrooms to a bowl and set aside
Peel and finely chop the garlic and ginger
Spoon the remaining 1 tablespoon cornflour into a small dish and mix it together with the water
Wipe out the wok with kitchen paper and put it back on a low heat
Pour in the sesame oil
Add the chopped garlic and ginger and cook until you release the aromas and they're bubbling in the oil, about 1 minute
Sprinkle over the sugar and stir until caramelised, about 2 minutes more
Increase the heat slightly and pour in the cornflour mix, soy sauce and rice wine vinegar, then stir for another minute until the sauce has thickened slightly
Add the sriracha and stir it into the sauce
Tip the cooked mushrooms back into the pan and stir to warm through and completely cover in the sauce, a further 1–2 minutes
Finely slice the spring onion
Serve the chewy mushrooms over hot basmati rice, garnished with the sliced spring onion and sprinkled with sesame seeds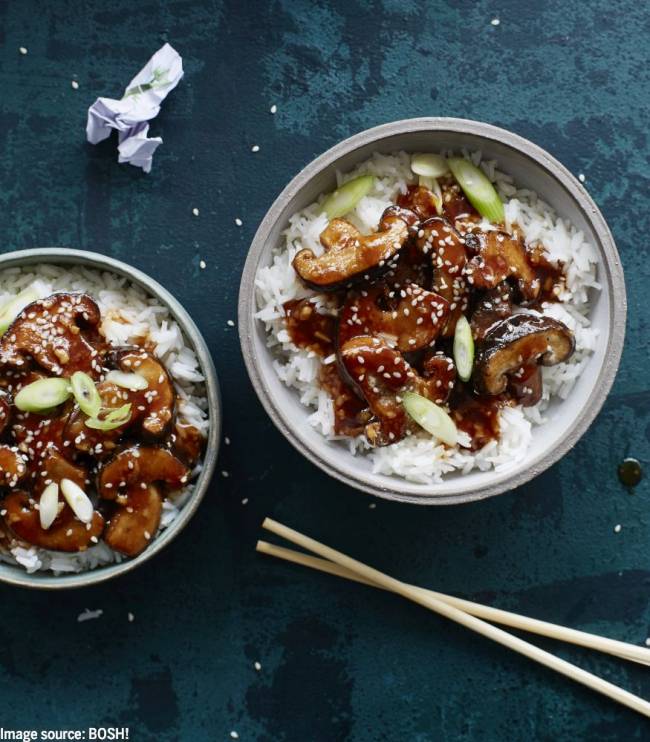 ABOUT BOSH!
BOSH! is showing the world just how easy it can be to eat plants. Their inventive food creations reached more than half a billion people in just their first year. For more information, visit https://www.bosh.tv/recipes.
BOSH!
THE COOKBOOK

BOSH! by Ian Theasby and Henry Firth is out now published by HQ, HarperCollins in hardback and ebook. Check it out here.