You've been good all January, so why not treat yourself to one of these hot and hearty meals to stave off the cold and frosty weather…
Corned Beef Hash with Poached Egg
Serve traditional corned beef hash with a poached egg for a comforting winter meal.
Serves: 4 people
Ingredients
1 x 340g can Princes corned beef, diced
120g unsalted butter
1 large onion, chopped
900g potatoes, boiled and diced
Oil for frying
1 egg per person (optional)
Method
Melt 40g of unsalted butter in frying pan and fry one large onion, chopped.
Cut 340g of Princes corned beef into 1cm cubes and add to pan.
Empty mixture into a bowl. Add 900g of cooked, diced potato, another 40g unsalted butter and black pepper. Fry in a little oil and 40g of unsalted butter.
For a traditional twist, poach one fresh egg per person for 2 minutes and place on corned beef hash. Serve immediately with green beans.

Butternut Squash and Bean Chilli
This chilli is great for all occasions, especially family parties or a cold evening.
Serves: 6 people
Prep time: 20 minutes
Cooking time: 35 minutes
Ingredients
1 Butternut Squash
1 Large Onion
2 Sticks of Celery
3 Fresh Chillies
2 Cloves Garlic
1 tsp Stonemill Paprika
400g tin Sweet Harvest Chickpeas
400g tin Sweet Harvest Red Kidney Beans
2 x 400g tins Sweet Harvest Chunky Chopped Tomatoes with Herbs
1 Quixo Vegetable Stock Cube
300ml Boiling Water
Salt and Black Pepper
A little Solesta Olive Oil
Method
Peel the butternut squash and cut in half lengthways, remove the seeds and pith, then chop into small chunks.Peel and finely chop the onion. Peel and finely chop the garlic. Wash and chop the celery into small chunks.
Dissolve the stock cube in the boiling water. Cut the chillies in half lengthways, remove the seeds (or leave some in if you like your chilli very hot) and then chop finely.
Sauté the onion with a little oil in the saucepan for 2-3 minutes, then add the chopped chilli, garlic, celery and butternut squash and stir well.
Add the tomatoes and vegetable stock.Sprinkle over the paprika and season with some black pepper and salt, then cover and cook for 20 minutes.
Meanwhile, drain the chickpeas and the red kidney beans. Add these to the chilli and cook for a further 10 minutes.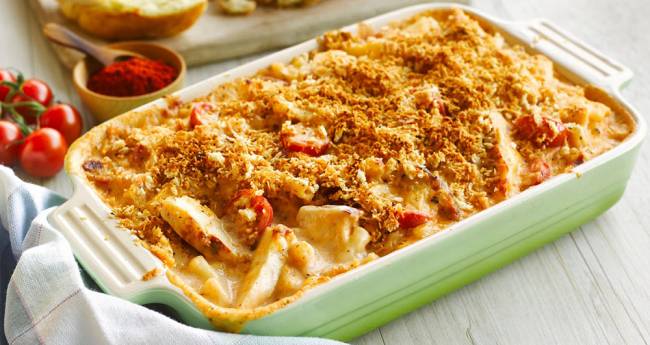 Cajun Crumbed Turkey Mac 'n' Cheese
The ultimate family favourite!
Ingredients
300g (3 packs) Bernard Matthews Roast Turkey Breast Pieces
400g Dried Macaroni, or Spirally Pasta
45g Butter
45g Flour
568ml (1 pint) Milk
50ml Double Cream (optional)
200g Grated Cheddar
50g Parmesan (optional)
1 teaspoon Smoked Paprika
1 big squeeze American Yellow Mustard
4 tablespoons Breadcrumbs
3 tsp Cajun Seasoning to taste
18 Cherry Tomatoes
Sea salt, and Black Pepper to taste
Method
Pre-heat oven to 180º and then cook the pasta according to back of pack directions, then cool under running water. Drain well, and set to one side.
In a large pan, gently heat the butter, and stir in 2 tsp of the Cajun seasoning. Stir continuously, and add in the flour. Cook to a sandy colour.
Slowly add the milk a little at a time, while whisking to prevent it sticking.
When the milk is all incorporated, reduce the heat and add the mustard, Cheddar cheese, smoked paprika and cream (if using).
When the cheese has melted and the sauce is glossy, take off heat and add the drained pasta, Roast Turkey Breast Pieces and cherry tomatoes.
Meanwhile, mix together the breadcrumbs, grated parmesan and the last tsp of Cajun seasoning. Transfer pasta into an oven proof dish, and cover with the breadcrumb mix and bake at 180º for 20 minutes.
Season with salt and pepper to taste and serve with tossed, dressed, green salad and wedges of garlic bread