Support the Denver Broncos? The Sloppy South Western Sandwich is for you: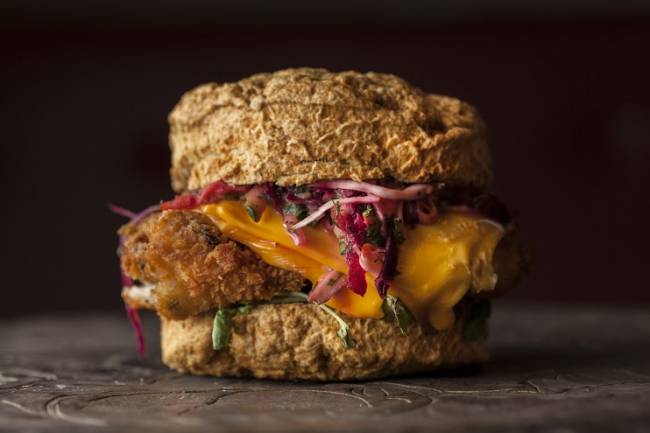 Serves 4
Ingredients
4 torpedo rolls
Lettuce of your choice
Sloppy filling
500g Mince beef
75g grated Mature cheddar
1 large White onion diced
3 large Pickled gherkins diced (keep a little of the pickle juice)
red jalapeño pepper sliced (how hot do you want it?)
1 tsp Dijon mustard
1 bell pepper any colour except green (green ones suck)
100g Tomato paste
2 tsp Smoked paprika
1 tsp Cumin
1 tblsp Maple syrup (honey or brown sugar will do)
1 tsp Worcestershire sauce
1.5 tsp Garlic powder
Salt and pepper to taste
Omelette
6 eggs
4 spring onions chopped
Salt and Pepper to taste
Method
Heat a large frying pan with a tblsp of veg oil and add your diced onion and sliced bell peppers. Cook until they start to soften then add smoked paprika, cumin and garlic powder for two minutes and throw in beef mince.
Cook through until all the beef is brown and add your tomato paste, Dijon and Worcestershire sauce.
Stir the wet mix through the beef and reduce to a low simmer.
Add a little pickle juice or the juice from the jalapeños. If you like chilies add gherkins and chilies.
Cook for 30/40 mins, stirring and keep adding water so the mixture doesn't dry out. You don't want this to be a sauce, you are just flavouring the meat so make sure the liquid has cooked into the beef before you take it off the heat.
Add maple syrup, then set to one side and let cool a little.
You know how to make an Omelette right?….
Whisk the eggs up with the spring onions and season with salt and pepper.
Melt a little butter in a non stick frying pan.
Use a small pan and make 4 individuals or a large pan and make 1 big one and divide it into 4.
Slice open the torpedo roll, butter and toast it. Top with a little lettuce (optional) then cut up omelette and cover the bottom.
Top with sloppy beef mix and slices of mature cheddar and grill for a couple of minutes to melt the cheese.
Close the sandwich, choose an appropriate drink and set up camp in front of the TV.
Prefer the Carolina Panthers? This one's for you: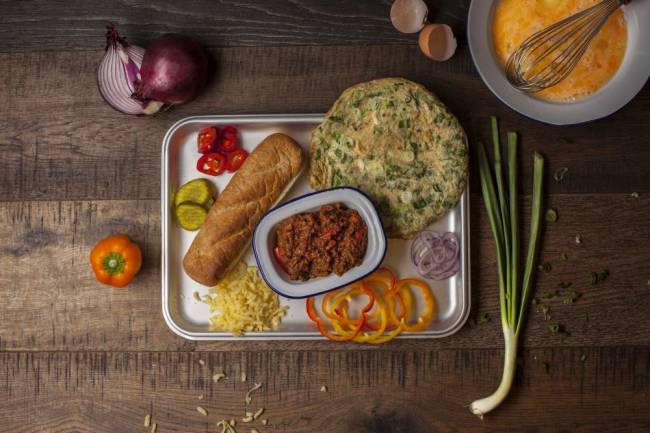 Carolina fried chicken and biscuit burger
Serves 4
Carolina Slaw
Ingredients
Dressing
1 tsp Cider vinegar
1 tsp Dijon mustard
1 tblsp Vegetable oil
Juice of half a Lime
1 tblsp Maple syrup (honey or brown sugar will do)
Pinch of Cayenne pepper
Salt to taste
Veg
20g Dill chopped
20g Parsley chopped
1 Carrot grated
50g White cabbage shredded
50g Red cabbage shredded
1 Courgette grated
1 raw Beetroot grated
Green chilli sliced (optional)
Fried chicken breast
4 chicken breasts butterflied
1 cup flour
1 cup cornmeal
1 cup panko breadcrumbs
1 tsp paprika
1tsp onion powder
1tsp garlic powder
1 tsp salt
1 tsp pepper
2 eggs beaten
500ml bottle of iced tea
Biscuits
2 cups of flour
1 tblsp baking powder
1 tblsp baking soda
50g butter
3/4 cup of buttermilk
Method
Chicken prep:
Pour iced tea into a sauce pan and add salt and two squeezed lemons. Bring to the boil and then set to one side to cool.
Put your chicken breasts in a bowl and when the mixture has cooled down pour it over the top, cover with cling film and put it in the fridge. Leave it in there overnight if you can but if you're running a bit behind then 4/6 hours should do.
Slaw:
This is super simple if you have everything above ready. In a mixing bowl use a whisk to combine all the ingredients for the dressing.
Mix your veg and herbs then pour the dressing over and mix well.
Cover with cling film and put in the fridge to give those flavours a chance to get to know each other while you make biscuits fry your chicken.
Biscuits
Combine the dry ingredients and mix well.
Rub in the butter as if you were making a crumble.
When the mix is all the same consistency you're ready to add the buttermilk. Don't cry if there's a couple of little butter chunks, it doesn't really matter.
Mix well and knead until it feels like a dough.
'Drop biscuits' means that you split the mixture into four and then just drop them on a tray that has been covered with baking paper. These will come out different shapes. If you're a bit more of a perfectionist then You can use a cookie cutter to shape them.
Bake in the oven for 12/15 mins and then Take out and leave to cool a little.
Chicken
Be careful when handling raw chicken. Wash your hands before touching anything else.
In a bowl stir together the cornmeal, flour, salt, pepper, smoked paprika, garlic powder and onion powder.
Remove chicken pieces from the iced tea allowing the excess to drip away.
Coat the breasts evenly with the seasoned flour lift up and then coat with the egg mixture.
Lift and let the excess come off before putting it back into the flour mix.
Repeat this process again to double coat Repeat this with all of your breasts and then leave them on a baking tray for 15 mins while you heat up your fryer.
When the fryer is at 165 degrees you are good to go.
Around 8/10 mins depending on the thickness of the chicken.
Once it's done if you are concerned it's not cooked and you don't have a temperature probe simply find the thickest part of the breasts and give it a little incision. If it's all white then it's alright.
Now you just have to build it. Slice the biscuit across the centre.
You can add some wilted spinach, greens or crispy lettuce to the bottom. Then the fried chicken and top with slaw.
Close the biscuit serve with side of gravy or hot sauce