They say men mature like a fine wine, but if you're maturing more like a wrinkled Brie, it could be time to take action…
It's not just the eye area that needs attention when it comes to wrinkle relief. Keep your whole face and neck in check to keep the years from taking hold.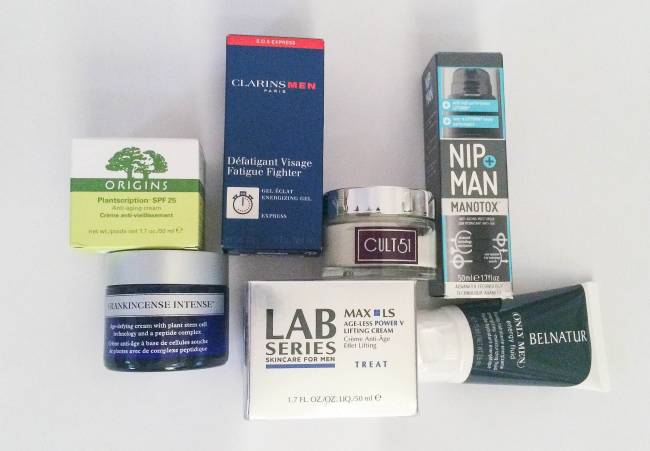 Origins Plantscription SPF25 Anti-aging Cream
(50ml, £48, origins.co.uk) Could raspberry plant stem cells hold the key to anti-ageing? Origins think so, and combined with extract of the Ghanaian Anogeissus tree this cream will help put some spring back in the skin, reduce fine lines and wrinkles, prevent harmful solar rays causing damage and give a healthy glow.
Clarins Men Fatigue Fighter Energizing Gel
(50ml, £31, clarins.co.uk) If a few too many late nights are taking their toll, chances are your skin will be dehydrated and any wrinkles will look more pronounced. Add some instant freshness and firmness with this easily absorbed cream-gel, and look ready to face the day. Chinese ginger, purslane and bison grass extracts soothe and revitalise the skin.
Cult51 Night Cream
(50ml, £125, mankind.co.uk) Heard about the world's most expensive face cream? Well, this is it! Cult by name and cult by status, this nourishing cream has picked upa huge following since it's recent launch. At this price you want results, and you should get them. Depth and visibility of wrinkles is reduced after just a month thanks to the '3D' technology which boosts skin cell and collagen production. This one could be worth raiding the kid's piggy bank for…
Nip + Man Manotox Anti-Ageing Moisturiser
(50ml, £19.95, boots.com) Sea minerals and gransil are the active ingredients in this non-greasy moisturiser. Skin feels instantly smoother once soaked in and fine lines seem to be reduced after a few weeks. A great product for the price.
Neal's Yard Frankincense Intense Cream
(50g, £55, nealsyardremedies.com) Don't confuse this with Frankenstein, although you could achieve dramatically different results, thankfully in a good way. Plant stem cells, skin-nourishing botanicals and organic antioxidants provide a deeply hydrating fix and help restore dry or sagging skin's suppleness.
Lab Series Max LS Age-less Power V Lifting Cream
(50ml, £54, labseries.co.uk) If your jawline is looking slacker than it used to be, give this a whirl. A seriously rich cream that hydrates and plumps skin almost instantly, leaving skin contours smooth and rounded even if they've previously been craggy terrain. Skin looks beaming without any hint of shine.
Belnatur Only Men Energy Fluid
(75ml, £16.99, belnatur.co.uk) Spot or acne-prone skin can often be more problematic to treat. This silky lotion contains willow, beach, baobab, burdock and aloe extracts to soothe, repair and moisturise. Water retention is improved, leaving firmer looking, calm and more luminous skin.