It's all very well stocking up on face creams and washes in hope of keeping our skin in check, but how do you know what your skin type is if you've never been told? Stop wasting money on products that aren't right for you with our quick guide…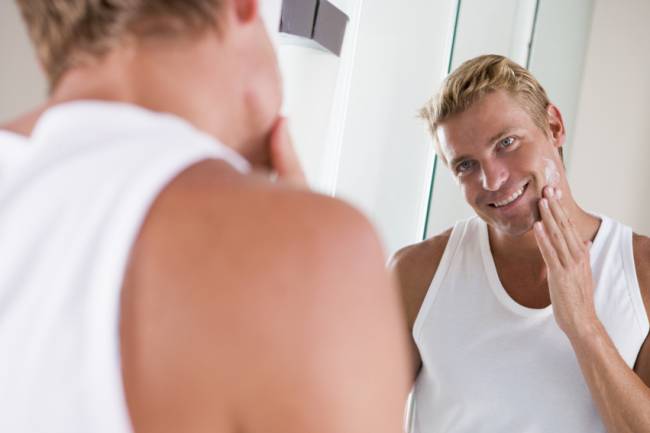 We can't really change the skin we're born with, but working with the right products designed for the job will keep your skin healthy, alongside a healthy diet full of vegetables and fruit washed down with plenty of water. Here's how to spot your skin type…
Normal skin
Congratulations you lucky thing, you! While most people have a few skin issues, you're more than likely blessed with clear spot and blemish free skin, with a smooth even texture and healthy appearance (and your mates probably hate you for it!).
Keep it healthy:
A good face wash every day and a scrub once or twice a week. Morning and/or night apply a thin layer of a lightweight moisturiser, nothing too thick or heavy that'll clog pores. You're pretty much good to go.
Oily skin
Adolescence was probably a tricky period for you on the skin front, but hopefully things have since calmed down. Characterised by shiny, greasy looking skin, often around the forehead, nose and chin (T-zone), and is likely to be prone to spots, pimples, open pores and blackheads. The good news is that people with oily skin tend to age better in later years.
Keep it healthy:
Cleanliness is vital, so if you're prone to fiddling with your face at your desk, then stop it! Use a face wash twice a day, face scrub two or three times a week and a matt-finish oil-free moisturiser in the morning. Go the extra mile with a clay mask, this will help absorb excess oil from the pores, and remove dirt and dead skin cells once washed off. In time, open pores will be reduced giving smoother less problem prone skin. Avoid products that will strip the skin of the natural oils, these can make the problem worse as the skin tries to replenish itself.
Sensitive skin
Sensitive skin can look perfectly normal for the majority of the time, but prone to long-lasting flareups. getting to know what can trigger these is crucial to keeping your face happy. Many shaving and skincare products, aftershaves, washing powders, certain foods and even household cleaning products can turn skin red and botchy or prone to rashes. It's unlikely you can spend much time in the sun without a reaction, and you may have broken red veins on the cheeks and nose.
Keep it healthy:
Use a face wash designed for sensitive skin once a day, or a warm clean damp flannel and water can be equally as effective. Keep skin protected from the sun, even in winter – a moisturiser with inbuilt SPF should do the trick. If in doubt about a new product, test a little on your inner wrist and wait overnight to see if you have a reaction.
Dry skin
If your face feels dryer than a taxidermy sand snake, it's likely this is your skin type. Tight feeling skin is common especially after washing, shaving or swimming. Patches of flaky, scaly looking skin aren't uncommon, and you probably feel like you're ageing a bit faster than others your age.
Keep it healthy:
Choose a gentle face wash and use once a day maximum, as with sensitive skin, a flannel and water can be effective. Use a fine face scrub once a week to remove any excess flaky skin, be careful not to overdo it and avoid spending too much time in the sun after. A good moisturiser is essential, and can be used twice a day.Swap shaving foams for a shaving oil to prevent further drying. Keep hydrated and try to include lots of oily fish, avocado and brightly coloured fruit and veg in your diet.
Combination skin
You had to be difficult, didn't you?! This skin type can involve any of the above, but most frequently an oily T-zone with dryer areas such as the neck, cheeks, forehead and scalp. It can be a bit of a pain to start addressing the problem, but once you're into the swing of a good skincare routine, your face will start to thank you for it.
Keep it healthy:
You'll need to use a bit of careful zoning when washing your face. Using product applied to a flannel with help to ensure the oily areas are cleaned properly, while you can just give a quick splash of water to any dryer areas. Again, diet can play a crucial role in skin health, so keep drinking plenty of water, avoid too much caffeine and alcohol, and keep your diet full of nuts, oily fish and antioxidant rich vegetables and fruits.