Just after HPI confirmed that its National Mileage Register now exceeds 150 million mileages, the BBC's The One Show put the spotlight on the growing threat of car clocking…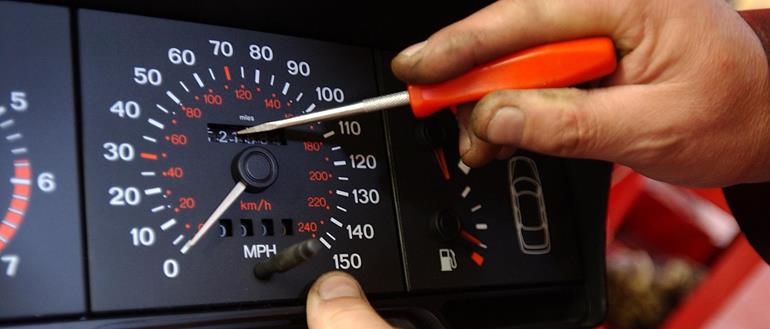 With an estimated one million clocked cars on the road, The One Show reported on an example from Bristol that saw one driver buying a Peugeot with just one quarter of its actual miles showing on the odometer.
Aside from these fraudulent actions increasing the value of a car, there's a more sinister issue that could present a real danger to road users.
Around 10% of all the modules in a modern car, such as the airbag, ABS and ignition, feed information into the central ECU system, and each time an event occurs – such as a faulty airbag warning – a 'snapshot' of the vehicle's mileage will be recorded on these modules.
If these systems get out of sync, as they will do unless the changes are carried out by an unusually methodical technician, issues with safety warnings will become commonplace, with potential legal cases in the event of an accident.
"Clocking is a blight on the used car industry. It's too easy to do and quick to make money for a dodgy seller that many think, 'Why not?'. But here is a perfect example of why not – serious problems can be caused within a vehicle," explains Shane Teskey, senior consumer services manager for HPI.
"Firstly, there is the potential to miss important servicing and warning light indicators, as the car's various different components will be reading different mileages. By changing the mileage, a clocker will actually be causing conflicts within the cars electronics and interfering with the normal routines for servicing and repair. In addition, a manufacturer's warranty is likely to be void if the car is discovered to have been clocked.
"There is also a very serious legal issue to be considered," continued Teskey. "In modern vehicles crucial evidence of a car's performance and speed at the time of an accident will be stored in the cars on board computer. Such evidence may have an important contribution to make in a accident investigation but sadly if a vehicle has had its mileage tampered with, the integrity of the data could be said to have been compromised and likely inadmissible as evidence in court. So an innocent party in an accident could find themselves unable to prove this if they had been driving a clocked car without realising."
"What this illustrates is how serious a problem clocking really is. We want to remind both used car buyers and the legislators that enable 'Mileage Correction Firms' to continue isn't just a 'financial fraud' issue – as important as that is – but more vitally a question of safety, which no-one can afford to ignore."
A vehicle history check from HPI will confirm whether a vehicle is stolen, has outstanding finance or has been written-off, as well as checking the mileage history. Similar checks are also available from companies such as Auto Check, RAC and even eBay.
Buyers can also look for invoices and service stamps from a genuine dealer and contact the previous keeper to confirm the mileage when they sold the vehicle.