Can Fiat transfer the DNA from the fun and funky 500 to a tough SUV? We find out…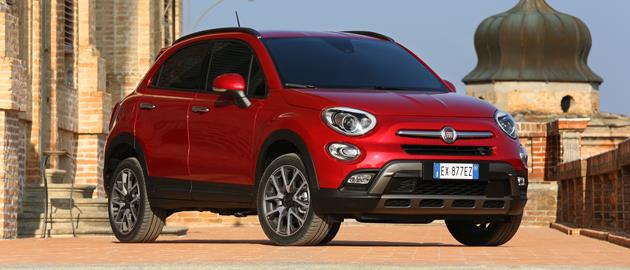 Fiat 500X Lounge 1.6 MultiJet
Price
£20,845
Top speed
116 mph
0-62 mph
10.5 seconds
Combined fuel economy
69.9 mpg
Road test economy
N/A
CO2 emissions
109 g/km
VED band
B / £20
Insurance group
TBA
Engine
1.6-litre turbo diesel
Power
118 bhp (120 PS)
Torque
236 ft-lb (320 Nm)
Weight
1,320 kg
What is it?
This is Fiat stretching the 500 name yet further, taking the range in to the compact crossover market. This means it's up against the likes of the Jeep Renegade (with which it shares a lot of its underpinnings) as well as the Nissan Juke, Renault Captur and Peugeot 2008.
Those Jeep parts suggest that the 500X might be able to tackle terrain somewhat farther from the tarmac than most, and there's some truth in that. Available in a four-wheel drive variant tagged Cross Plus, it'll get you across any damp field without issue.
Most buyers will plump for the front-wheel drive version though, and that's available in Cross spec – this keeps the tough-guy plastic cladding and skid plates of the Cross Plus – and less aggressive sounding Pop, Popstar and Lounge specs.
There'll be two petrol and two diesel engines available, with the range-topping 2.0-litre diesel coming only with four-wheel drive and, inexplicably, a nine-speed automatic gearbox.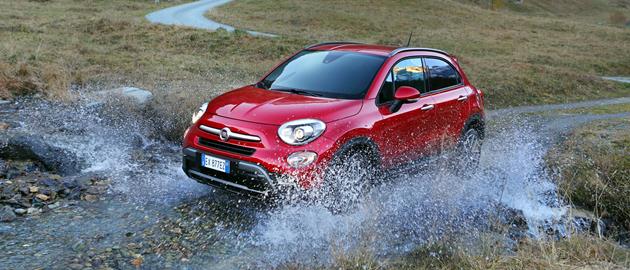 What's it like?
There are some cars that look a bit awkward in photographs, but when you see them in the metal it all makes sense. The 500X is one of those cars. Once you stand in front of it, it all makes sense. The up scaling of the cutesy 500 style works well, the 500X ending up somehow looking quite tough while remaining friendly.
Inside it's much the same, with bold curves and blade of (optionally) body coloured metal running across the cabin. It's full of character, and as high quality as you've any right to expect.
An infotainment screen in the centre jars a little with the retro-inspired interior, but the 6.5-inch screen is easy to use, although the sat-nav's routing decisions were a little suspect at times.
We sampled the 1.6-litre diesel powered front-wheel drive model. The engine's 118bhp is enough to get the 500X to 60 mph in a little over 10 seconds, with most of the power available between 2,000 and 4,000 revs – this makes it an easy car to drive, requiring less gear changing than you might expect.
The engine is reasonably quiet too, but the road noise can become somewhat overwhelming at times. The tyres do grip well though, with the car being neutrally balanced and resisting understeer, with the stability control wizardry gently stepping in when necessary.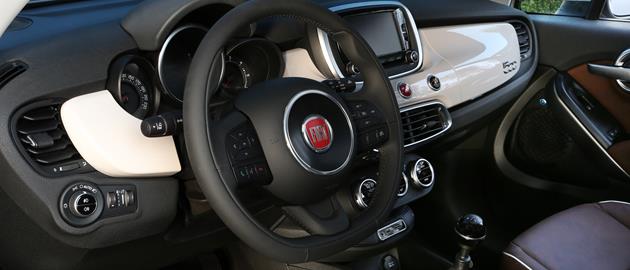 Is it practical?
There's plenty of space in the 500X, with the driving position being slightly elevated thanks to its SUV origins. There's plenty of head and shoulder space up front, and rear passengers are looked after well, too. The rear seats are a tad flat, but they fold down to leave a flat floor so there has to be some compromise.
There are also a lot of storage pockets in the cabin, with huge door pockets swallowing up most things you'd throw at them. The boot is a tad smaller than its rivals, but with most buyers looking at style over function, that won't worry too many.
The 1.6-litre diesel promises to return 69.9mpg, according to the official figures. Certainly good economy will be possible, if the 48mpg we got during a rather enthusiastic test is anything to go by.
CO2 emissions of 109g/km mean that you'll be paying just £20 a year in car tax, while business buyers will have a BIK burden of just 17%.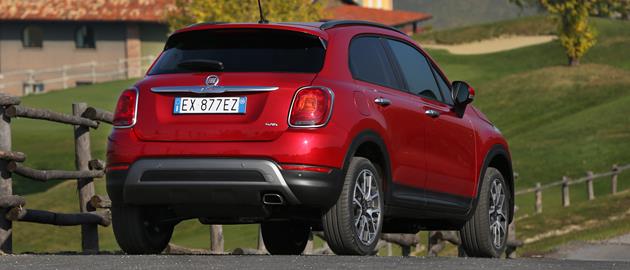 Should I buy one?
It should certainly be high up on your list.
Fiat has come up with a car that combines the magic of the 500 with the practicality of an SUV, and judged that balance almost perfectly.
It remains youthful, while also being mature in its outlook, with plenty of space for your family and all their needs.
The Fiat 500X ends up being a more compelling choice than the Nissan Juke or Peugeot 2008 (which it costs a little more than) and nearly as good as the Mini Countryman (which it costs a little less than). Given that, the 500X really is worthy of your attention.