Like many parents, you're probably worried about the impact of the UK's current pollution levels on your family's health, especially if you're living in an urban area, like London. The dangers are very real, with a recent Kings College study discovering that high levels of air pollution are stunting the growth of children's lungs, and more than 2,000 schools and nurseries nationwide within 150 metres of a road emitting illegal levels of NO2 (nitrogen dioxide, which is produced by cars running on fossil fuels). Dad.info gets some top tips from Sophie Power, a parent and CEO of Airlabs, on how to reduce children's exposure to toxic traffic fumes…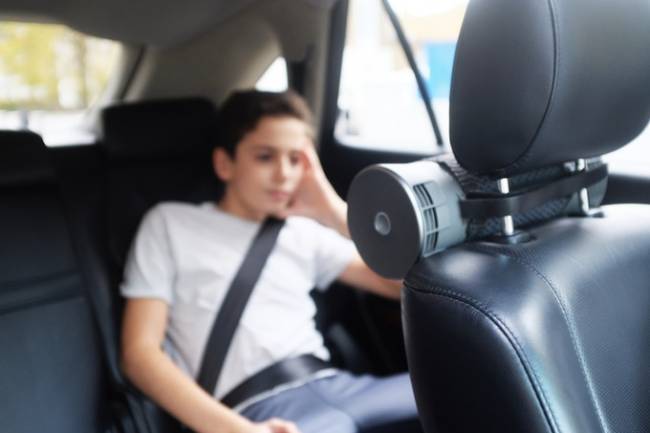 We tend to think about air pollution when we're outside, walking or cycling along busy roads, but surprisingly we're at risk of dangerous levels inside our cars too. It's a myth that inside your car you're protected from harmful traffic pollution – and in some cases, fumes are even higher inside the car. Harmful gases from exhausts can pass straight through car air filters and accumulate in car cabins, which means that children end up breathing in these toxic fumes.
Professor Sir David King, chief scientific advisor to the UK government and honorary science adviser for the British Lung Foundation, says: "Children sitting in the back seat are likely to be exposed to dangerous levels. You may be driving a cleaner vehicle but still be collecting toxic gases from all the vehicles around you."
Air pollution is a major health risk, especially to young children, as their body is still growing and developing. Research is beginning to point towards effects on lung development, growth, intelligence, development of the brain and coordination. And the younger the child, the higher the impact of pollution. So what can dads do to help protect their children?
1. Cut the car fan
Turn the car fan off in highly polluted areas, like traffic or tunnels: it's just sucking the fresh exhaust fumes coming out of the car or lorry in front of you straight into the back of the car.
2. Check the pollution forecast
Pollution levels change from day to day in the same places, mostly depending on the weather. Get the air pollution forecast – download the Met Office app, or for Londoners the London Air Network app, on your phone for updates.
3. Watch where you're walking
Air pollution levels can change significantly within only a few metres. Walking to school on the building side of a pavement versus the roadside can make all the difference. Try to avoid peak traffic times and check online pollution maps for your area so you can avoid busy roads.
4. Reduce your impact
Emissions from cars idling can be very high, and tend to be concentrated in hotspots such as school drop offs., If you have to drive switch your engine off when you're stationary.
5. Clean the air from the inside
The new Airbubbl from Airlabs, launching in March 2018, cleans the air inside a car of harmful gases and particles.
Parent and CEO of Airlabs, Sophie Power, was concerned about the effect air pollution was having on her son's breathing. With a team of airflow engineers and atmospheric chemists, Airlabs developed Airbubbl, the first technology to protect adults and children from dangerous nitrogen dioxide pollution in cars, available from March 2018 and on Kickstarter now. Airlabs is calling on car manufacturers to build the system into vehicles.
Find out more at airlabs.com