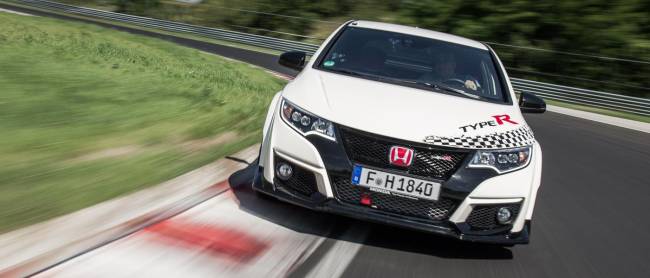 Who needs the Nurburgring anyway?
Seven minutes, fifty seconds and a few tenths. That's how long it took for the Honda Civic Type R to lap the infamous Nurburgring, setting the lap record for a front-wheel drive production car.
One point four-one seconds. That's how much quicker the Volkswagen Golf GTI Clubsport S went, and Honda isn't happy about it.
Which is why I ended up in Hungary, briefly holding a record myself, at the end of a journey that Honda started at Silverstone in April.
Keen to assert Type R as the leading front wheel drive performance hatchback, three-time British Touring Car Championship winner Matt Neal took the wheel to set a time of 2 minutes 31.85 seconds around the Northamptonshire circuit. A new record, no less.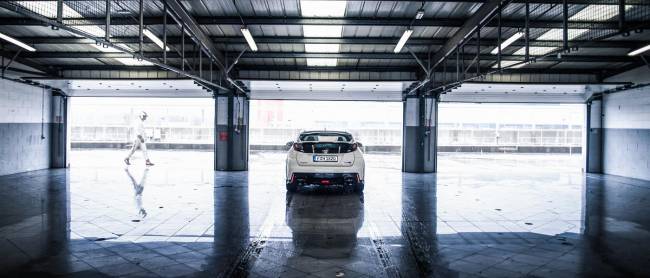 The next month, Honda Racing's Rob Huff took the Type R around the famous Spa-Francorchamps circuit in Belgium. Beloved by F1, single-seater, endurance and tim top racers alike, not least due to challenging corners such as Eau Rouge, Huff covered the 4.3 mile circuit in 2 minutes 56.91 seconds. Record number two was set.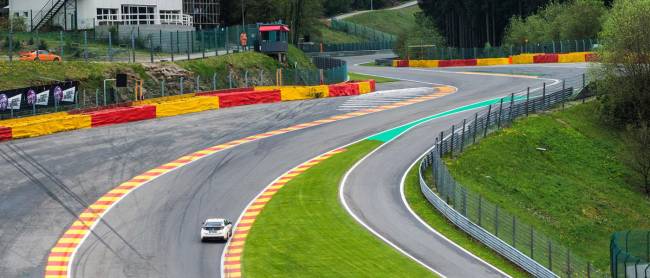 Norbert Michelisz, one of Honda's crack WTCC squad, took the Type R to Italy and the iconic Monza circuit. Relying on all 306 of the car's horsepower, the long straights and sweeping Parabolica were despatched in 2 minutes 15.16 seconds. A third record.
Lap record four was provided by WTCC safety car driver Bruno Correia. Drafted in with just 24 hours notice, Bruno replaced Tiago Monteiro who had suffered a nasty accident at the WTCC Race of Germany. With just one day in the car, Bruno posted a time of 2 minutes 4.08 seconds at Portugal's Estoril circuit.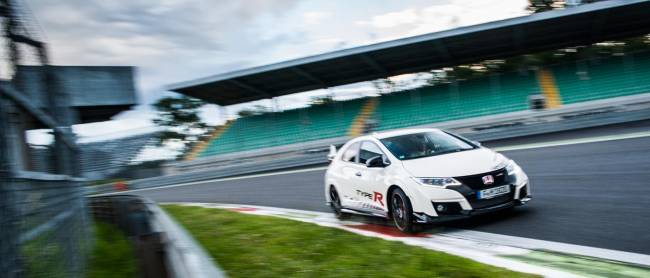 The final stop of this record-setting European tour was in Budapest. The Hungaroring is best known as the home of Hungarian Grand Prix, but it also hosts WTCC and DTM races. Today it was hosting a fleet of Civic Type R cars and a small group of journalists.
I was getting my chance to see just what the Type R can do.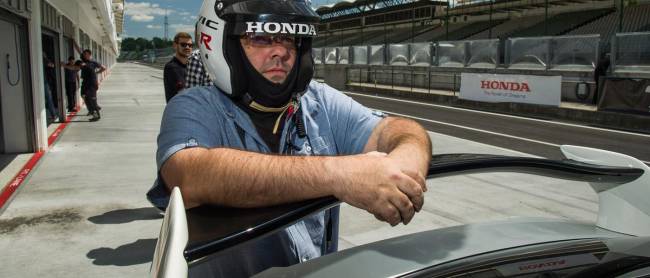 Pulling out of the pit lane, it was easy to be hard on the car from the very first corner. Huge brakes and custom-made Continental tyres meant scrubbing off speed was a piece of cake, while grip levels in the corners were immense – the telemetry registered north of 1G for nearly every corner.
One lap down and I'd figured out where the circuit went. Lap two was used to find out how hard I could push the car. I was later on the brakes, harder on the throttle, and yet the Type R just accepted everything, not once losing its cool. I can't say the same about me – the sun was beating down and warming the air up to a pleasant 34°C, or at least it would be if I wasn't out of condition and wrestling what felt like a road-legal touring car around a track.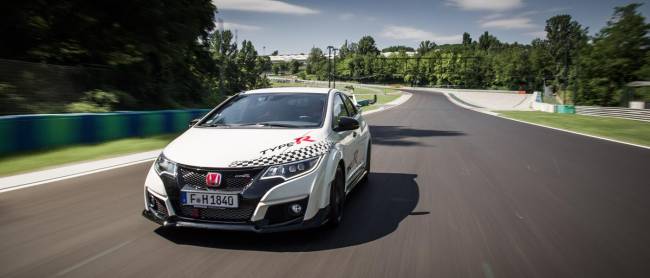 Lap three was soon approaching. Out of the final corner, it was flat to the floor and up to 120mph by the end of the start-finish straight. Hard on the brakes, forcing my eyeballs forwards at negative 0.9G, I turned in, hit the apex and powered out. One corner down, and done pretty well if I say so myself.
Turn two drags on, but was neat and tidy, while three is a flat-out kink. Up the hill, I braked hard but briefly as I rode over the crest, then turned and took the inside kerb. All of it. The Type R jumped wide, the rear end waving around as it ran out of tarmac on the far side of the circuit, but it wasn't difficult to gather it all up. It did leave me off-line for the next right hander, but I put my faith in the mechanical limited slip differential and kept my foot in.
The rest of the lap was neat enough, bar one turn where I braked far too early, before crossing the line in 2 minutes 20 seconds. My time was up, but my time was good. My time was actually good enough to set a lap record. That was five from five for Honda.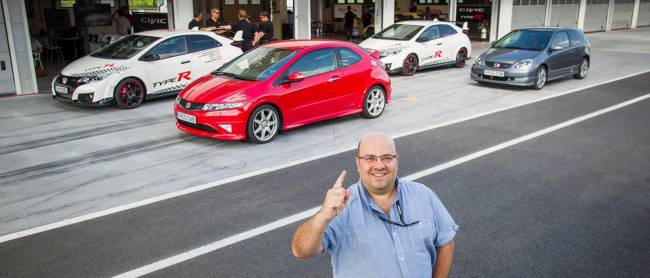 Of course, Honda can't have somebody like me holding that record, so they wheeled out Norbert Michelisz again. Born in Hungary, Norbert knows the Hungaroring like I know Huntingdon Ring Road, and even won the WTCC race there last year.
With the advantage of two days track time, local knowledge, Type R experience and, let's not forget, bucketloads of talent, my time was beaten. And then some.
Norbert's fastest lap took just 2 minutes 10 seconds. Record number five was in the bag.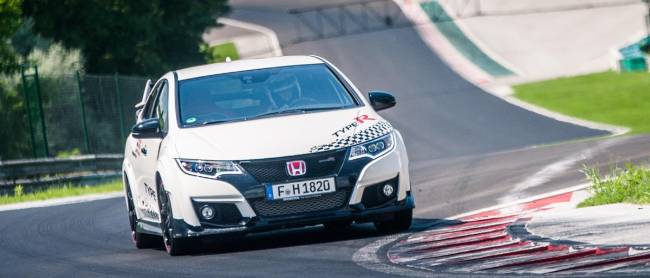 "This challenge secures Civic Type R's position as the benchmark in the front wheel drive performance segment," explained Philip Ross, senior vice president of Honda Motor Europe. "With the support of our touring car stars, it is a fitting testament to the team who engineered and designed it as the ultimate race car for the road."
Honda might have lost the Nurburgring, but it's proven its point in the UK, Belgium, Italy, Portugal and Hungary. Your move, Volkswagen.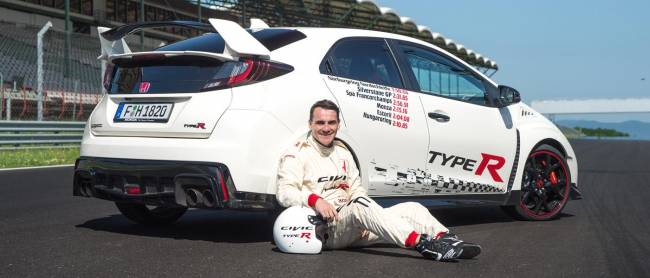 ---
Motoring powered by FrontSeatDriver.co.uk