Lucky toddler makes the move from Maclaren pram to McLaren supercar thanks to Dad's win.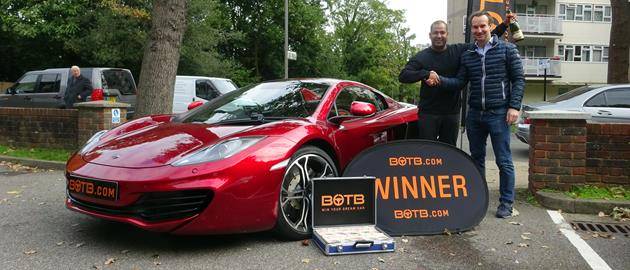 An unfamiliar car arrived at Tudor Lodge Health Centre in Wimbledon yesterday as practice manager Prash Thurairatnam took delivery a new McLaren.
A long term player at BOTB.com, a spot-the-ball style competition website with various supercars available to win, Prash couldn't quite believe that his time had finally come when Will Hindmarch, the company founder, walked in to his office to hand over the keys.
"As soon as I saw him walk through the door I knew," said Prash. "Every Tuesday when I get into the car I think 'you could be winning today' but I didn't think it today I was so busy and that just made it even more of a welcome win when Will came in."
Will was closely followed by Prash's wife Lakshmi and 16-month-old son Ruben, who had also been in on the surprise.
"You could see Ruben was taking to being in the driving seat, even at under two he was making the move from Maclaren pram to McLaren super car very easily!"
The prize includes a briefcase with £10,000 in cash, something that could prove handy as the McLaren isn't the most practical proposition for a family.
"We really need a new family car but I have always had crazy cars and now this, I have never even seen a McLaren in real life, I don't think I'll ever be able to top this."
"My heart is still pumping although I think I have missed a few beats. It's amazing; it's just a once in a lifetime opportunity to say you own a dream car.
As patients and colleagues came outside to see what was going on, Prash's own dad, a doctor at the practice, was quick to congratulate his son.
BOTB boss Will drove the McLaren to Prash's workplace, declaring it to be "an amazing car." You can find out what I thought of its slightly more powerful sibling, the 650S Spider, right here.