Kids get all the fun. While we get to drive the new Skoda Karoq, it's the youngsters that get to play with it. Or, specifically, play with a Kid Karoq made entirely from cardboard.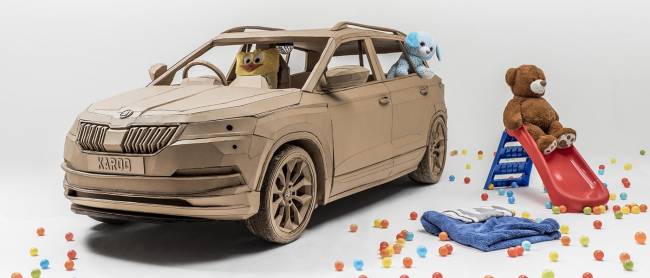 Inspired the features kids want most in a car, Skoda has designed the Kid Karoq as the perfect play area for those who aren't quite old enough to hit the road.
Asking 1,000 kids aged 6 to 11 what they want from a car, the ability to play music of their choice (42.5%), and a tablet to play and stream programmes on (67.6%) were amongst the most asked for items. An integrated movie projector (35.4%) was also a big favourite.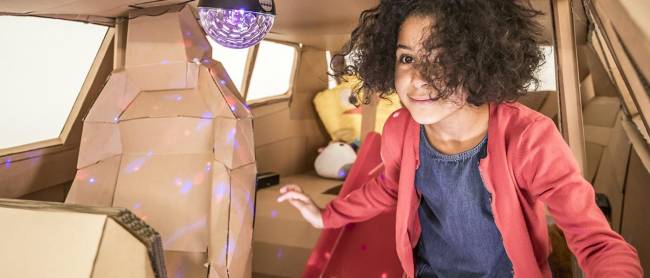 Skoda then asked British design studio, Lazerian, to build a cardboard Karoq to meet the children's requirements. The life-size cardboard creation took 10 weeks and more than 600 hours to construct, and has been built to the exact scale of the real Karoq: 4.4 metres long and 1.6 metres tall.
There's everything the children asked for inside, plus some additional toys. The hand crafted driver's seat, also made of cardboard, allows easy access to the portable games console installed in the dashboard. A digital tablet that controls a set of wireless Canton speakers sits there too, and mirrors the real Karoq's 9.2-inch infotainment system.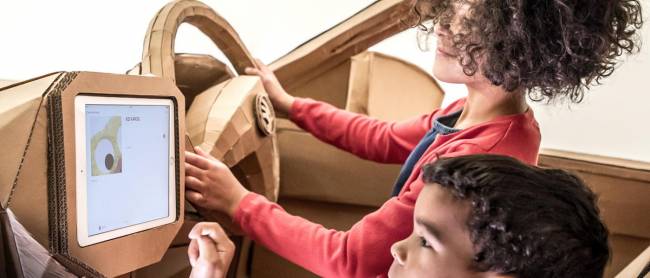 Once the kids in the Karoq have chosen their favourite tracks, the multi-coloured disco ball gives them something to dance under. A slide and ball pool takes over the 1,810-litre boot, but there's still room for play-time bean bags and a toy box. The design team even managed to create a secret den underneath the bonnet where children can keep an eye on the outside world through cleverly disguised spy holes. And there's wifi, of course.
The road-going version of the new Karoq isn't made of cardboard, fortunately, but is available to drive at Skoda dealers, even with the kids. Although there's no ball pool.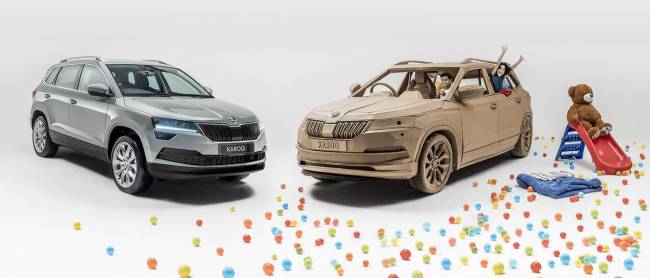 ---
Motoring powered by FrontSeatDriver.co.uk.