Planet-saving hydrogen-powered cars are now available from Hyundai, but at a price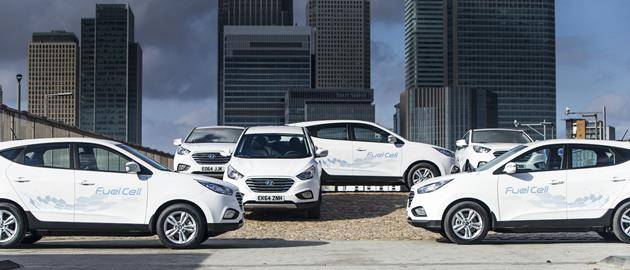 The Hyundai ix35 Fuel Cell is the world's first mass-produced fuel cell electric vehicle, wrapped up in a crossover SUV bodyshell. On the road in 15 countries throughout the world, including 11 across Europe, the ix35 has so far been available to selected trial partners only.
Now it's available to any buyer in the UK to order at a price of just £53,105, thanks to part-funding from the HyFive project that knocks nearly £15,000 of the total price.
For the money you'll get an SUV driven by a 100kW electric motor, which is powerful enough to push the car to a maximum speed of 100mph. Two hydrogen storage tanks enable the vehicle to travel a total of up to 369 miles on a single fill; the hydrogen goes through a fuel cell that converts the gas to electricity, which is then stored in a 24kWh lithium-ion polymer battery.
The promise is clean energy, with only harmless and clean water escaping from the exhaust pipe. Even the production of the hydrogen can be cleaner, thanks to CO2 capture and other technologies.
Infrastructure remains an issue, however, with just a handful of suitable filling stations available in the UK. The HyFive project intends to ease that a little, with five global automotive companies (including Hyundai) coming together to open new filling stations. Three stations are planned for the London area, taking the total there to five by the end of 2015.
The ix35 Fuel Cell is available for immediate order directly from Hyundai Motor UK.