What happens when you spend a weekend in France with lots of mud, plenty of beer and some American legends…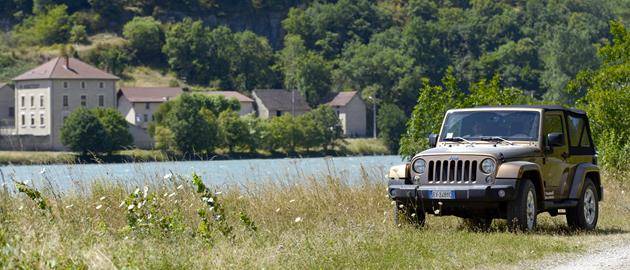 First impressions of Lyon are positive. The airport terminal is so small that I'm off the plane and in the back of a waiting Jeep Grand Cherokee within a few minutes, ready to be chauffeured in to the city centre.
It's Friday afternoon, so this takes longer than anticipated, but that gives me time to appreciate the surroundings I'm in. Spacious and luxurious, the back of the Grand Cherokee is a pleasant place to be. Seats reclined, I get the chance to relax for a while before the weekend gets going.
Due to a late flight out of Heathrow (thanks BA) and that traffic, checking in to the Sofitel Bellecour was a frantic affair; checked in, up to my room, changed for dinner and back down to another Grand Cherokee all in seven minutes, ready for a dinner cruise along the River Saone.
It's not all glamour; whenever journalists are placed in a room with manufacturer representatives, it's a foregone conclusion that there'll be a presentation mentioning words such as dynamic, global and class leading.
Fortunately the relaxed Jeep staff kept things short and sweet, explaining to the uninitiated just how big a deal Jeep is. You think Land Rover has a following? They've got nothing on their American cousins.
This is why I'm at Camp Jeep, an annual shindig that brings Jeep owners from around Europe and beyond together to play with 4x4s, do a bit of adventuring and enjoy some American-style food, drink and music.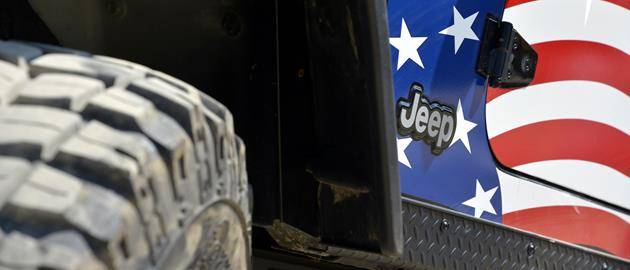 Entering the site in Montalieu-Vercieu through a giant Jeep grille (nothing is left unbranded!) you're presented with an area of rough terrain that will test even the toughest of off-roaders.
There are two-thousand Jeep fans expected over the weekend, so it soon starts getting busy. More will undoubtedly be attracted by the blazing blue sky, making a last-minute dash to the event. As the temperature starts rising to 40c and beyond, those with air conditioning take on a slightly smug look.
A fleet of new Jeep products has been laid on for me, all thankfully with air-con, and qualified instructors are available for those that need a little help out on the courses. There are four to choose from, coloured like ski slopes; green won't trouble much, blue requires some skill and a suitable vehicle, while red is for those that know what they're doing. Forget black – those routes need modified vehicles and cajones I just don't have.
Red seemed like a nice compromise, so I ventured out for the first run of the day in a Wrangler, the theory being that I had no idea what was coming so something with big tyres and plenty of ground clearance would be handy.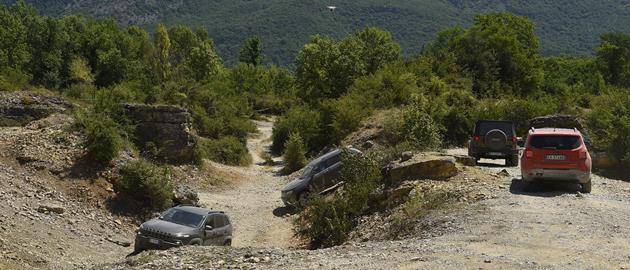 It's certainly demanding. Steep gravel climbs I couldn't walk up are followed by axle-twisting sections. Near vertical drops and corners that no vehicle should be able to get round pose no problem to the Wrangler, its four-wheel drive system and low ratio gearbox making mincemeat out everything the track throws at it.
Impressively, I come across a 15-year-old Cherokee tackling the same run. This was an owner's car, the driver making the journey from Germany to test his skills amongst likeminded people. His off-road experience wasn't quote so smooth, but the sense of community came through as people gathered round, looked at the each obstacle and discussed the best route through. It was slow going but, incredibly, the old Cherokee made it through every section.
I take the keys to the new Renegade, a small SUV that shares a lot in common with the Fiat 500X. Surely the red run will leave the Renegade redundant?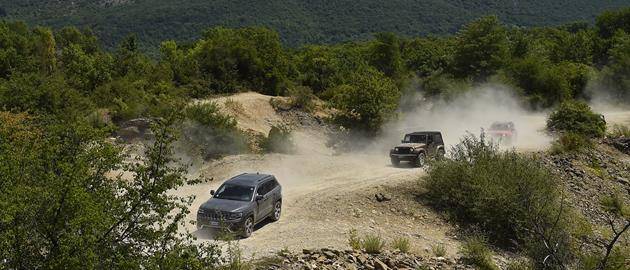 I have to stop as I crest a hill. An original Willys MB was being flung around the course, its occupants attracting a large crowd of fans admiring the fact that something so old was still being used, and being used properly.
That wasn't unusual at Camp Jeep. Everywhere you looked you'd find a unique Jeep of some sort, from an early Wrangler covered in stars and stripes to the latest Grand Cherokee with balloon tyres and more mud than Mississippi.
I returned to forcing the Renegade through, more slowly than the Wrangler, certainly, but ultimately with little fuss. A tricky section saw the car balancing on two wheels, at which point a small crowd gathered and shouted millimetre precise instructions in where to place the car so as to make it over a huge rock without damaging the car. That camaraderie again.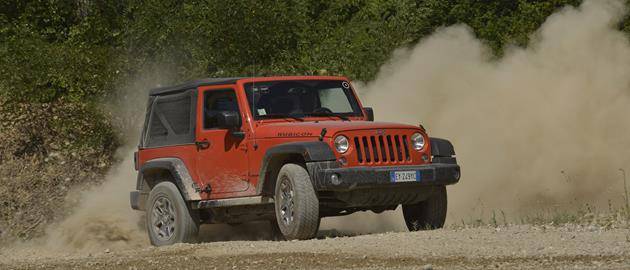 For those not driving, Mopar had a presence for aftermarket Jeep goodies, spare parts were on sale, a very muddy demonstration of the new models was put on and excellent burgers were available.
A huge camp fire and live American-themed music meant the warm evening was set to be an entertaining do, but a tricky flight plan meant I had to return to Lyon, my time at Camp Jeep all too brief.
Jeep is just realising that the heritage and following they enjoy in the US might just translate to a stronger following, and therefore sales, in Europe. Already there are over 30,000 members of the Jeep Owners Group, and that's expected to top 40,000 by the end of the year.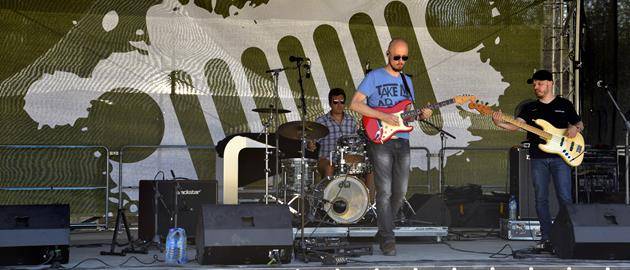 That's on the back of a record-breaking year in the UK, with sales higher than they've ever been. SUV sales are seemingly on a never-ending upward trajectory, so getting close to the customers and educating them about the history and capabilities of the brand can't be a bad idea.
Owners see the link between buyer and seller as a partnership, as if a new family member had been introduced.
The lasting impression from the camp is that the feeling extends far beyond one family and their car, but stretches across every owner, every club, every Jeep.