What's that coming over the hill?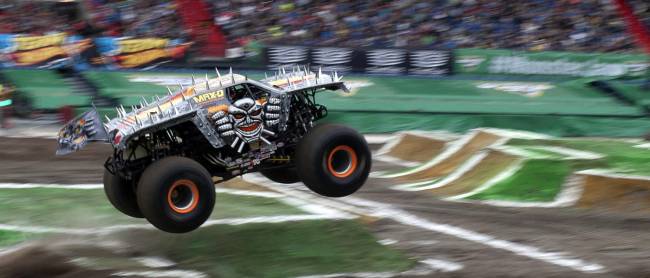 Monster Jam madness is coming to Cardiff in September, so I took a quick trip to the most recent show in Rotterdam to see what all the noise is about.
Taking place at De Kuip, Feyenoord Rotterdam football club's home stadium, the organisers covered the sacred turf with around 7,000 tonnes of dirt to create an arena that looked like a super-sized Hot Wheels set.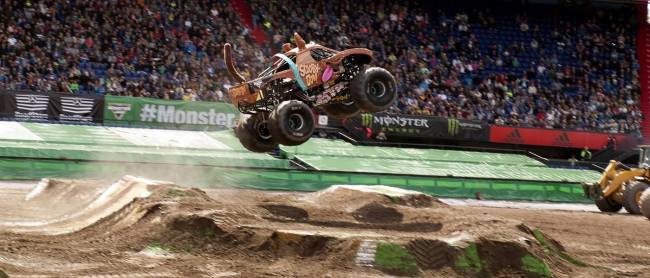 Ramps, jumps, shipping containers, banked earth and a selection of cars that, if not scrap already, were soon going to end up being suitable for nothing but recycling.
The crowd, growing to as much many as 30,000 spectators, had all paid for a full day of entertainment that started outside the stadium. Americana had descended on Rotterdam, with meet and greets, competitions, rides and every kind of food imaginable available. The atmosphere was palpable, with families buzzing with excitement at what was to come, and that's before anybody had seen a truck.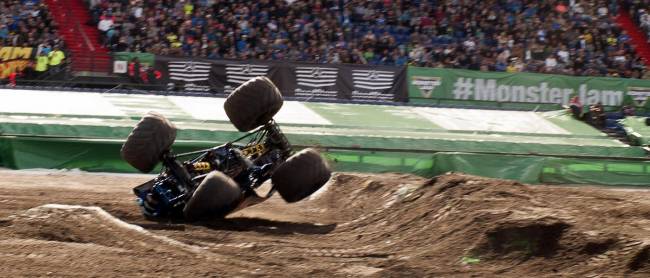 If you've never seen a monster truck up close, you're in for a shock. The name doesn't do them justice, the cars towering nearly four metres above the ground with tyres standing 1.7 metres high. Weighing in at around 4.5 tonnes, they're powered by traditional American muscle. In the Scooby-Doo truck, driven in Rotterdam by Briana Mahon, that means an 8.8-litre engine producing around 1,500bhp. Despite that power, top speed is around 70mph thanks to a simple two-speed gearbox.
As the clock ticked past 3pm, the racing started. Yes, these behemoth's race side by side, clipping cars, launching off ramps and pushing speeds as high as they dare. That's followed by a half-time show, with motorbike stunts and a monster truck showcase – this time it was Maximum Destruction jumping over three tall stacks of cars.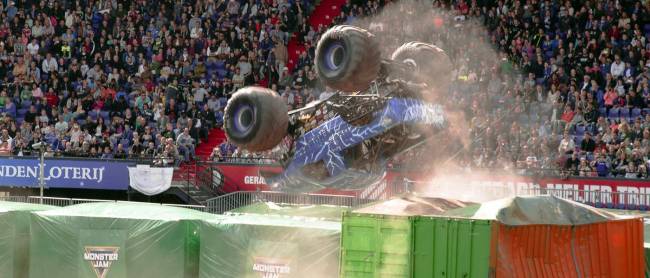 Then the competition proper starts, with 90 seconds of freestyle stunting from each competitor. There appears t be no limits as the sounds of and angry V8 echoes deafeningly around the stadium. Jumps, naturally, are in abundance, but so are wheelies, stoppies, doughnuts, and even somersaults. It's an assault on the senses that is judged not by professionals but selected members of the audience.
Somehow, amongst all the noise, explosions, crashes and smoke, a winner is selected. Honestly, I've no idea how, but the crowd went wild for Blue Thunder.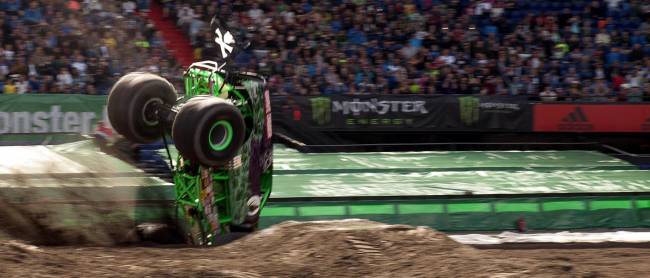 That wasn't the end of the event, though. Outside the fan-pleasing continued, with each driver spending literally hours signing autographs and posing for photos. Without the fans the sport is nothing and the organisers know this, giving fans access no other form of motor sport dare.
Overnight the show rolls out of town, packing up into trucks that cover 45,000 miles a year between venues, before the top 24 trucks end up at Las Vegas for the World Finals.
Before then it's the UK's turn, with Monster Jam putting on a show at Cardiff's Principality Stadium (what was the Millennium Stadium) on 3 September. Tickets start at just £20.00, with an optional £10 extra for access to the pre-show Party in the Pits, and can be ordered direct from Monster Jam.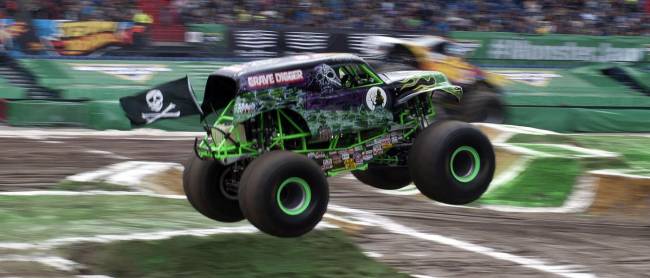 ---
Motoring powered by FrontSeatDriver.co.uk