Show your boss who's boss with a roadside selfie…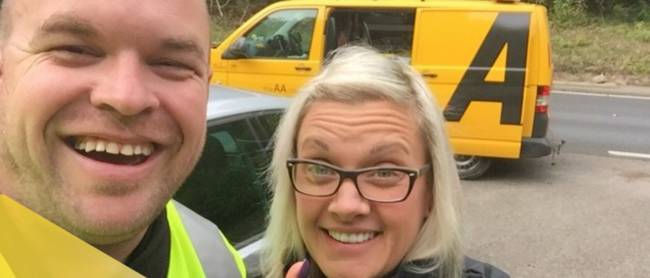 Broken down on your way to work, but your boss doesn't believe you? That's probably because some 51 million lies are told by latecomers every week, and having car issues is the most used and heard excuse.
Research by the AA found that almost a third of people are exaggerating or inventing issues to cover being late for work, with some faking injury or illness, and even forcing fake tears. Some are editing pictures or damaging their own belongings to make an excuse look more legitimate.
If a breakdown has genuinely caused you a delay on the way to work, the AA is now offering a service to provide proof to your boss. Its 'Proof of Excuse' service ensures there'll be no doubt about the honesty of an excuse thanks to a roadside selfie that the mobile mechanic will take with you and your car.
"With the arrival of colder weather, the number of breakdowns will increase significantly and we know that anxiety levels will follow suit," explains John Snowling, AA Patrol of the Year. "One of the biggest causes of stress we see in members is dealing with the knock-on effect to onward plans and our research shows us they worry about explaining setbacks to friends and family. This service will help prove their excuse is legitimate, so they can carry on as if nothing happened."
---
Motoring powered by FrontSeatDriver.co.uk