Finding a 13-year old behind the wheel of a car in Rotherham is, one would assume, something that doesn't happen frequently. The reality is that it's a common occurrence, and it's all thanks to an organisation called Young Driver.
Children as young as 11 are given the keys to a new Skoda Citigo and taught the basics of driving around a closed course, all in the name of road safety rather than thrills. Young Driver aim to fill the gap in educating children about driving before they take to the roads at 17, the theory being that a better prepared driver is a safer driver.
It's something to be taken very seriously, as there are four fatalities a day involving drivers under 21, while around 20% of newly qualified drivers will be involved in a crash within six months.
Tuition can still be fun though, and so DAD.info found a volunteer teenager, 13-year old Emma from York, and took her to the Rotherham site for some training.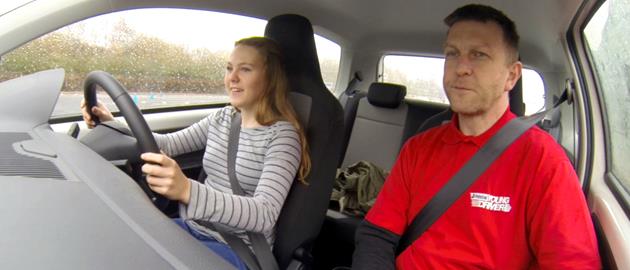 Emma is immediately put in the driver's seat – there are no presentations or group chats here, the student spends nearly all of their 60 minutes driving rather than talking. Key turned, engine revs up and clutch gently out, and Emma was away first time. Not very smoothly perhaps, but as a first attempt it was excellent.
She's not left in sole control of the car though. Young Driver use only dual control cars and specially selected driving instructors, who seemingly show no fear, and they can stand on the brakes should the situation demand it.
Within just a few minutes our guinea pig was whizzing up and down the coned-out roads outside the Magna science centre (other sites around the country include a grammar school, Birmingham's NEC, a museum and Bentley Motors headquarters, amongst others) looking like she'd been driving for some time.
Within the first hour came manoeuvring tests and awareness and judgement games. Asking a novice of any age to place poles on the road that they think represent the width of the car and then asking them to reverse through them is pretty demanding stuff, but the instructors go at the pace of their student.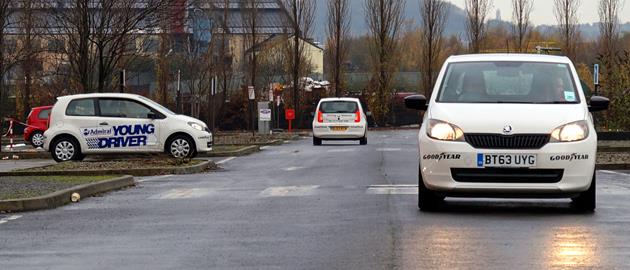 Emma seemed to manage without too many problems, returning Skoda's car in one piece and without any scratches.
It does all come at a price though, with a 60 minute session costing just a few pence under £60. The average driving lesson, once your child has hit 17, costs £24, putting the Young Driver experience in to perspective. Also bear in mind that, as a parent, you'll also need to go along as they can't drive themselves there and, at least at Rotherham, there's no facilities for a coffee while you wait beyond a local cafe.
None of that mattered to Emma, of course, who is as happy to spend her parents' money as any other teenager.
"I was a little worried before we started, but as soon as I was behind the wheel it was all fun. There's a lot to think about and some of it was pretty tricky, but I think it went well. It makes you realise that driving isn't as easy as it looks. I definitely want to come back and have another go though!"
She'd learned an awful lot, not least that she's capable of controlling a car, but she'd also had a huge amount of fun. It's no surprise that she's insisting on returning and, from the parents perspective, that makes Christmas and birthday presents very easy.
---
We have four individual 30-minute lessons available for a young driver aged between 11 and 17. To win one of the lessons, valued at £31.99 and available at any of the 27 venues nationwide, click HERE.