January 29th! Once passed through parliamentary review, the new highway code is out! We are all going to have to take a refresher.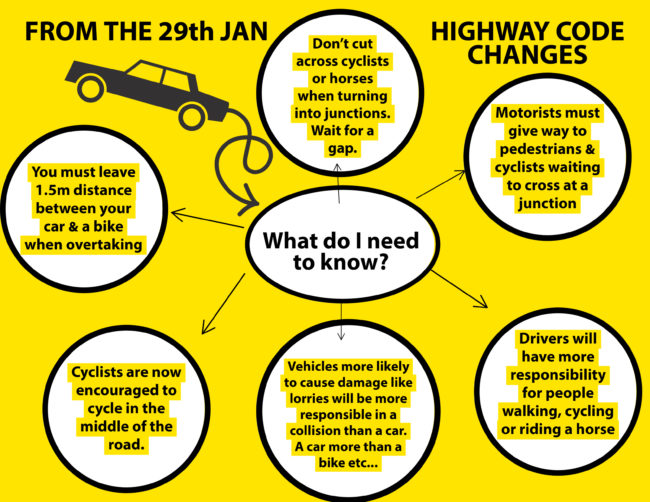 We are all responsible when we use the roads. We are obliged to follow the rules whether we are pedestrians, cyclists or drivers. And, back in the dawn of time we did all know our highway code, to pass our tests. Perhaps these rule changes are just a timely reminder to gen back up on the basic rules of the highway.
Therefore it is a little worrying that apparently 2 in 3 of us didn't know these rules were changing.
So to avoid any embarrassing road rage incidents here are some of the new rules
Don't cut across cyclists, horses or horse drawn vehicles when turning into or out of junctions. As a rule of thumb if the cyclist will need to swerve you shouldn't have gone.
Leave 1.5 metres between you and a cyclist when overtaking
Cyclists will be in the middle of the lane. It is a safer road position.
Look out for pedestrians waiting to cross at junctions, you need to let them have priority
Remember, the more capable your vehicle is of causing damage, the more responsible you are as the driver. So cars, are seen as more responsible than bikes in the event of a crash.
The Revised Code
There are a whole raft of changes, in the revised code including the addition of a hierarchy of road users. Which means if you are driving a juggernaut and you crash into a 2CV because your vehicle is inherently capable of causing greater damage, the law will see you as having a greater responsibility. Food for thought.
Can the Highway Code be used in Court?
Yes, under the Road Traffic Act of 1988 the code can be used to establish liability. Many of the rules in the code are legal requirements. Ignore them at your peril, you would be committing a criminal offence.
Happy Driving!