For when one's children need something more suitable to learn in…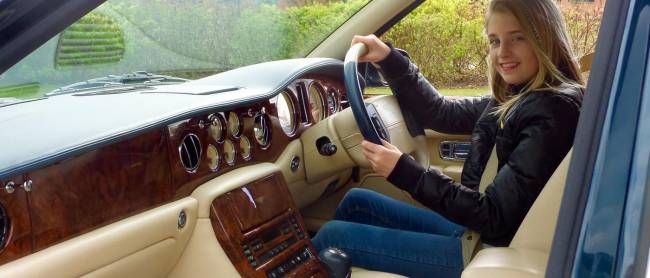 Young Driver has been teaching kids to drive for some years now, and we even sent a friendly DAD.info daughter along to put the programme through its paces, but now it's got a new offering to tempt both children and their parents.
Instead of taking a lesson in a Skoda Citigo, those that have had at least one hour of lessons from Young Driver can opt to take their next lesson in a Bentley Arnage.
With a 6.75-litre engine putting out a substantial 400 bhp, the Arnage was the highlight of the Bentley range when it was launched in 1998. Then it cost some £150,000, but now the 5.4-metre long luxury car has been adapted to take dual controls and will be placed under the control of 11-17 year olds. Lessons will take place under the watchful eye of a specialist instructor, while parents can sit in the rear of the car to experience the lesson, during which youngsters will practise the same manoeuvres as they would in a regular Young Driver session.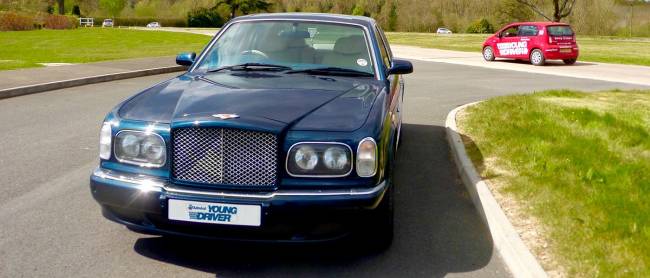 Launching at six venues initially – Crewe (where Bentleys are made), Birmingham NEC, Merry Hill, the British Motor Museum at Gaydon, Malvern's Three Counties Showground and Warwickshire's Stoneleigh Park – it is hoped the idea will be rolled out to Young Driver's remaining 36 venues over the coming months.
"The Bentley Arnage is obviously a hugely powerful car – but this is not about encouraging youngsters to try and get from 0-60mph in 6 seconds – it's about giving them the experience of what driving a larger car can be like," explained Young Driver's founder, Kim Stanton. "The drivers will be doing the same manoeuvres they do in a standard Young Driver lesson, such as practising parking, and giving way and negotiating a roundabout. It's something we imagine will be a special treat, and that someone who has had a couple of Young Driver lessons before might like to try to get a new perspective on how different cars handle. It will certainly make a change for parents to be the ones being chauffeured about for once."
A thirty minute lesson in the Bentley Arnage costs £49.95, with the first taking place tomorrow at Stoneleigh Park. Further lessons will be available with dates and venues listed on youngdriver.eu.
---
Motoring powered by FrontSeatDriver.co.uk