Premium or practical? Audi's A1 shares much with the Volkswagen Polo, but which should you choose?
What is it?
Model tested: Audi A1 1.4 TFSi CoD S tronic S Line
Price
£21,060
Top speed
134 mph
0-62 mph
7.8 seconds
Official fuel economy
56.5 mpg
Road test economy
41.7 mpg
CO2 emissions
111 g/km
Car tax band
C / £30
Insurance group
25E
Engine
1.4-litre turbo petrol
Power
150 PS (148 bhp)
Torque
250 Nm (184 ft lb)
Weight
1,130 kg
This is Audi's Mini rivalling hatchback. It apparently combines the style and build quality of the German brand with the driving fun of the British model, without breaking the bank as far as running costs go.
It's just been lightly facelifted too, although it's a game of spot the difference to find exactly what has been changed. A slightly revised front end is the biggest change, looking marginally more aggressive than previously, but it's under the bonnet where most changes have been made.
That means there's now a 1.0-litre engine running on three cylinders, but enthusiastic drivers will be looking towards the 1.4-litre engine with futuristic sounding cylinder on demand technology.
This promises to retain the performance you would expect from a turbocharged petrol engine, but also manage to combine that with fuel-sipping measures to save you money.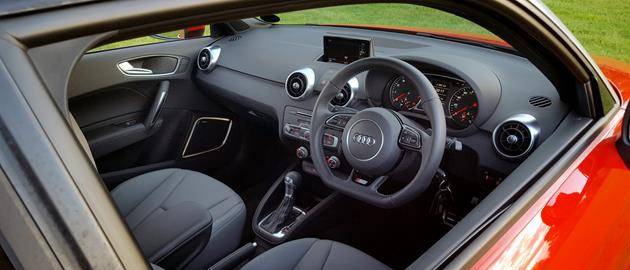 What's it like?
It's every bit the premium product you expect it to be. As with all current Audi models, the interior is exquisite, being well made and utilising a host of high quality materials. The odd dash of chrome or high-gloss detail adds an extra feeling of quality to what is already at the top of its class.
The seats are a tad firm though, which doesn't help soften the thumps you get from the firmer suspension fitted to this S-Line spec model. While you might be expected to get friendly with your dentist in order to replace all the fillings you'll lose, the flip side is that it's an enjoyable car to drive.
With 150PS on tap from the four-cylinder engine, it's a surprisingly quick motor, especially when combined with the seven-speed S-Tronic automatic gearbox. This swaps ratios quickly when you're trying hard, although can be a bit cumbersome when you're relaxed and bumbling around town.
At that point the cylinder on demand technology kicks in. This effectively shuts down two of the cylinders, leaving you running on 0.7-litres of engine when there's no need for significant power. Press the accelerator harder and the full complement of cylinders kick in to action again, almost imperceptibly.
However, as much fun as thrashing the car can be, most people will spend their time trundling to work, along the motorways and fighting through town. At that point the sports suspension just becomes tiring, especially so with the 18-inch wheels fitted to this test car. Stick with the normal springs and 16- or 17-inch wheels and life improves dramatically.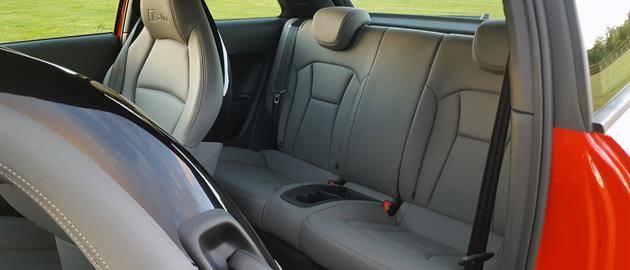 Is it practical?
The A1 shares a lot under the skin with the Volkswagen Polo, so it's got a lot of sensible stuff running through it. Space up front is absolutely fine, but getting in to the rear is a near impossible feat unless you're young and agile. The five-door version may be worth spending a little extra cash on if you want to keep your friends.
Boot space of 270 litres means it'll accommodate most weekly ships, but it's not cavernous. There are Isofix attachments for a child seat in the rear, although I've no idea how you'd fit one through the door. In a thoughtful touch, there's also mounting points on the front passenger seat, so at least one child will be kept happy.
Thanks to the clever engine tech, the A1 only emits 111g/km of CO2, so you can enjoy a car tax rate of just £30 per year. If you're looking at it for a company car, then there's just a 17% BIK burden.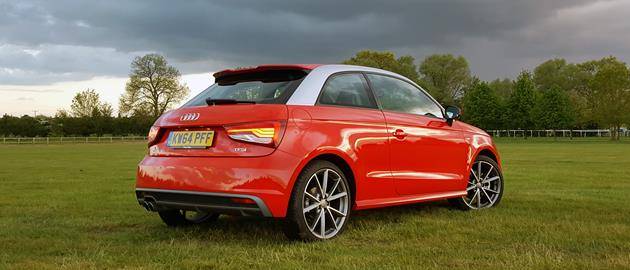 Should I buy one?
There is a huge amount to like about the A1, especially in this funky, if somewhat impractical, three-door version. Quality is top notch, and there is also plenty of equipment to play with. It's rapid, especially in a straight line, and it'll do quite well on fuel as well as save you money on tax.
But there's one massive elephant in the room, and that's the asking price. At £21,060 before you've thrown on any options, it's an expensive car. You could save more than £2,000 and take home a Volkswagen Polo GTi if you want a hot rather than warm hatch, or save even more and pick up a Mini Cooper for that premium style.