Bigger sounds like it should be better, but can something small provide the practicality a modern family needs?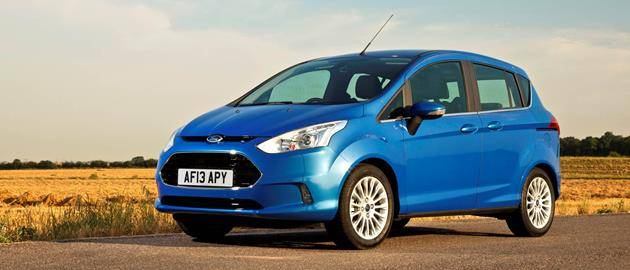 Model Tested: Ford B-Max 1.0 Ecoboost Zetec S/S
Price
£16,095
Top speed
117 mph
0-62 mph
10.8 seconds
Official fuel economy
57.7 mpg
CO2 emissions
114 g/km
Car tax band
C / £30
Insurance group
13E
Engine
1.0-litre turbo petrol
Power
125 PS (123 bhp)
Torque
200 Nm (148 ft-lb)
Weight
1,345 kg
What is it?
The B-MAX is Ford's smallest MPV, a rival for the likes of the Citroen C3 Picasso and Vauxhall Meriva. A mini-MPV in the traditional sense, it is based on Fiesta architecture so has much of that car's good points (of which there are many) but with the added practicality of a high roof, easy to access rear seats and a decent boot.
There are five engines to choose from with the 94bhp 1.6-litre diesel being the most economical – more so than the cheaper 1.5-litre unit, but it misses out on the important sub-100g/km CO2 figure. In fact all B-Max engines miss out on that benchmark which, if you judge a car by how much tax you are going to pay, is a black mark against the B-Max.
On the petrol front the emissions winner is undoubtedly the range topping 1.0-litre EcoBoost engine. Fitted with stop-start, the more powerful EcoBoost engine (it is also available in 99bhp guise) offers up 123bhp of power and 114g/km of CO2. All cars come fitted with a slick-shifting five-speed manual transmission, with the exception of the outdated 1.6-litre petrol that is equipped with a six-speed automatic.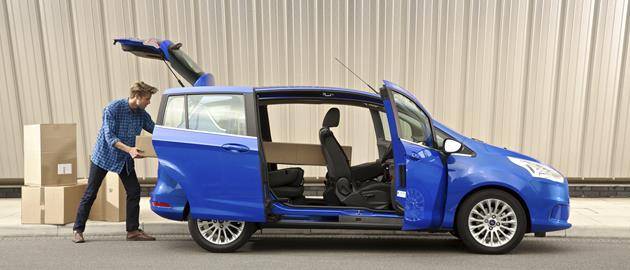 What's it like?
Marginally smaller than its main competitors, the space inside the B-Max is good if not great – the Meriva probably wins that particular shootout. Unfortunately the 'good if not great' aspect also extends to the quality of the cabin. Now, as a family car, you want a degree of hard wearing plastic that the little-ones cannot reduce to component parts in seconds but it is the overall design of the dashboard and door cards that looks and feels dated.
Ford has begun to address this issue in the recent Focus update and new Mondeo so we may have to wait for the next B-Max to get the cabin quality we'd like.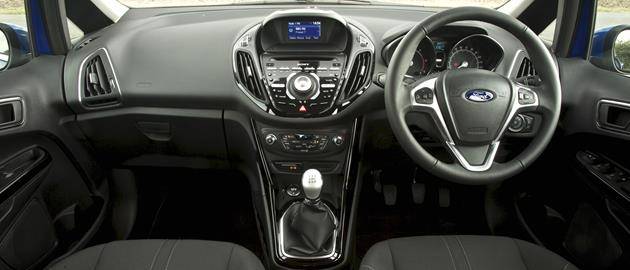 Is it practical?
Yeah, for a car of its size. For true practicality you need to move up to the C- or S-Max but as mini-MPVs go the B-Max fares well.
A lot of that is down to its clever door system. Sliding rear doors are a godsend to parents in that they give you space to manoeuvre a sleeping child into their seat without needing to book a trip to the chiropractor straight after. The B-Max goes further than that though by doing away with the central B pillar. Actually doing away with it is a misnomer, it has merely been moved to within the door structure itself, but the result is the same; uninterrupted access from the front A pillar all the way back to the C-pillar. It really is a genius solution to an oft seen problem.
The one downside however is that because the doors are wider, by virtue of housing all the extra strengthening, the rear seat itself is quite narrow. You will not get three child seats across the back of a B-Max and even sans booster three adults will struggle to fit back there on those rare nights out.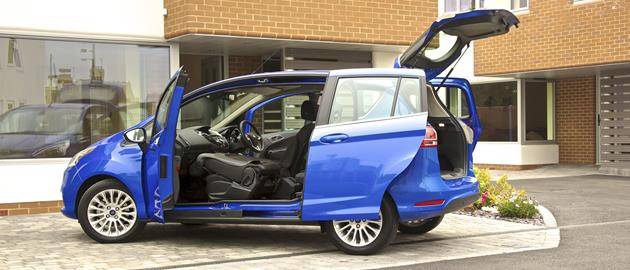 Should I buy one?
If you have a small family and have about £15,000 to spend on a mini-MPV the B-Max is a solid choice with decent residuals, but only if you pick the right car.
Entry level Studio models are spartan and best avoided. The same goes for the 1.4-litre petrol and 1.5-litre diesel, both of which feel old and sluggish and have not benefited from recent engine advancements that improve fuel consumption and emissions.
If you must have a diesel engine then the 1.6-litre unit is a far superior choice and unless you positively have to have an automatic (and the 1.6 petrol that goes with it) either one of the 1.0-litre EcoBoost units will suffice.
Zetec trim appears to be the sweet spot in the line-up, offering just the right amount of kit for your money. Titanium and Titanium X do add a lot of niceties such as auto-lights and wipers (Titanium) and panoramic sunroof (Titanium X) but the likes of satellite navigation and reversing camera remain buried in the options list no matter the spec.