Twenty years ago, the Focus was a turning point for Ford. Phil Huff finds out if the latest model makes the same impact…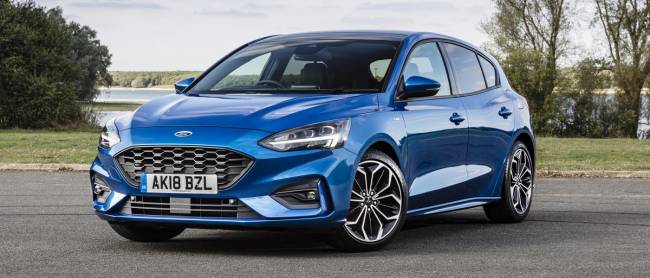 That first Focus was just another family hatchback, but one tat was endowed with a chassis and suspension that meant it was actually fun to drive. Not the kind of fun you can only have on a track, but fun just heading to Waitrose.
The second generation model lost some of that verve, but still pleased. The third generation was a swing and a miss, although had enough practical touches to be a perfectly suitable family motor.
Now there's a fourth generation and, at risk of breaking every review protocol, it's fantastic.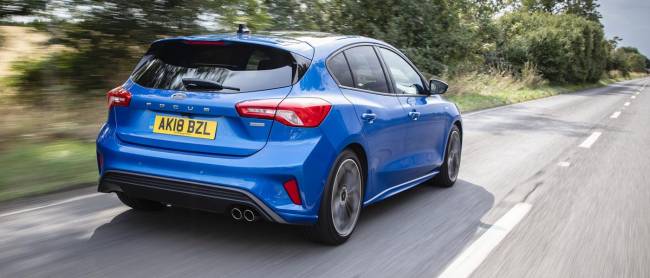 The sporty-looking ST-Line specification the Focus was delivered in misleads slightly. There's currently no hot-hatch version, so Ford has adorned the regular model with some spoilers and flash wheels, without adding anything special under the bonnet. However, while the 1.5-litre diesel engine fitted to the car isn't exactly long on power, it's flexible enough to be useful on the open road, and benefits from impressive economy.
It takes a full ten seconds to hit 62mph, but it feels far brisker than that, especially when moving from 30mph to 50 or so. Still, overtaking maneuvers need careful planning as, while the engine provides plenty of torque to get you rolling, it all disappears abruptly at the top of the rev range.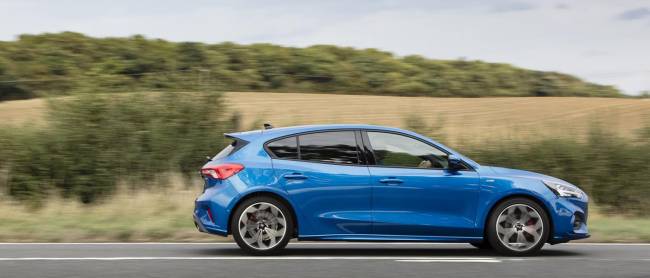 Making progress is easier if you conserve momentum, and the Focus makes that so easy. There's independent suspension all-round on this model, and it's been dropped by 10mm on the ST-Line model, so it's got the necessary bits to make it fun to drive. It makes the most of them too, being better to drive than any of its rivals, whether it's a value-led model from Hyundai or a luxury model from Audi – nobody else has got a family car that handles and rides quite so well as the new Focus. It moves with a fluidity that masks the imperfections of UK roads, while remaining controlled enough to explore the limits of the car's capabilities with confidence. Push too far and the Focus announces the loss of grip long before the tyres give up, and then slips into easily malleable understeer.
The steering is tight and geared low, so only small movements are needed to take a corner and, unusually, there's a pleasing degree of feedback through the wheel. The weight changes, sometimes a little unexpectedly, but it's as good as you'll find in the segment. The gearbox is as good as you'll find too, with a slick and positive shift action.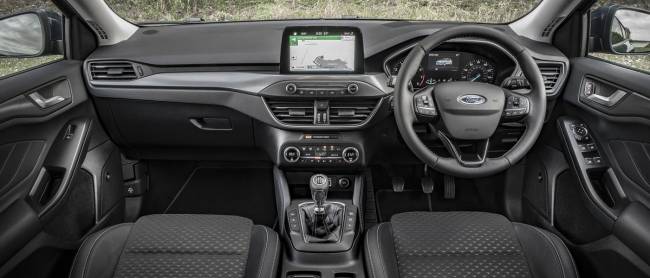 It's difficult to find fault in the way the Focus drives, whether you prefer to drive like Damon Hill or are driving Miss Daisy. Do the latter and Ford promises economy of an incredible 87.0mpg. Even with my heavy right foot, an average return of just under 60mpg is impressive.
The interior has been modernised nicely, with a glossy touchscreen infotainment centre replacing the seemingly hundreds of buttons of the old model. Loaded with Ford's Sync3 system, there's voice control, DAB radio and Bluetooth connectivity, as well as Android Auto and Apple CarPlay, but there's no satellite navigation as standard. In fact you miss out on a few toys on the ST-Line, but that's the sacrifice you make for the party add-ons. Switch to a Titanium model and you lose the spoiler and flash wheels, but gain navigation on a larger screen, parking sensors, climate control, heated seats and automatic wipers, amongst other items. Both models are within just a few pounds of each other, so it's down to personal preference.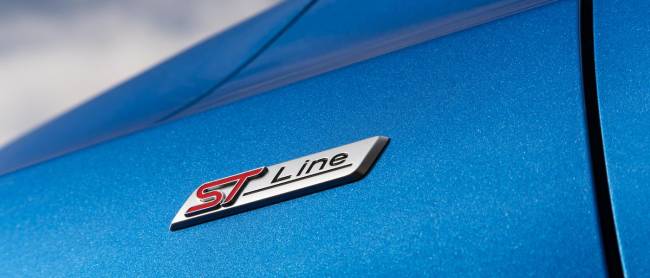 Whichever way you go, you'll have a hatchback suitable for family use, with a decent boot and more than enough space for four adults in the cabin. It'll be backed by Ford's three-year warranty for peace of mind, and scored the full five-star score in EuroNCAP's safety testing.
It's a match for all of its rivals in terms of quality, even the Golf, and it offers as much value as most. None of them can hold a candle to the Ford's drive though. It's taken 20 years, but it's a return to form for the Focus.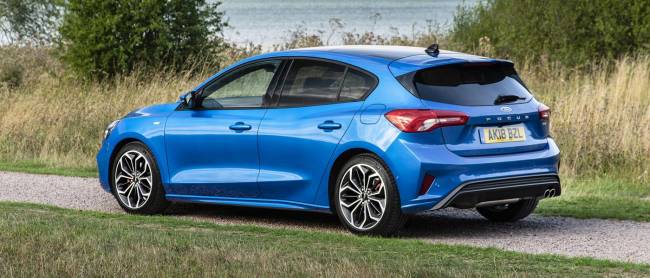 ---
Motoring powered by FrontSeatDriver.co.uk.