Another new car promising more space, more efficiency, more fun, and all that Jazz. Can Honda's latest city car deliver?
Model Tested: Honda Jazz EX Navi CVT
Price
£17,425
Top Speed
113 mph
0-62 mph
12.3 seconds
Official Fuel Economy
57.6 mpg
Road Test Economy
52.4 mpg
CO2 Emissions
114 g/km
Car Tax Band
C / £30
Insurance Group
13E
Engine
1.3-litre petrol
Power
102 PS (101 bhp)
Torque
123 Nm (91 ft lb)
What is it?
This is the all-new Honda Jazz, a city car that replaces a model that was respected by many but loved by few. Honda is hoping the new model will have everybody crazy in love with the high-tech gadgets, rakish design and spacious interior.
Bigger than the old model, and featuring new suspension, a lighter chassis, improved quality and better dynamics, the Jazz promises to be more involving than previously, as well as a more practical and cost efficient offering.
To keep costs down, there's now just one choice of engine, a 1.3-litre petrol powered unit that produces 101bhp. This comes with a six-speed manual gearbox as standard, but there's the option of a CVT automatic for those who want to simply put the car in drive and let the computers check on it.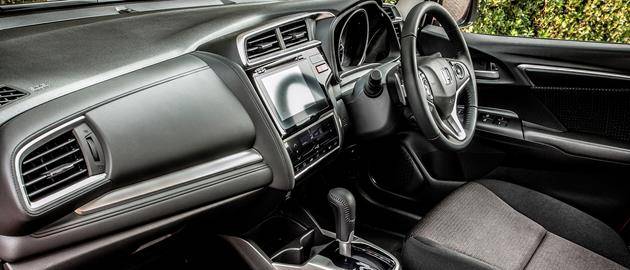 What's it like?
It's a sharply styled box on wheels. Squint, and there are subtle hints of Honda's halo product, the NSX, but in reality it's an upright mini-MPV with some seriously sharp edges.
What it lacks in hot hatch likeability is more than made up for with the ultimately sensible and safe driving experience which, for this section of the market, really is the best thing. I never had any trouble with maneuvering it around the city, navigating it through a car park, or even squeezing through a drive-through, areas where it really is at home.
Take it out on to the open road and you find you have to wind the engine up to extract much from it, which isn't necessarily that easy with the CVT gearbox fitted to my test car.
A CVT box provides a continuously variable gear ratio, theoretically ensuring that you're extracting maximum efficiency from the engine at all times. That means it's screaming constantly when you've got your foot down hard, but retires to a very quiet rumble when you're cruising along. A good CVT works well but, sadly, this isn't one of them.
There's a massive delay when you do put your foot down where literally nothing happens. If there's a gap in traffic you want to pull in to, don't – you'll need double the gap you expect to give time for the gearbox to react and allow access to what power the engine has.
Knowing how good a CVT can be, it's like having a beautiful liar in the car with you, promising power and efficiency but ultimately hiding it all away from you.
In fairness, it does allow you access to the promised efficiency. While 57.6mpg is pledged, a return of around 52mpg on the DAD test is extremely impressive. Relax in to that style of driving, enjoy the generous levels of equipment (including DAB radio, automatic lights and wipers, Bluetooth, air-con and electric mirrors) and it's a fine car.
The Connect infotainment system is also mostly impressive, although finding the right DAB station takes some effort, something that foxed a few people and not just me.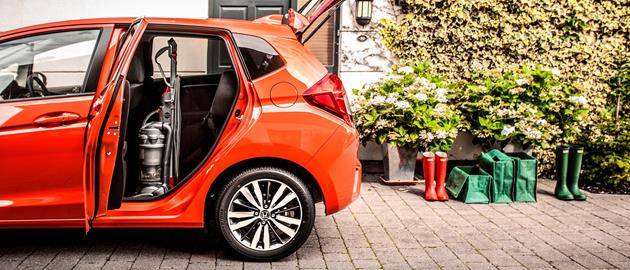 Is it practical?
It's certainly more spacious than ever, as Honda promised. There's now plenty of room for four adults in the car, with rear leg and headroom being exceptional. That also means there's plenty of space in the back for a couple of child seats for your baby boy or girl. Naturally there are Isofix attachments, with Honda able to provide child seats directly.
The boot has grown in size to a class-leading 354 litres, bigger than you'll find in a Fiesta, Fabia or Polo, leaving plenty of space for your irreplaceable objects.
Economy is pretty good, despite a 1.3-litre petrol engine. Claimed economy of 57.6mpg was backed up by a recording of 52.4mpg on the DAD test, although CO2 emissions of 114g/km are higher than you might want.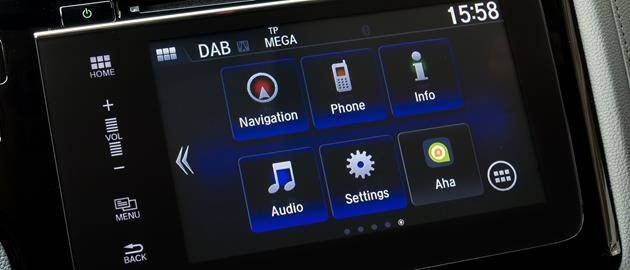 Should I buy one?
If I were a boy, then I'd be looking for something altogether more interesting. The fear that the new Jazz might bring deja vu memories of the old model has been banished, but there's no escaping the fact that this isn't an exciting car.
However, it's an extremely likeable and capable car. Equipment levels are high, there's enough space all round (you can even lay the seats almost flat for a quick nap and some sweet dreams) and it's well priced and more economical than you might expect.
Other rivals may offer a more engaging drive, or might be tad cheaper, but the Jazz sits amongst its rivals without feeling second best.
Just avoid the CVT gearbox.