Are breathtaking looks and an incredible soundtrack enough to allow the Jaguar to take on Germany's finest? We spend a week with the F-Type to find out…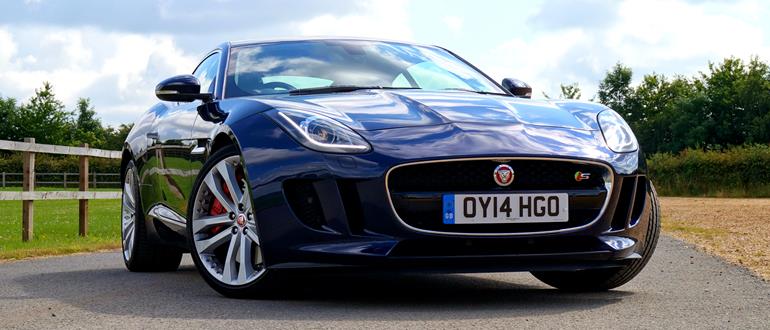 Jaguar F-Type V6 S Coupe
Price
£60,250
Top speed
171 mph
0-62 mph
4.8 sec
Combined fuel economy
32.1 mpg
Road test economy
27.9 mpg
CO2 emissions
209 g/km
VED band
K / £285
Insurance group
47E
Engine
3.0-litre supercharged petrol
Power
375 bhp (380 PS)
Torque
339 ft lb (460 Nm)
Weight
1,594 kg
What is it?
I'm breaking all road-test rules here and effectively skipping straight to the verdict: It's the best model in the glorious F-Type range. If you can afford to, go out and buy one now. I promise you won't regret it.
The F-Type was originally a convertible, as perfect for cruising the California highways as it was for parading around Monaco but, despite its abilities, it lacked something to take it from something special to something spectacular.
And so Jaguar has bolted on a roof, stiffened up the bodywork and toughened up the suspension. The end result is a coupe that is devastatingly attractive that will leave you, and those around you, smiling after every journey.
The V6 S model gets a 375bhp supercharged engine, adaptive suspension, bigger wheels, a limited slip differential and plenty of leather. There's also an active sports exhaust that opens up the tubes when you're pressing the loud pedal.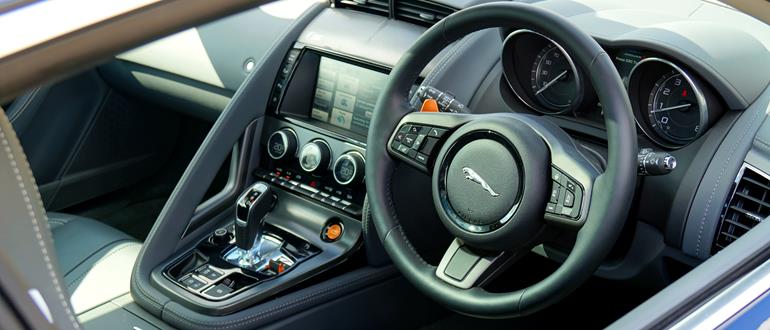 What's it like?
Nailing the balance between modern and retro perfectly, looking forward with the car's tech while also including subtle design cues from the past, the F-Type looks every inch a Jaguar. That's not enough though, as this is being billed as the most capable Jaguar ever.
Fire up the engine and you sense that might just be true. There's a bark as the revs momentarily rise, before the exhaust crackles and pops as it settles down to idle. I'm sat stationary and it's already dramatic.
Move off at pace and, as the active exhaust engages, the noise behind you explodes. Banshee wail doesn't cover it. An angry volcano erupting just about conveys it, but as the revs drop it's replaced by more of those dramatic spits and crackles that echo out like a rapid-fire shotgun attached to the boot. It's intoxicating.
There's an eight-speed automatic gearbox directing all that power to the wheels, with the de rigueur flappy paddles sitting behind the steering wheel allowing you to control the gears with just a quick flick of a finger. You may think that a proper manual gearbox might work better, and on occasion that might be true, but for 95% of the time you'll do just fine with the auto.
The differential at the back helps keep traction when that power is unleashed and the car is slewing sideways in a wall of tyre smoke, something that's quite easy to achieve if you've set the computer systems to Sport or, if you're brave, Sport+.
The only real let down is the interior. It looks fantastic, with a great driving position and good positioning of most switches and dials on a dashboard that's tilted towards the driver. However, look around a little and you'll find some cheaper column stalks and slightly tatty trim in places. The infotainment system is also showing its age, having been used across the Jaguar and Land Rover ranges for some years.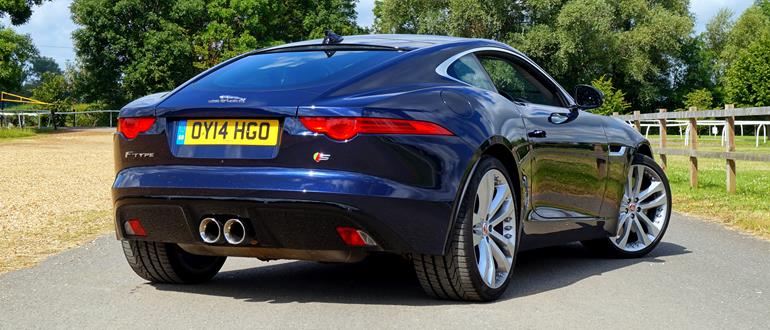 Is it practical?
Even by sportscar standards, it's not what you'd call a practical proposition.
A strict two-seater, you'd even struggle to squeeze a backward facing child seat into the cabin, while storing any of the related paraphernalia would be near impossible such is the dearth of storage spaces.
The boot is surprisingly wide and long though, but the tricky differential hidden underneath means it's shallower than a paddling pool.
At least it's not hugely thirsty. Taken round the DAD.info test route, the V6 S returned a pretty reasonable 27.9mpg, against an official figure of 32.1mpg. However, start enjoying yourself and single-digit economy is possible…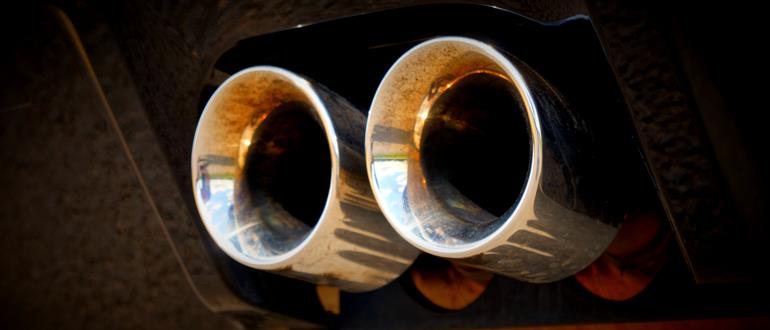 Should I buy one?
Yes. Oh yes.
I can't hide the fact that the Porsche 911 is probably a little better, being lighter, quicker and more agile, and even managing to squeeze in two (entirely useless) rear seats.
But that misses the point of the Jaguar. The F-Type is more interesting, much prettier, more involving and sounds so good. It attaches itself to your heart in a way the 911 won't ever manage.
And that's why you need an F-Type.