Maserati has been undergoing something of a transformation over the last decade, and now they've turned all sensible and put a diesel engine in a saloon. I find out if it's still worthy of the name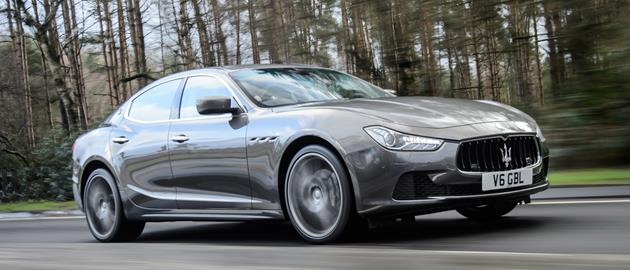 What is it?
Maserati Ghibli Diesel
Price
£48,835
Top speed
155 mph
0-62 mph
6.3 seconds
Combined fuel economy
47.9 mpg
Rod test economy
37.0 mpg
CO2 emissions
158 g/km
VED band
G / £180
Engine
3.0-litre turbo diesel
Power
275 PS (271 bhp)
Torque
600 Nm (443 ft-lb)
Weight
1,830 kg
The Ghibli name harks back to 1966, when it was a V8-engined grand tourer. It morphed in 1992 to become a V6 twin-turbo powered coupe, but now it's an executive sports saloon. It follows on from the Quattroporte and GranTurismo, showing that Maserati is having something of a renaissance under Fiat ownership.
With the Maserati name on the bonnet, you might be expecting something that pops and bangs its exhaust before burbling loudly up the road, tyres smoking and passengers pressed back against their sports seats.
This is nothing like that. First of all, the high-revving noisy petrol engine has been replaced with an efficient diesel unit, while the admittedly sleek bodywork is also pretty hefty. This is no lightweight sports car, but a proper executive saloon that's targeting top-end BMW 5 Series and Mercedes E Class owners with a uniquely appealing proposition.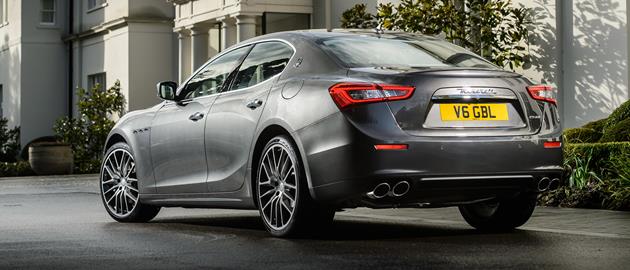 What's it like?
It's a master class in Italian style. The sharp-edged yet curvy bodywork looks fast even when stationary, while its sheer bulk combined with a front end that drops aggressively to the tarmac is almost intimidating.
Step inside and it's clear that there is no German heritage in the Ghibli. Instead of clinical lines it's all very flamboyant, swooping around a central touch screen with an elegant clock sitting atop it all. In two-tone leather it looks magnificent, although that is an £810 option.
Press the Start button and the drama that's been built up sadly disappears. As muted as the engine is, it's still a rattly diesel that jars somewhat with the image that's given off by the famous trident logo on the steering wheel.
Pull away and most of that is forgotten though. The gearbox, an eight-speed automatic unit, can get a bit lost when left to its own devices, but a pair of aluminium paddles behind the steering wheel allows you to choose the gear ratios yourself. The gearbox reacts quickly enough to the requests too, allowing you to make the most out of the huge levels of torque on offer from the engine.
Put your foot down and, once on the move, the diesel rattle disappears, replaced by a deep rumble while you're pressed backwards in to the seat. You almost forget that you're actually driving something quite efficient and tax friendly as you reach 60 miles per hour in just 6.3 seconds.
Start exploring its capabilities and the sheer weight of the Ghibli starts to show. Eventually the 1.8 tonne car will push back against your commands, but it's extremely well-balanced until that point. Switch off the computers that keep it on the straight and narrow and it's possible to slide the back-end out in an antisocial drift at will, the limited slip differential that's fitted making it a piece of cake to hold.
Slow down to speeds you'll normally be doing and the ride quality is mostly good, although it gets a little fidgety at times over small expansion cracks and road imperfections.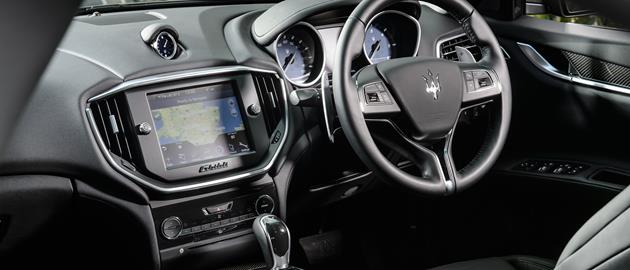 Is it practical?
Normal speeds help economy, something you can't overlook if you've chosen the diesel option. An official figure of 47.8mpg is impressive, although the Ghibli only managed 37.0mpg over our test route. It's light years ahead of the petrol powered models though, with taxation benefits too; car tax is just £180 per year, thanks to a CO2 figure of 158g/km, while company car drivers will be pleased by the 27% benefit in kind rate.
For front seat passangers it's best described as cosseting. There's no shortage of space, but as everything swoops around you, you do tend to feel a tad enclosed. It's reassuring rather than restricted though. In the rear there's plenty of headroom, but not much legroom, so teenagers upwards will feel a tad shortchanged.
The boot is big enough for the golf clubs, with a wide opening. It's technically smaller than that of the BMW 5 or Jaguar XF, but you'd be hard pushed to tell.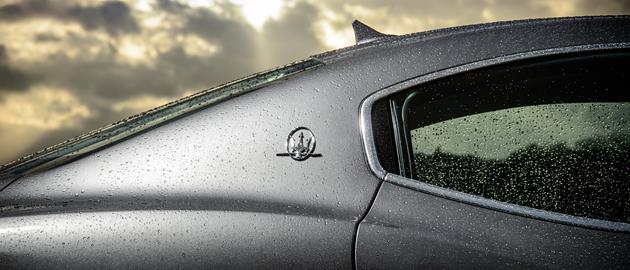 Should I buy one?
It seems that Maserati has come up with the goods on their first attempt, the Ghibli almost being all things to all men, but there's a huge elephant in the room in the shape of BMW's 530d.
In almost every measurable way, the BMW is the better car. It's got a better ride, is more economical, provides a more polished interior, has a bigger boot, accelerates faster, has a lower tax bill and costs less.
None of that matters though. The Maserati only loses out to the BMW by a small margin in each area, a margin small enough that other benefits might just be enough to make the Ghibli the preferred choice.
The Maserati will get people stopping to stare, while you'll get front-of-house parking at every hotel and restaurant. Every time you park, you'll turn back as you walk away, taking one final look at the trident on the boot or the curve of the bonnet. You'll enjoy telling people that you drive a Maserati rather than a me-too German saloon.