A hot-hatch rivalling, people-carrying, luxurious load-lugger? The Mercedes Vito Sport-X could just be all things to all men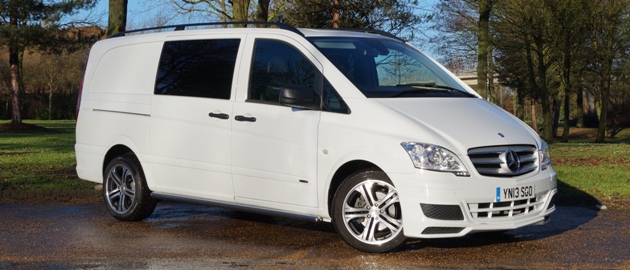 Mercedes Vito 122CDI Sport-X Dualiner
Price
£35,553
Top speed
124 mph
0-62 mph
9.1 sec
Combined fuel economy
32.5 mpg
Road test economy
32.3 mpg
CO2 emissions
229 g/km
VED band
N/A / £140
Insurance group
N/A
Engine
3.0-litre turbo diesel
Power
221 bhp (224 PS)
Torque
325 ft lb (440 Nm)
Weight
1,955 kg
What is it?
We've all seen the Mercedes Vito van bombing along the nation's motorways at speeds that would rival Lewis Hamilton in his weekend wheels. It's a medium sized van that goes head-to-head with the likes of the Vauxhall Vivaro and Ford Transit Custom.
Except this one is a little bit different. The first clue is the body kit bolted on to the van, with a front splitter so low that any building site work is rendered off limits. Large alloy wheels add to the sense of occasion, while Brabus badges litter the exterior.
The Sport-X (the Sport without an X just isn't as exciting) is an answer to a question that few people thought about asking, and what you end up with is a van with five seats, sports suspension and quilted leather seating. Under the bonnet there's a 3.0-litre V6 turbo diesel that produces 221bhp.
It's a cross between a Golf GTi, Bentley Continental, Volvo V70 and a Bugatti Veyron then.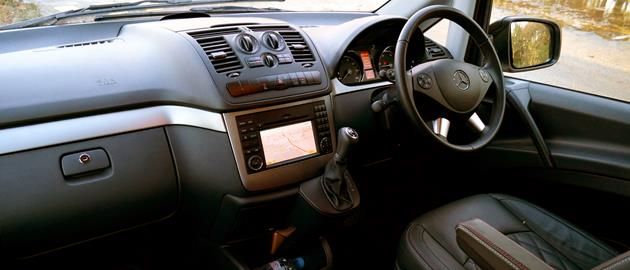 What's it like?
Let's deal with the performance side of things first. Plant your foot hard on the accelerator and the Vito grumbles a little before launching itself towards the horizon. Sixty comes up in about nine seconds, which doesn't sound quick, but then you don't normally do that kind of speed in something the size of Canterbury.
It carries on picking up speed too, with no signs of giving up before I lost my nerve. Corners approach rather more rapidly than you might imagine, at which point something amazing happens: the Vito goes round them, without once sending you hurtling in to a field.
It's the sport suspension to thanks for that, along with the 18-inch Brabus wheels and wide (and sticky) Continental tyres. It's also rear-wheel drive so, if you're feeling foolhardy, it's possible to switch off the computers and have a go at drifting. In a two-tonne box.
It's a hoot to drive then. It's also a pretty comfortable place to spend the day. Up front there's no hiding its van origins, but the dashboard is pleasant enough and the stereo makes a decent sound.
The sat-nav is deranged though. Most systems are pessimistic, leaving you able to shave 15 minutes or so off an estimated two-hour drive. Not here. Instead the Vito's system acts like a target time ticking away in a video game, daring you to push that bit harder before you reach your destination. Despite its sporting aspirations, and 'pressing on' across the wilds of Hampshire, not once did I ever arrive at the time suggested.
I could have relaxed, sat back in the quilted leather seats as I lorded over those around me in their low-slung cars, but the Sport-X doesn't let you. It just encourages you to be a hooligan.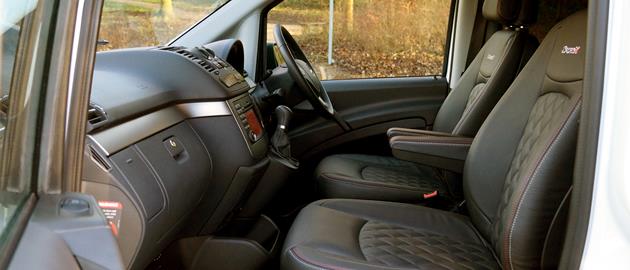 Is it practical?
It's a van, so practicality is a foregone conclusion. However, for something that doesn't take up any more road space than a Jeep Cherokee, it's amazing what you can squeeze in.
As standard there are five individual seats, each reclining and operating separately. Spend a little extra and you can add a sixth seat up front. There are ISOFIX attachments for your child seats, too.
The row of three seats in the back, accessible by a huge sliding door on each side, fold down and can be removed entirely if needed. This frees up space behind, but you probably won't be needing to extend the load bay too frequently.
With everything in place, there's 1.4 metres of load length available, extending to just over 2.4 metres once you've taken the rear seats out. A roof height of more than 1.3 metres means, according to my basic maths skills, there's room for 2.5 cubic metres of stuff, or 90 cubic feet.
It does like to drink fuel at a rapid pace though, which counts against it. An official figure of 32.5mpg could leave you wincing, while CO2 emissions of 229g/km will upset Greenpeace. Car (or van) tax isn't too bad though as, thanks to its commercial roots, there's an annual charge of just £140.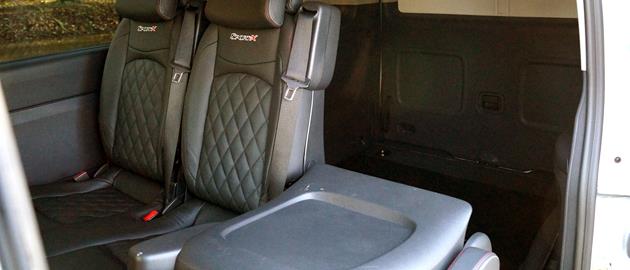 Should I buy one?
If you're being sensible, then probably not. £35,553 is a huge amount for a light van, while the 32.5mpg figure can be decimated by heavy use of the loud pedal. And while residuals are good on a Vito, you won't get back all the extra you paid out for the Sport-X, so overall it's going to be an expensive proposition as a family car.
But if you're the kind to venture to the beach with your family every weekend, or perhaps you're a self-employed builder or painter, then it starts to make a lot more sense. It's genuinely good enough to use every day as a family car, and it that means you buy one slightly more expensive van instead of a van and a car, then the cost issues start to fade away.
Or you could forget all about the sensible side to life, stock up on Red Bull and spinach, and spend a year's salary on something that you just don't need but is irrational enough to keep you smiling all year round.
Life's too short to be sensible all the time.