Remember the old MG ZS, a rebadged Rover 400 with a go-faster spoiler and flash wheels? This is not it.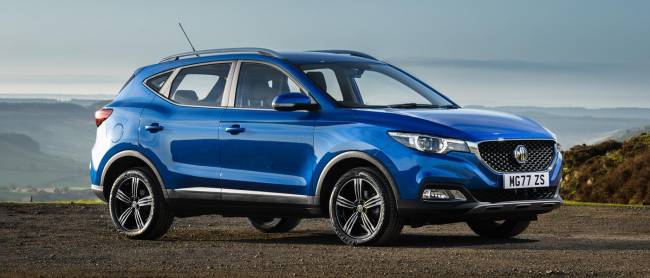 Nor is this the long overdue replacement to that model. In fact, the current owners of MG would probably rather we forgot all about the 90s entirely.
This ZS is an altogether different beast from what went before, borrowing more from MG's current line up (the small 3 hatchback and the mid-sized GS SUV) and ending up as a small SUV to rival the likes of the Renault Captur or Vauxhall Mokka X. It borrows a bit of styling from many of its rivals, with a front end reminiscent of a Mazda, a Hyundai-like read end and a profile that leans heavily on the Ford Kuga's shape.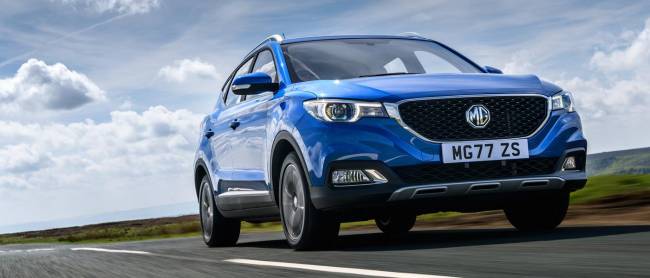 It's a larger car than its rivals though and, crucially, costs a lot less. The range starts at £12,495, and that's less than you'll pay for an entry-level Fiesta, so the sheer amount of metal that you get for your money is impressive. The interior is spacious and airy, with MG promising that the ZS is 55m wider and provides 80mm more headroom than the average small SUV. I've not taken a tape measure to it, but it does feel roomy, and the boot is huge – there's 448 litres of space for family detritus, which is about the same as the practical Captur and massive amounts more than you'd find in a Nissan Juke.
On this top-level Exclusive spec, there's a long list of equipment too, including a DAB radio, Bluetooth connectivity, satellite navigation and Apple CarPlay, all accessed through a smart looking Windows-mobile inspired eight-inch touchscreen. However, it's notable that Android Auto smartphone mirroring is missing and, for some reason, the navigation system would never load on this test model. As a Samsung phone owner, that left me without navigation for a week. Fortunately there's a long seven-year warranty on the ZS, which should mean any glitches like that would be put right.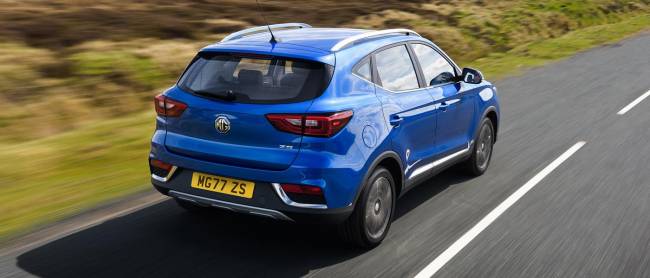 There's nothing wrong with the way the ZS drives. There's a 1.5-litre petrol engine under the bonnet, mated to a 5-speed manual gearbox. There's just 105bhp on offer, and zero to 60mph takes a steady 10.4 seconds, but the car feels a lot quicker than the raw numbers suggest. The engine needs working hard to extract the most from it, which has a detrimental effect on fuel economy, but swift progress can be made. The chassis can keep up with it all too, the suspension having been tuned for six months to cope with the UK's dreadful roads. There are three steering modes to help, although the steering wheel itself only adjust for rake and not reach, but two of the modes seem superfluous; Urban leaves the ZS feeling like it's been disconnected from the steering wheel, while Dynamic adds weight but somehow leaves you feel like you're fighting the electric motor. Leave it in Normal and everything is, well, normal.
If you want an automatic gearbox then, oddly, you'll have to go with the smaller 1.0-litre turbo engine. Power and torque are broadly similar, but there's a six-speed auto box bolted on to it. Economy of 49.6mpg is promised from the 1.5 manual, and that doesn't seem highly unrealistic.Some long motorway runs, some time in Cambridge city, and normal everyday driving saw an average of just over 40mpg on the trip computer, which is as good as you might expect from any other similar car.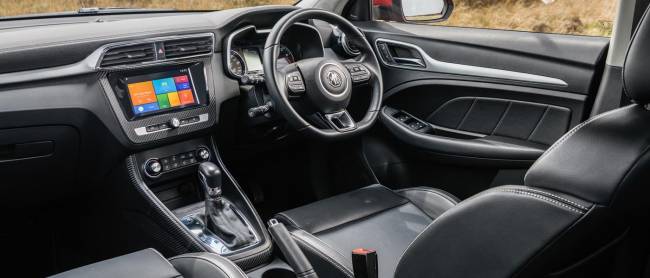 Some of its rivals are undoubtedly better cars, at least in some areas. Some are faster, some better equipped, some built to a higher standard, but the MG ZS isn't too far away in any area, and then it trumps them all with its price. Add in the space, that seven-year (or 80,000 miles) warranty for peace of mind, and zero-interest finance deals that makes this top-spec model cost less than £200 a month, and the new MG makes a lot of sense.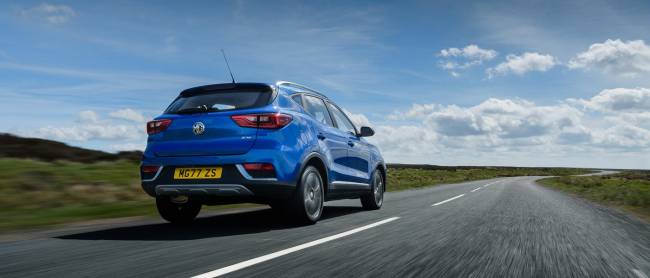 ---
Motoring powered by FrontSeatDriver.co.uk.