Can a big SUV really manage 148mpg? Thanks to hybrid technology, Mitsubishi thinks so. We take the keys and find out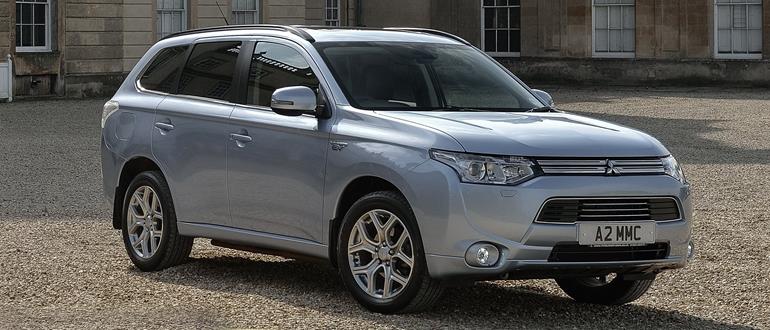 Mitsubishi Outlander PHEV GX4h
Price
£32,899
Top speed
106 mph
0-62 mph
11.0 sec
Combined fuel economy
148.0 mpg
Road test economy
60.1 mpg
CO2 emissions
44 g/km
VED band
A / £0
Insurance group
27E
Engine
2.0 litre petrol / electric
Power
200 bhp (200 PS)
Weight
1,810 kg
What is it?
The Outlander is a slight anomaly in the Mitsubishi range. Fated for their Lancer Evolution rally-bred saloon cars in equal measure with their utilitarian solid-as-a-rock off-road offerings, the Outlander stands apart.
It's something of a soft-roader, combining some of the off-road capabilities of the Shogun while also being able to go round corners quite well. It can even seat seven people in its usual form, so it also qualifies as a people carrier.
This isn't its usual form though, but I imagine that Mitsubishi are hoping it soon will be.
What we have here is the PHEV version, or plugin hybrid electric vehicle.
In very simple terms that means they've taken out the sixth and seventh seats, replaced them with batteries, and found room somewhere to squeeze not one but two electric motors in while still retaining a smooth petrol engine.
The upshot is that you can travel around 30 miles without using a drop of petrol, which is great if your office is 29 miles away as you'll not need to visit Shell at all. Come the weekend though, you've still got the backup of a decent petrol engine, so there's no limit to the miles you can do.
It's been done before with small hatchbacks, saloon cars and the Volvo V60 estate, but does it work when you put all that technology in an SUV?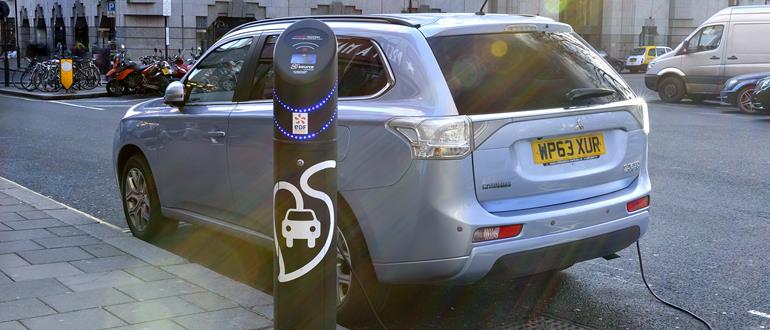 What's it like?
Mitsubishi's approach to electrifying the Outlander eschews the usual methods of launching sub-brands and giving things funky names and even funkier styling. No, this is an ordinary Outlander, almost indistinguishable from the run-of-the-mill models.
Look carefully and there's a few PHEV badges around, while the eagle eyed will notice a second filler flap (you fill up with petrol on the left, electricity on the right) but it's otherwise a little plain. Not ugly in any way, just plain.
The same is true of the interior. Again, ignoring the temptation to cover the dashboard in bamboo or hide blue LED lights everywhere, it's left a little understated and entirely ordinary.
This is all very intentional of course. Nobody coming from a 'normal' car will be frightened by the prospect of driving the Outlander. In fact there'd be plenty who wouldn't even notice that it's actually something quite special.
The first clue that it really is happens when you turn the key. Or, more specifically, nothing happens. There's no engine firing up and no exhaust fumes, just some lights on the dashboard that blink.
Moving the gear lever in to drive (it's only available as an automatic) and pressing the accelerator sees the nearly 1.9 tonnes of Mitsubishi glide away silently, running on pure electric power.
This continues right up to 70mph, although such speeds to reduce the battery range quite significantly. There's enough for me to cruise down the A14 to Cambridge and crawl around the city centre for a while, before parking up and plugging in. I'll go and have some lunch while the car recharges.
When you are out in the road in the Outlander, don't expect engaging, sporty handling. This is an SUV and proud of it, so it rides tall and soft, swallowing up most imperfections in the road. It leans a lot around corners, but it's nicely balanced and you've got to be a bit of a hooligan to unsettle it. It's entirely unthreatening and unremarkable.
Take the Mitsubishi off-road, or at least as far as a wet and muddy field as I did, and it acquits itself well, even on eco-friendly road tyres. Those two electric motors offer permanent four wheel drive, while torque vectoring sends different amounts of power to each wheel, making steep climbs a piece of cake. The Darien Gap might be off limits, but it'll get you out of most tricky situations.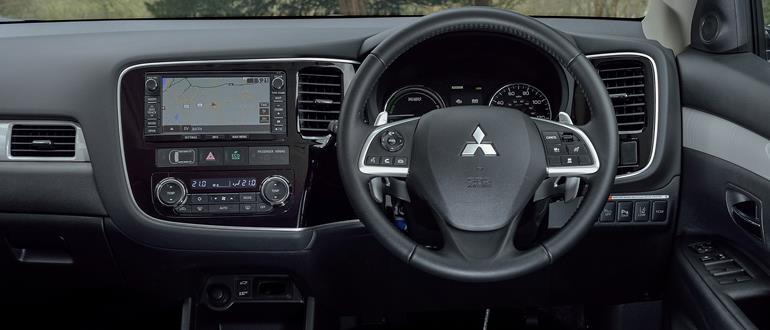 Is it practical?
The loss of the rear most seats reduces its practicality slightly, although they were only ever suitable for the smallest of children on occasional short journeys, but the rest of the car remains the same as before.
That means there's five seats left that will easily accommodate five adults, with ISOFIX mounts in place for your child seats.
Further back there's a sizeable boot, able to swallow 463 litres of luggage, more than you'd squeeze in to a Land Rover Freelander or Volvo V60.
Financially, it depends on exactly what you do with the car. The big news is that Mitsubishi isn't charging a premium over the equivalent diesel powered model, once the government electric car grant has been taken in to account. Take the PHEV option and your car tax bill reduces to zero, while fuel economy might improve.
I say might, as it's definitely a case of horses for courses. Mitsubishi says that you'll save money if you do less than 105 miles each day. Anything over that and the diesel option is a better bet, thanks mainly to a rather thirsty petrol engine powering the PHEV once the batteries run out. However, keep your daily commute to around 25 miles and charge it up at the office and you'll not use a single drop of fuel all day.
As a company car buyer you'll also be rewarded with a tax bill that's more than £2,000 a year lower than the diesel model, which is the equivalent of a pay rise that will pay for a week's holiday in the sun.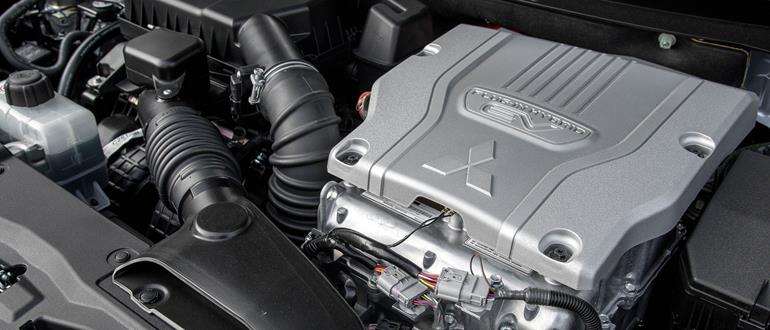 Should I buy one?
If you're a company car driver who needs the flexibility and practicality of an SUV, the tax benefits are so stark that it's got to be an option.
As a private buyer, and assuming an SUV like this is the right option, then the decision comes down to exactly what mileage you expect to cover. If you're in that golden zone covering 30-60 miles a day and have easy access to a plug socket, then it's a car that deserves your close attention.
If you're covering more than that then an efficient diesel SUV would probably serve you better, something that Mitsubishi themselves admit. And, at that point, there's more interesting models available.