The Skoda Fabia has grown up, but so have the prices. Is it still a bargain buy in a busy market?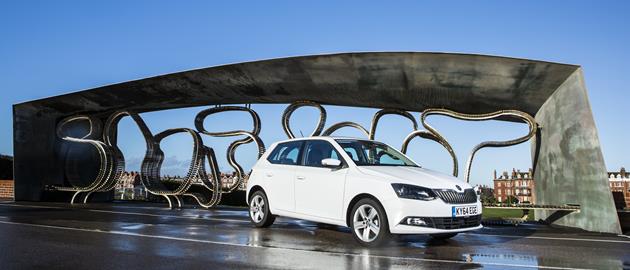 What is it?
Skoda Fabia SE L 1.2 TSI 90PS
Price
£14,240
Top speed
113 mph
0-62 mph
10.9 seconds
Combined fuel economy
60.1 mpg
CO2 emissions
107 g/km
VED band
B / £20
Insurance group
8E
Engine
1.2-litre petrol
Power
90 PS (89 bhp)
Torque
160 Nm (ft-lb)
It's the third generation of Skoda's ever-popular small hatchback, hoping to win sales in an overcrowded sector that includes rivals such as the Volkswagen Polo, Vauxhall Corsa and Ford Fiesta. That means it's got to be better than just ok, otherwise it'll get lost in a sea of similar cars.
The new Fabia retains the good levels of space and practicality of the outgoing model, and adds a whole heap of new equipment, but gone is the distinctive styling and up have gone the prices.
Prices now start at £10,600 for the entry-level 1.0-litre S, with its efficient three-cylinder engine, and rising to £17,240 for a top-spec 1.4-litre diesel with an automatic gearbox. Right in the middle is a sweet spot, the 1.2 petrol in SE spec at £13,390, but I've got the keys to a model with a few extra toys.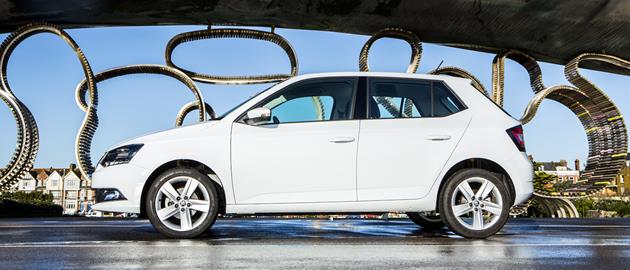 What's it like?
Step up to the Fabia and you can't help but be taken by its really quite grown up styling. It may not be quite as funky as the old model, but it's styled sharply and looks as though it would be as happy wearing a Volkswagen or even Audi badge.
Move inside and you'll find an exceptionally clear dashboard, although it lacks some of the soft-touch plastics of its rivals, instead feeling a bit scratchy in places. Still, the equipment on offer will keep you distracted, with every model getting six airbags, DAB digital radio, Bluetooth and USB sockets, while only the base model misses out on air-conditioning, parking sensors and city emergency braking.
If you're off the brakes and on the throttle, the 1.2-litre engine performs reasonably well. With 90PS to play with, it won't set any performance records. Sixty comes up in 10.9 seconds, and it copes with motorway speeds reasonably well, but steeper hills will need a change of gear.
Find some twisty roads and the light steering reveals that there's very little feel, making it a little difficult to place accurately, but the body is controlled well with little. It's competent enough, but not very interesting.
Ride quality remains good at all times though, allowing you to relax a little, something that is particularly important when you hit urban areas. This reveals the Fabia's natural habitat, where the large windows, easy steering, peppy engine and slick gear change all combine to make city driving a piece of cake.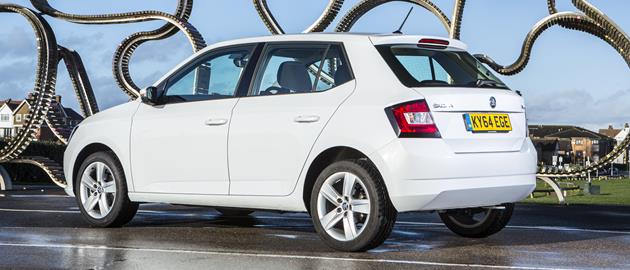 Is it practical?
While the Fabia is marginally smaller than its predecessor (it's less than 1cm shorter and sports a lower roofline) Skoda has managed, much like the TARDIS, to make it bigger on the inside.
There's a good deal of space for adults up front, with a front armrest helping keep driver and passenger separated. In the rear there is plenty of headroom for all but the very tallest of people, while legroom is perfectly acceptable and two Isofix points make light work of putting in a child seat. Elbow room has, according to Skoda, increased by 2mm too. You can judge that one.
Boot space is roomy 330 litres, extending to 1,150 litres with the seats down, more than you'll find in the Fiesta or Corsa. Spend £100 on the optional spare wheel though and you'll lose some storage space.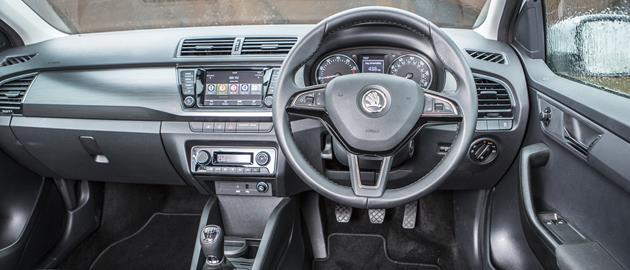 Should I buy one?
The new Fabia is a large step forward from the old model, brining more style and more space to the car while reducing emissions and improving fuel economy. It feels incredibly grown up too, something that will appeal to many.
While prices have crept up, they still undercut those of its rivals, so it's still offering plenty of value for money.
With all that's going for it, and very little going against it, the Skoda Fabia would make an ideal small family car for many. Don't hesitate.