We take a spin in the new Skoda Yeti to see if bigfoot really is big where it matters…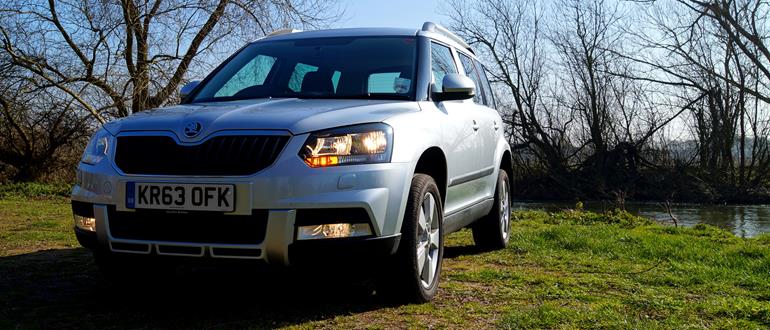 Skoda Yeti Outdoor SE 1.2 TSI 105PS DSG
Price
£19,325
Top speed
108 mph
0-62 mph
12.0 sec
Combined fuel economy
44.8 mpg
Road test economy
32.9 mpg
CO2 emissions
147 g/km
VED band
F / £145
Insurance group
14E
Engine
1.2-litre turbo petrol
Power
104 bhp (105 PS)
Torque
129 ft lb (175 Nm)
Weight
1,284 kg
What is it?
It's the old Skoda Yeti, but with a new face. The Czech firm has also taken the opportunity to split the range into two, with the everyday Yeti now subtitled City while the rough and ready off-road model gets the Outdoor moniker.
The City model remains almost indistinguishable from the outgoing Yeti, with a change in fog lights, some LED strip lighting added to the front, a few sharper angles around the grille and a repositioned Skoda badge. As far as facelifts go, it's not the most dramatic.
Eschewing the City model then, I got hold of the new Outdoor model with its rugged additions – that's slightly bigger bumpers and some side skirts, and some underfloor coverings to protect the car from rogue rocks and ridges.
Under the skin there's a four-wheel drive system with a new Haldex diff, which results in quicker reactions from the drivetrain along with slightly less weight, while inside there's an off-road button that fiddles with the computer settings to offer better traction on slippery ground.
Not much changes under the bonnet, with the usual Volkswagen group engines available, from the 1.2-litre petrol through to a 2.0-litre diesel. A fuel-sipping 1.6-litre diesel option, called Greenline, promises 67.3mpg.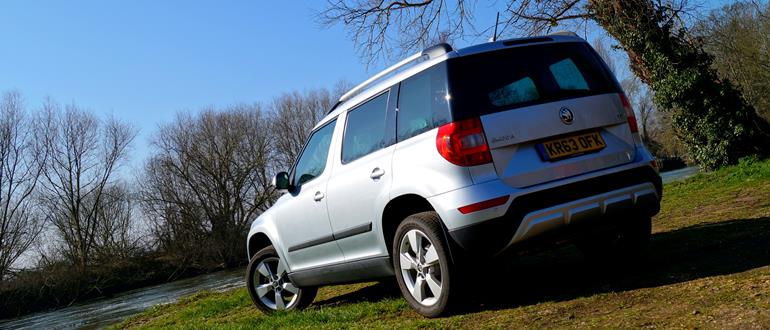 What's it like?
Given that not much has changed, the Yeti behaves like it always did. That means it's actually rather good, even in the 1.2-litre TSI version tested here, complete with its DSG semi-automatic gearbox.
The combination doesn't make for an explosive drive, the petrol engine being surprisingly unhappy to rev high and release the 104bhp apparently available. However, relax into the car a little and it's entirely inert chassis and ever-ready stability control allows you drive without having to concentrate on keeping things tidy. It's an SUV of sorts, and never lets you forget it.
That is accentuated by the obviously upright styling that frees up a lot of room for stacking boxes, but resists body roll well when cornering more aggressively than you perhaps ought to on the school run. Ride quality doesn't suffer too much though, the Yeti remaining surprisingly smooth although it can find itself unsettled on some of the rougher sections of British motorway.
Venture off road and you'll find the ride height to be the most limiting factor. Whether choosing City of Outdoor, you'll only get 18cm of ground clearance. Stick to damp fields at the dog show and you'll get by without any issue thanks to the new Haldex system.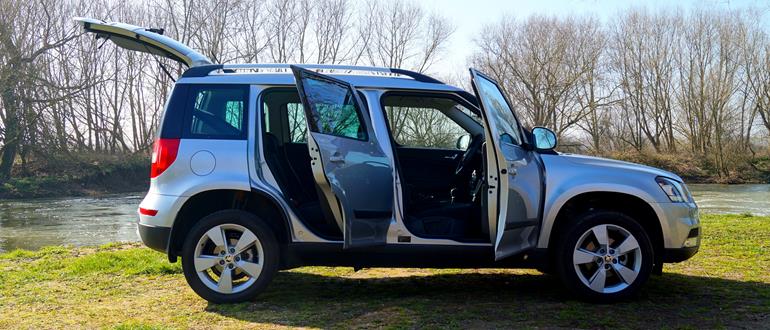 Is it practical?
The Yeti's biggest problem is that the market for crossover cars has grown up, and grown wider. Despite looking fairly fresh faced thanks to the subtle facelift, the Yeti is now getting on for six years old and the design is beginning to show its age.
Put another sturdy man in the passenger seat next to me and our elbows will be rubbing from time to time, while trying to squeeze three men in the rear seats would make for an entertaining night in some clubs.
The boot is a nice shape with easy access but, like the cabin, it's a tad smaller than its rivals. The 416 litres available is well short of the 500 on offer from the newer Volkswagen SV, which is also quicker and more frugal despite sharing the same engine.
The interior is simple and elegant, hiding its age well, but you'll find the infotainment system to be ponderously slow. Setting the sat-nav can take so long that you might be at your destination before it's planned a route.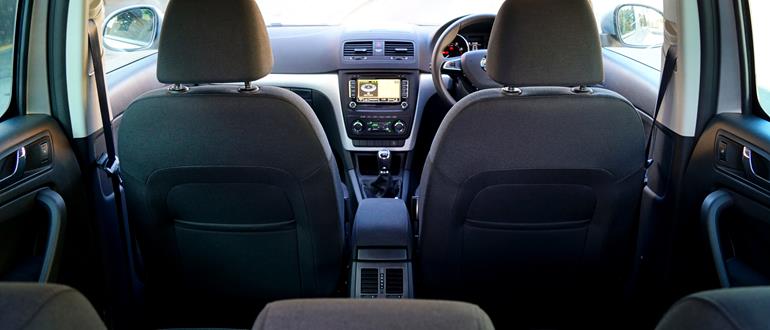 Should I buy one?
Deep down I'm a fan of the Skoda Yeti. It's an honest car, not using styling details or gimmicks to hide what it really is, and that's a reasonably priced and reasonably practical crossover that's also reasonably economical and reasonably potent. Three years ago the decision would have been simple: buy.
The main issue for Skoda is that as prices have risen, competitor cars that were always out of reach are suddenly competing directly. For barely any difference in asking price you can have the bang-up-to-date Volkswagen SV that offers more of everything that the Yeti does, but loses out on the four-wheel drive system.
A bit more will see you in the class-leading Nissan Qashqai, although you'll soon climb up the price list of you want more equipment and four-wheel drive. Hyundai's ix35 and Kia's Sportage are also muscling in to the party, leaving a whole host of newer models fighting for your pound.
That makes it very difficult to recommend the Yeti directly, but find a dealer prepared to offer a significant discount and you could do far worse.