Vauxhall's Adam gets a rough and tough makeover, but does the Rocks master the rugged-crossover-convertible-city-car niche, or is it left unplugged…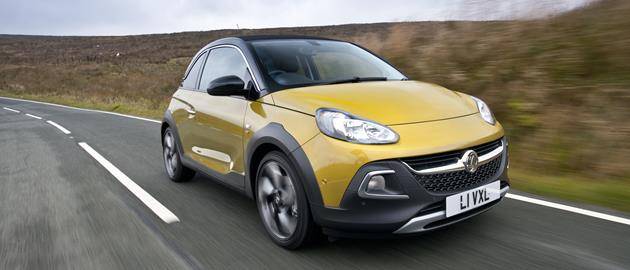 What is it?
Vauxhall Adam Rocks Air 1.0 Turbo ecoFLEX
Price
£16,995
Top speed
121 mph
0-62 mph
9.9 seconds
Official economy
55.4 mpg
Road test economy
40.0 mpg
CO2 emissions
119 g/km
VED band
C / £30
Insurance group
10E
Engine
1.0-litre turbo petrol
Power
115 PS (113 bhp)
Torque
170 Nm (125 lb-ft)
Weight
1,126 kg
The Adam Rocks Air sits in a niche within a niche. If you're after a city car then you'll find there are many, many options. Add in something stylish and customisable and there are far fewer choices. You want it as a nearly-convertible? Fewer options still.
Now you can have all of that with some bolt-on pseudo-ruggedness, as Vauxhall clearly thinks there are enough people who want a tiny, stylish, open-top car that pretends it can go off-road.
Naturally a rival for the Fiat 500, the Rocks adds chunky looking plastic cladding around the car while the suspension raises everything by 15mm over the standard Adam. A huge fabric roof slides back to leave it open to the elements, giving it the Air suffix.
Mixing all that together leaves the Adam Rocks Air without a single direct competitor.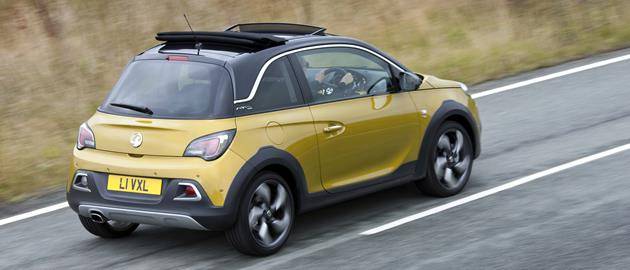 What's it like?
Cosmetically it's actually pretty good. The normal Adam looks a little anonymous, relying on the near endless personalisation options to stand out, but the Rocks works well.
That long fabric roof slides open in just seven seconds, but when closed it allows a lot more noise in to the cabin than you might expect, despite its three-layer construction. It does keep the elements out though, something it proved during a torrential thunderstorm.
The raised ride-height means there have been some revisions made to the suspension. The end result is that the Rocks rides better than the standard Adam, although that's then undermined by the 18-inch wheels fitted to our test model. Corners aren't a friend of the Rocks either, the car wobbling around disconcertingly.
There is one saving grace though, and that's the excellent little engine. Vauxhall's new 1.0-litre turbocharged three-cylinder has found its way in to the Rocks where you'll find it to be quiet, refined and powerful. Combined with a good six-speed gearbox, the 133bhp on offer will whisk the car to 62mph in 9.9 seconds and on to a top speed of 121mph.
That almost makes up for the cars failings elsewhere.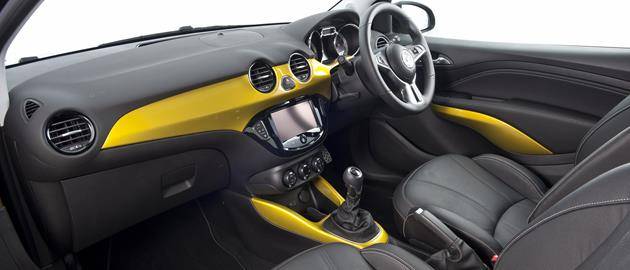 Is it practical?
Adam Rocks is a tiny car, so it'll never win any prizes for practicality. There is plenty of space up front, and a useful amount of storage pockets and bins for all your accoutrements, but anybody beyond a lithe young teenager will struggle in the back.
The boot is also a tad cramped, able to carry just 170 litres of 'stuff'. The smaller Fiat 500 can swallow more, while the Mini is positively cavernous in comparison.
Your driving bills will be low though, thanks to promised economy of 55.4mpg. CO2 emissions of 119g/km will result in a car tax bill of just £30 per year.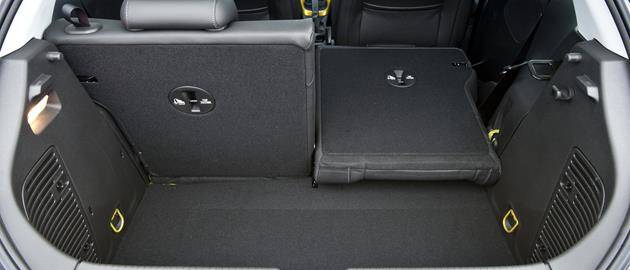 Should I buy one?
Strictly speaking, probably not. The normal Adam with the same engine will save you a around £1,500, which is quite a lot for some plastic cladding and a posh sunroof. If the roof option really is essential, then you'll be able to get that on the standard Adam soon.
But being all rational like that takes the fun out of it all. This is a fashion led car first and foremost, and if you're thinking about pure value for money then you might as well forget about the Adam and buy the more practical and cheaper Corsa.
To do that would miss the point though. As a fashion accessory the Adam Rocks works well, although so does the Adam. Save your money, buy an Adam and spend the rest on a real off-road adventure.