The new Volkswagen Golf SV sacrifices fun for practicality, but is that enough?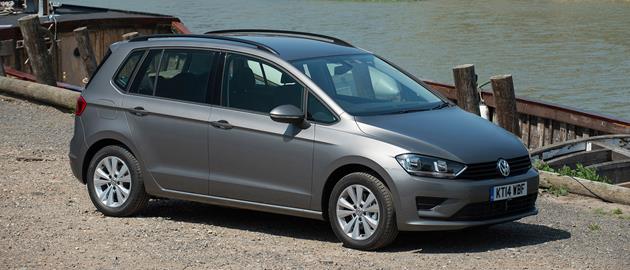 Volkswagen Golf SV 1.6 TDI SE
Price
£22,785
Top speed
119 mph
0-62 mph
11.3 seconds
Combined Fuel Economy
72.4 mpg
Road Test Economy
51.1 mpg
CO2 Emissions
101 g/km
VED Band
B / £20
Insurance Group
11E
Engine
1.6-litre turbo diesel
Power
110 PS (108 bhp)
Torque
250 Nm (184 ft-lb)
Weight
1,420 kg
What is it?
This is the replacement to the Golf Plus, but renamed to Sportsvan. Or at least it is in Germany where that undoubtedly sounds good, but over here it's accepted that it's neither a van nor sporty, so SV it is.
It's a direct rival for the Nissan Qashqai and others of its ilk, managing to be far more practical than an ordinary Golf but retaining the design cues that attract so many to the Volkswagen brand.
Tested here is the mid-spec SE model that is likely to be the biggest seller, coming with adaptive cruise control, automatic headlights and wipers, DAB digital radio and Bluetooth connectivity.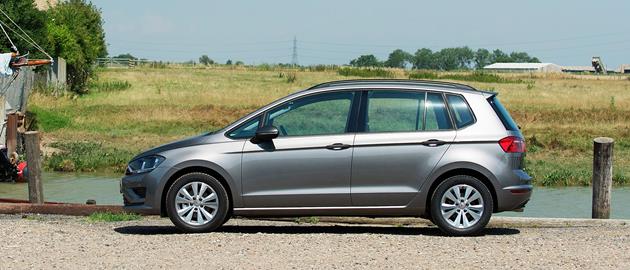 What's it like?
Driving excitement and thrills are notable by their absence. This is very much a sensible car for sensible people, and it's none the worse for that.
Powered by a 1.6-litre diesel engine, there's 110PS on offer, but that can feel a little underpowered at times thanks to the SV weighing at nearly 1.5 tonnes. Getting from standstill to 62mpg takes 11.3 seconds, so joining fast roads takes a little planning.
However, once you've got it up to speed it's rather refined and sophisticated, not to mention frugal. The diesel sips at fuel when cursing, making this ideal for long motorway journeys, while the engine noise is well isolated.
Show it some corners and it's a competent car, if not an engaging one. Much like the Golf it's based on, it goes, turns and stops without any fuss, but it's not a car you'll take out for a drive just because you can.
That same sense of sensible-if-dull competence continues in the cabin, the layout of which is exceptionally crisp and clear. Everything falls to hand easily, while even the infotainment system works well.
Everything, at every level, is… fine.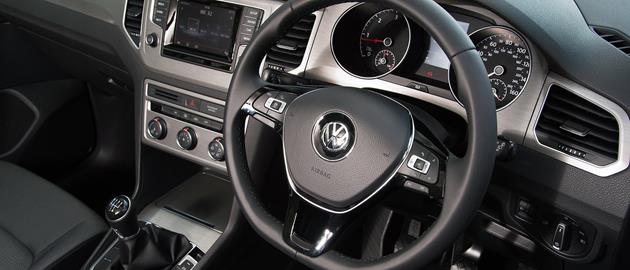 Is it practical?
Absolutely. Volkswagen has squeezed all manner of clever features in to the Golf SV, as well as plenty of space. Starting at the back, the boot is an impressive 500 litres in size, bigger than both the Ford C-Max and Nissan Qashqai. The seat back splits 40/20/40, allowing a great deal of flexibility and, while the seats don't fold entirely flat, they free up enough space to increase storage to 1,520 litres.
The boot floor can also be adjusted, from the lowest level allowing more storage to boot lip level to allow easy loading and unloading. The front passenger seat can fold down too, allowing you to squeeze a Billy bookcase from IKEA in to the car.
The rear seats also slide, freeing up leg room for passengers at the expense of boot space. Rear passengers also get sturdy picnic tables built in to the front seats, and can recline the seat back for a more luxurious journey.
Excellent fuel economy is promised, with a headline figure of 72.4mpg, although I got 51.1mpg when it was put to the test. That's still pretty reasonable by any measure. CO2 emissions are just 101g/km, so you'll have a car tax bill of just £20 a year. Business buyers will face a BIK burden of 16 per cent.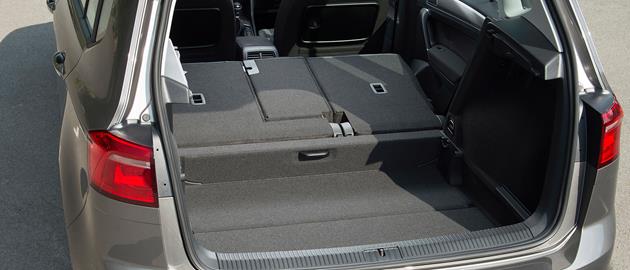 Should I buy one?
The Golf SV places real-world practicalities higher up the priority list than feel-good fluff, and that means it's not as involving to drive as Ford's C-Max and nor is it as interesting as Nissan's Qashqai.
Despite that, the SV can stand proud alongside its impressive competition. It's got more practical touches than most, will cost less to run than most, and has a quality feel that some of its rivals just can't pull off.
If you need more of the sensible side of motoring combined with a well-equipped and practical proposition, the Golf SV makes a very strong case for itself.