When all you need is a car for you and your partner. And five children.
The new Volkswagen Touran is a hugely impressive new car. Yes, it's unusual to give away the conclusion in the first sentence of a review, but there's no escaping from the fact that the Touran does everything it's required to do, and does it very well.
It sits below the Sharan in the Volkswagen range, missing out on the larger cars convenient sliding doors, but offering just as much space on the inside. At least it feels just as big, even if the tape measure says otherwise. And, despite its smaller, more manageable size, it's a proper seven-seater.
So is the Touran the ultimate family car? It's based on VW's flexible MQB platform – that's the chassis that sits underneath the car, and it's the same kit that's shared with the Golf, so the Touran is off to a good start. There's a range of engines too, from the 1.2-litre petrol or 1.4-litre turbo petrol, and a variety of diesel engines running from 108bhp right up to a 187bhp 2.0-litre unit.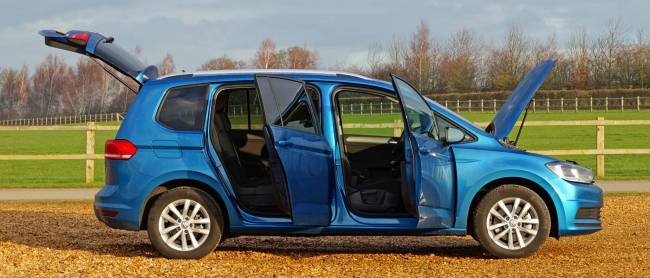 It's that 108bhp unit, a 1.6-litre turbo diesel, that is fitted to our test car which is enough to propel the Touran from a standstill to 62mph in 11.9 seconds. While emissions remain stubbornly high at 116g/km, mostly thanks to the car weighing it at just over 1.5 tonnes, promised economy is spectacularly good.
The headline figure says 64.2mpg but it only managed 48.2mpg on the regular test route. That route includes some cross-country roads and stop-start urban driving that sees the fuel usage rise as the metalwork has to be dragged around, but once up to speed the Touran barely sips at the contents of the fuel tank.
You won't be tempted to push on too hard anyway, the Touran being the ultimate antithesis to an engaging and entertaining drive. However, while it won't put a smile on your face, how the Touran tackles daily life is incredibly impressive. It remains consistent at all times, reassuring you through its competency and solidity that nothing untoward could possibly happen. Of course, physics eventually wins, but the Touran remains comfortable and easy to drive right up until that point.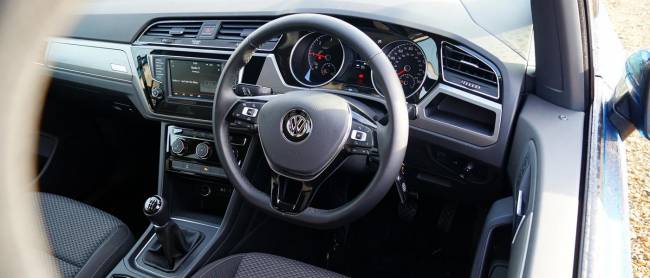 The suspension, independent at the front and with a multilink rear axle, is firmer than some of the cars French rivals, but is always compliant and supple enough to cope with most British road surfaces.
So far, so sensible. It's quite economical and a very safe drive, but it's the interior that has to stand out against the likes of the Ford S-Max, Vauxhall Zafira Tourer and Citroen Grand C4 Picasso.
Longer and wider than the outgoing model, the uninspiring boxy bodywork leaves plenty of space inside. The front of the cabin works well, with a Golf-like dashboard not encroaching on knee space, while elbow, shoulder and head room is all perfectly acceptable for even the tallest of drivers. Jump back one row and legroom is understandably tighter, but there's more there than you'll find in the Ford but probably slightly less than you'll find in the Vauxhall.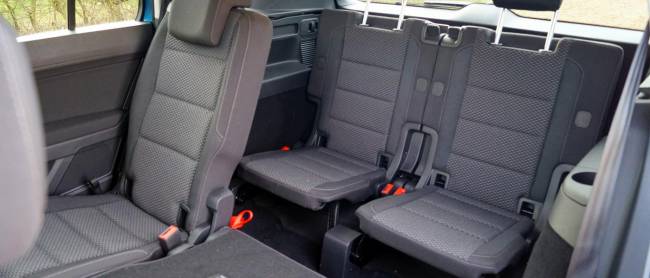 Head back one more row and the two rear-most seats are surprisingly well specified. There's an unusual amount of legroom, enough even to allow an adult to squeeze in, while headroom is tight but useable.
You might not want to send an adult to the back row, unless you dislike them, but even a teenager will be happy enough there for most journeys. The centre row seats slide forward and tilt, making access to the rear slightly easier, but you'll still need to be quite flexible to enter and exit smoothly. Handily, there are Isofix attachments on all five rear seats.
With all the seats up, the boot is understandably tiny, although it's a little longer than its rivals. Fold them all down, and that includes the front passenger seat, and you've got a van-like load area that will take almost anything Ikea throws at you. Hunt carefully, and Volkswagen insist you'll also find 47 storage compartments and cubby holes around the car.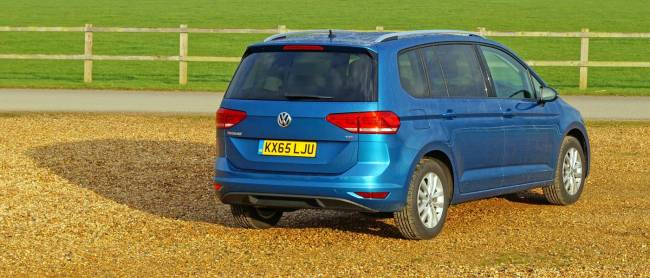 If you are seven-up, Volkswagen has also introduced some intriguing technology, although you'll need to step up a grade from this test car's SE spec to try it all out. Most fascinating is voice amplification, a system that uses microphones and the car speakers to allow everybody to communicate effectively, without resorting to shouting. Parents can also link a GoPro camera to the infotainment system and keep an eye on any rear passengers using the in-dashboard screen.
You'll also find seven airbags, emergency city braking, parking sensors all round, DAB and Bluetooth connectivity, air conditioning and roof rails.
It all adds up to something that's been thought through more carefully than probably any other car on the market. If you can survive without the extra space offered by a full-size MPV like the Sharan or Galaxy, then the Touran will meet all of your needs. It's a more practical proposition than the more engaging Ford S-Max, and lacks only the premium badge when compared to the BMW 2 Series Active Tourer. Everything else is a step behind.
It might be forgettable, but for a family car, or at least one that needs seven seats, it's as good as things get right now.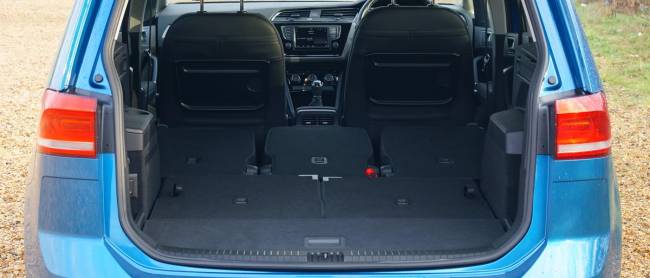 ---
Motoring powered by FrontSeatDriver.co.uk