Getting the chance to experience the future of personal transportation isn't something to turn down, so I went to Grenoble to see if Toyota's i-Road is good enough for the road…
You can't buy one, and it will never be available for sale, but if you've ever thought that you need a vehicle that combines the freedom of a souped up moped with the styling of a futuristic egg, then the i-Road could well be the 'car' for you.
The i-Road forms the basis of a research project that is transforming the centre of Grenoble, a lovely French city nestled between snow-capped mountains. The bustling city has a combination of trams, buses and trains moving people around the centre, with the i-Road existing as a personal transport option in key parts of the city to get users over the last kilometre, without resorting to pesky tasks such as walking or getting a taxi.
Once the whole system is operational, it will combine analysis of current traffic conditions, public transport systems and even details of a resident's own car to provide the most environmentally efficient way of getting from A to B, all through the power of a phone-based app. That may mean a journey by bus, tram, i-Road or any combination, but for now the programme is just focused on ensuring the i-Road is up to spec.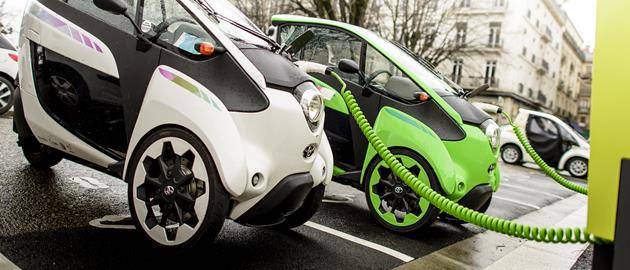 How does it work? Using that smartphone app, a user finds an i-Road located either near their home or at the end of a bus or tram journey, programmes in a destination and reserves it. Turning up at the parking bays (these also double as charging stations) the user simply taps their smart card on the machine and drives off. You'll get half an hour of i-Road usage for five euros, charged directly to your credit card, although you can have it for as little or as long as you require.
So what's it like? Open the plastic door, with clear panels so you can see kerbs when parking, and you slide into what is an unsatisfyingly ordinary seat with a very car-like steering wheel and dashboard. There's no Bladerunner-style controls here. You won't find a gear lever though, instead there's just three buttons allowing you to choose forwards, backwards or park. It's all very conventional.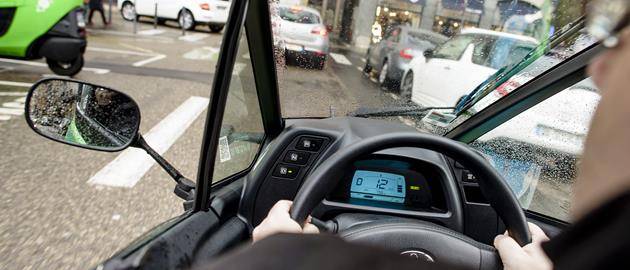 Switch on the twin electric motors and manoeuvre out of your parking space and it's anything but conventional as the rear end swings around; the front wheels handle the power, with the single rear wheel looking after the steering, fork-lift style.
Things are simpler once you're up to speed, While the i-Road leans aggressively into corners with its parallel front wheels, it remains perfectly neutral throughout. As you make your way around bends and roundabouts, the rear wheel steering feels natural with no sense of untoward movement.
It's a little disconcerting as the i-Road's computer controlled system of electronics and hydraulics leans the vehicle nearer the road surface, but it never feels unstable. The front wheels move up and down as the computer sees fit, which means it also stays at the right angle when you come across a bump, even when leaning hard. Speeds never become worryingly high either, as it's limited to 31mph.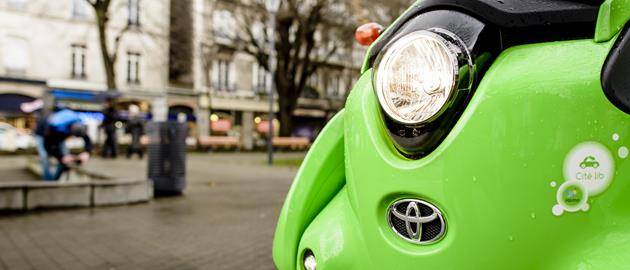 Issue arise slightly with the i-Road's packaging. While it's officially a two-seater, the rear seat passenger needs to know you very well as they'll have their legs wedged tight on either side of the driver. It's probably best to leave it as a single seater device and use that rear seat as makeshift boot space.
Despite it's minor shortcomings, you'll be having a smashing time in the i-Road. Dashing around the cobbled streets of Grenoble has never been more fun, but it's going to take more than a few smiles to turn a quirky sideshow in to a sustainable transport solution.
Is this the future of urban mobility? I hope so. Now, Toyota, where do I send the cheque…