Putting 500 horsepower into an Italian family car sounds like a recipe for disaster. Phil Huff finds otherwise…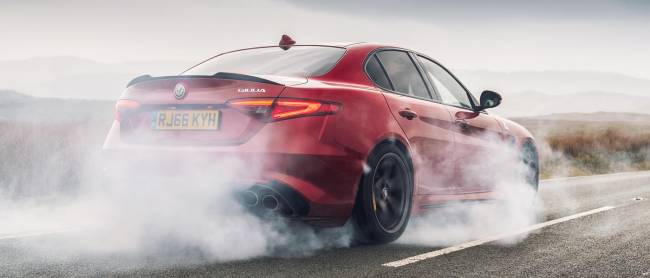 Alfa Romeo's future is every bit as interesting as its past, if the new Giulia is anything to go by. For decades the Italian brand has secured a set of die-hard fans with memories of the 75, the brutal SZ and Graduate-era Spider. They stuck around during the 90s through to today, when we had the front-wheel drive 147, Brera and Giulietta, none of which were particularly loved. Then the Giulia was announced, cancelled, announced again, usurped by an SUV and then, finally, it's here; an Italian-built, rear-wheel drive, full-size saloon, with a Ferrari-inspired V6 engine.
As a statement of intent, a mark of the 'new' Alfa Romeo, it's certainly bold. Pretty even in bog-standard repmobile spec, the Quadrifoglio adds spoilers, splitters, vents, big wheels and a Cloverleaf badge to add aggression to the graceful lines. A fair smattering of the car is sculpted from carbon fibre, keeping the weight down which, at 1.6 tonnes, is amongst the lightest of the super-saloons from the likes of BMW or Mercedes.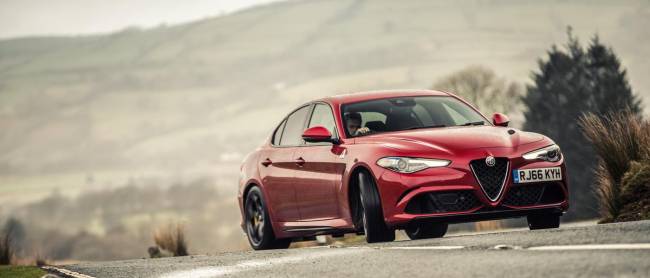 The talking point is that Ferrari-inspired engine. Alfa says 'inspired' but the 2.9-litre turbocharged V6 engine appears to almost exactly three-quarters of Ferrari's V8. Whatever the relationship, the 503bhp unit gives the Giulia its soul, turning it into something as close to a four-door Ferrari as you'll find.
That's backed up with all sorts of high-tech equipment to keep the car on the straight and narrow, including adaptive dampers (that keeps the suspension firm but compliant,) a torque vectoring rear differential (which prevents spinning up one driven wheel in a cloud of tyre smoke,) and an electronics system that will work all the various computers and motors in perfect harmony.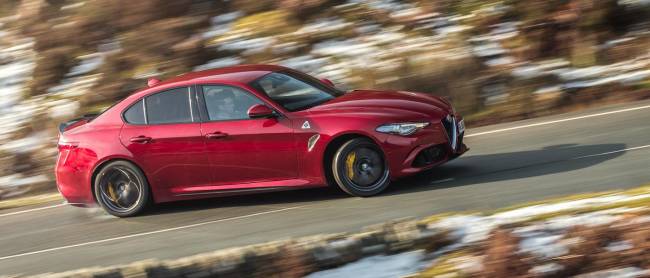 Initial drives suggest it's pretty close to achieving that. Set in a normal drive mode, the computers designed to keep you on the road interfere perhaps a little readily, but these can be dialled back until the car is a tight or loose as you might like. Turn it all off and you'll need to keep the side windows clear to see where you're going. Switch the engine to full bark but keep the suspension nice and soft and it handles the region's roads with aplomb, but take it to the track and the firmer settings work even better, with direct steering allowing the Quadrifoglio to change directions like a nervous deer. Get it wrong and the front end slides out, but it's so well balanced that it's a progressive movement that won't catch you by surprise.
It does require attention though. There was a slight hesitant moment in this test car under power that frustrated when closer to the limit, and the eight-speed automatic gearbox can't quite keep up with foot-flat motoring leaving you to rely on the steering-wheel mounted gearshift paddles. It's something to hold on to as it shout its way from standstill to 62mph though, something it does in just 3.9 seconds.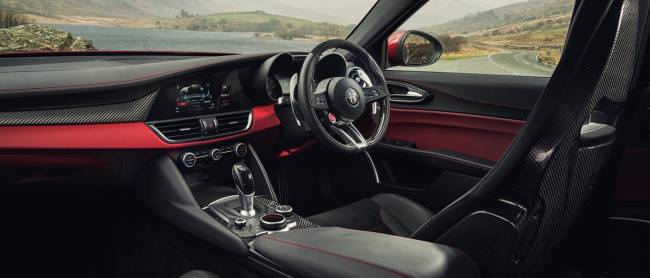 There's a near-perfect seating position too, something unexpected from Alfa. Figure hugging carbon fibre race seats are a £3,000 option, but they're comfortable and look fantastic, taking nothing from the spacious cabin that's far more stylish than anything from Jaguar or BMW. Audi's interior are undoubtedly better built – there's the odd sharp edge around plastic joins, especially on the gear lever, and the mix of real carbon fibre trim with fake-metal plastics jars a little – but the Giulia's is perfectly acceptable. The fact that the rear seats don't fold down is less forgivable for what , despite its performance credentials, is still a family saloon, especially as the boot is a tad on the small side.
That 2.9-litre engine is also going to be thirsty, despite the reasonably impressive official economy figure of 34.4mpg, thanks mostly to the desire to hear that exhaust note and pretend that you're really in a Ferrari. The fact that the asking price undercuts the BMW M3 and Mercedes C63 might go some way to mitigating the extra fuel costs.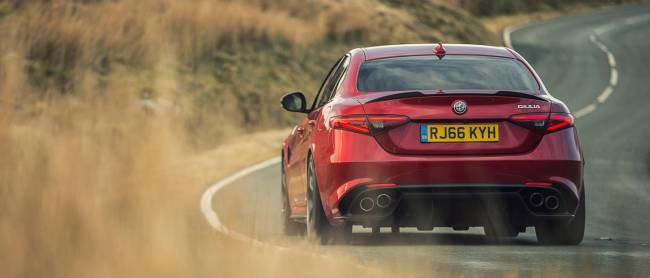 It's the fact that, for the first time in a very long time, Alfa Romeo has come up with a car that really is at least a match for the best in class that is so pleasing. Truth be told it's actually better, being a more engaging car than the BMW and a more pleasant car to live with than the Mercedes. Outside of those two, nothing else gets close, and that's a huge accolade for the Italians.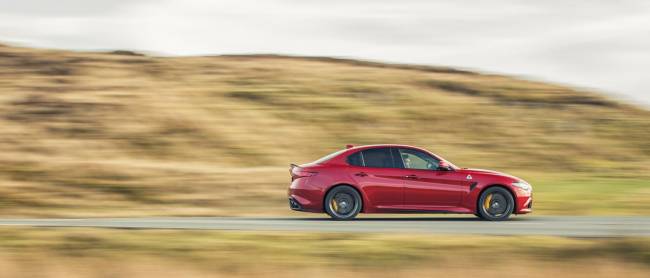 ---
Motoring powered by FrontSeatDriver.co.uk.