The old R8 was great, but how do we rate the new update?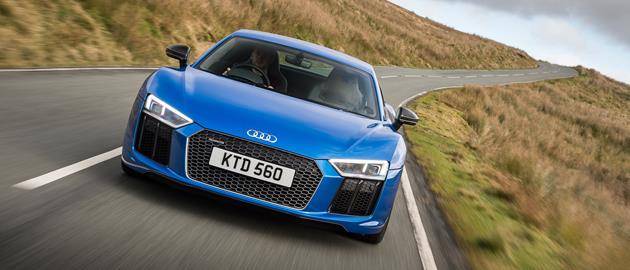 Model Tested: Audi R8 V10 Plus
Price
£132,715
Top speed
205 mph
0-62 mph
3.2 seconds
Fuel economy
21.9 mpg
CO2 emissions
287 g/km
Car tax band
M / £505
Engine
5.2-litre V10 petrol
Power
610 PS (602 bhp)
Torque
560 Nm (413 lb ft)
Weight
1,555 kg
What is it?
The first R8 arrived back in 2007, and we weren't expecting much from it. The German manufacturer had no history of making supercars, so anything better than just ok would have been hailed as a success.
As it was, the R8 turned out to be a sensationally brilliant car. It was perhaps a little clinical in its execution, lacking some of the flair of its Italian and even German rivals, but the balance it struck between being fast and practical was judged near perfectly.
Now it's time for the new model, and that means there's currently only a 5.2-litre V10 engine to choose from and just the one gearbox – the manual has now gone as there was little demand, so you're stuck with a seven-speed semi-auto box.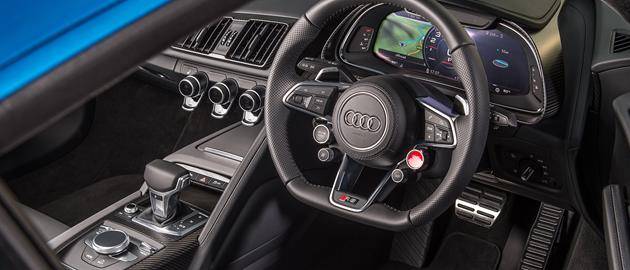 What's it like?
That engine is available in two forms, the V10 Plus producing a joyous 602bhp or a plain old V10 built for wimps that manages just 533bhp. Naturally, it's the former that I'm testing. That power translates to a 0-62mph time of just 3.2 seconds and a maximum speed of 205mph.
What that means in reality is that you'll barely ever have to think about an overtake as a simple stab of the throttle makes the scenery turn all blurry and drags the horizon towards you at an alarming rate of knots, accompanied by a dramatic boom from the exhausts, with extra pops, bangs and crackles as you lift off the throttle. With the drive selector in Sport, it's pure drama.
Grip levels match the volume, with tyres as wide as the Mississippi gripping tenaciously. Even on the twisty wet roads I faced on the launch, you've got to be doing something seriously wrong to upset the car. It's unstoppable, like a supersonic freight train with Formula 1 reactions. Act the fool and the four-wheel drive quattro system will help keep physics at bay just a little longer as it sends the power to the front or rear, or to any kind of split between the two.
Switch it to Comfort and things change dramatically. The adaptive suspension softens up, the exhaust quietens down to a subtle rumble and the gearbox shifts up gears earlier. It turns it in to a sensible supercar that you could use everyday, assuming you don't need practicalities like rear seats.
The interior is reminiscent of the latest Audi models, but turned up to 11. A 12.3-inch 'virtual cockpit' dominates the driver's view, the system replacing the usual dials with a digital screen displaying everything from engine modes and driving data to music information and sat-nav instructions. The sat-nav, if you've got a SIM card plugged in, even downloads graphical data from Google Earth to present a real-world map of the road ahead.
It's of typical high quality, with delightful design touches (such as the pistol trigger heating controls) that make the cabin feel every bit as premium as the asking price suggests it should.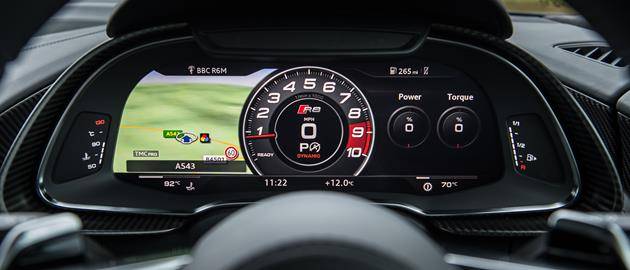 Is it practical?
It's possible to make a reasonable case for the R8 in this regard, but the lack of rear seats will always hamper it. The remaining two seats are spacious enough, with a small amount of storage behind them, while a boot at the front of the car will take a couple of weekend bags.
Car tax is obviously the highest category, group M at £505 a year. If you're lucky enough to get an R8 as a company car, there's Benefit in Kind rating of 37%. If you're not, you'll be looking at fuel economy of 21.9mpg, although it's surprisingly frugal when cruising along the motorway. There's even cylinder-on-demand as standard that turns half the engine off when it's trundling along.
Only the options list lets the side down. After you've spent your £132,715, you'#re faced with a list of choices, some of which you might feel are essential. Laser headlights that light up twice as much tarmac as anything else? £3,000. A reversing camera to combat the dreadful rear visibility? £600. Sports exhaust, dynamic steering, adjustable dampers and the nice Nappa leather interior? That's more than £5,000. Even cruise control is a £275 extra.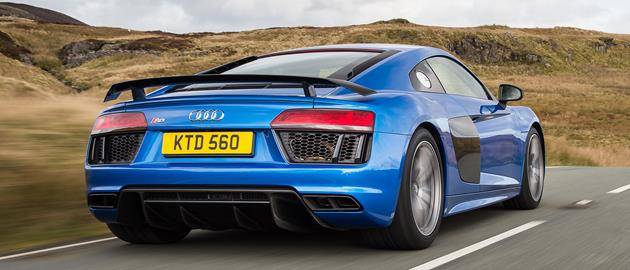 Should I buy one?
The R8 is a masterpiece, a brilliant execution of what a sports car should be. That 5.2-litre engine delivers perfectly linear power, always allowing you to assess exactly what power you have available and how the car will react.
Audi's halo model rivals virtually anything on the road, and that includes such exalted competitors as those from Porsche, Ferrari and even McLaren.
It really is that good, as it should be when you consider that 56% of the car is shared with Audi's utterly dominant Le Mans car. And when you consider that, it's something of a bargain, options list or not.